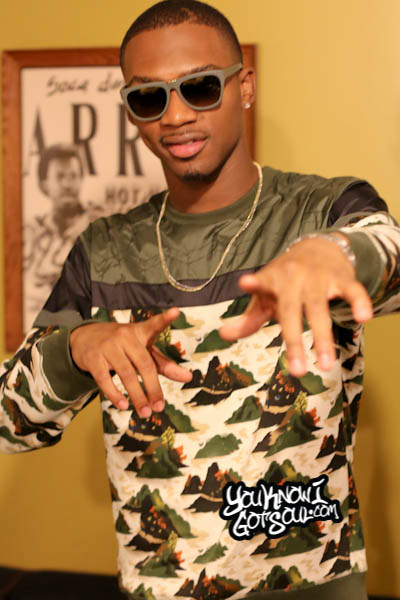 You may know him from the TV show "Lincoln Heights" as Tay, but that's only one facet of Mishon's career. The young artist has actually been doing his thing in the music industry for a minute and he's ready to take on the challenge of becoming a star. Mishon recently linked up with veteran Jermaine Dupri to help him craft his sound. Even though he has a lot of competition, the one advantage that he does have is that he's been able to develop a very loyal fanbase since the start of his career back in 2005. YouKnowIGotSoul had a chance to speak wit Mishon about his upcoming album, working with Jermaine Dupri and also his creative process with acting and songwriting.

YouKnowIGotSoul: You started acting and performing at a young age, so where'd you get your first opportunity?
Mishon: My first opportunity performing was in elementary school. I was in second or third grade, it was pretty much my start. I started doing school choir and solos. I got my first opportunity as an artist with my cousin when I was about ten years old. I got my first chance to get in the studio and really learn about music. I made songs and ever since then, it's been a growing process. Along with the acting, it's been about developing and perfecting my craft as an entertainer.
YouKnowIGotSoul: Who inspired you to want to be an entertainer?
Mishon: I was a huge Usher fan. Usher is still my idol today. He's definitely someone who inspired me from the beginning as an artist and performer.
YouKnowIGotSoul: As things took off for you with singing and acting, how did you eventually get signed to Columbia?
Mishon: Well I've had quite a journey in this music industry. Around fifteen years old, I was signed to Interscope and that was a dope situation. I was back independent and then in the last year, we've joined the Columbia family and it's been great ever since. I started working on my project with Jermaine Dupri who is executive producing it. I'm really proud of the project and it's been great things.
YouKnowIGotSoul: Tell us more about your project. What has Jermaine Dupri taught you?
Mishon: For the most part, it's just our chemistry when we work and create. He has a great ear for it. He's a DJ and he really knows what he's doing. I really get to pick up and absorb all that experience and all that knowledge and give him input and we just create. The album is going to turn out amazing.
YouKnowIGotSoul: What lane are you in sonically?
Mishon: The lane I'm in right now is pretty much my own. I can say that very confidently. Of course it's R&B, but you'll have to hear it.
YouKnowIGotSoul: A lot of people have been waiting for your album since the success of your acting. Has that made you more patient to put out music?
Mishon: That's a funny thing because as an artist and entertainer, when the acting thing comes, I just want to focus on that. Like when I did "Lincoln Heights", I did four seasons. I was still focused on the music, but that was the dominant part in my life at the time. I'm focused on the music right now. The new single with Tyga is called "Conversation". I'll be shooting a video to it and the album will be coming at the top of the year. I've got some acting stuff in the works too that I'm definitely excited about.
YouKnowIGotSoul: What's your approach creating a song compared to creating a role while you're acting?
Mishon: Creating a song for me, it starts out with a great idea. Once you have that great idea, then you can expand on that and it can become a masterpiece. I think I've experienced acting to be the same way because you have this script and great idea, but you have to be the instrument that really delivers from the paper to the screen. What I've learned is that sometimes I have to go that extra step and add or take away something to make it real and resonate with people. That's the same thing I want to do musically.
YouKnowIGotSoul: You've been in the industry for a minute now even though you're still young. Many your age are just getting started, so what's the most important lesson you've learned so far that's helped you be successful?
Mishon: Stay humble, keep a great team around you and always create. You should always develop yourself. You're pretty much just writing your story whether it's acting or singing.
YouKnowIGotSoul: Anything you'd like to add?
Mishon: Follow me on Twitter @Mishon.