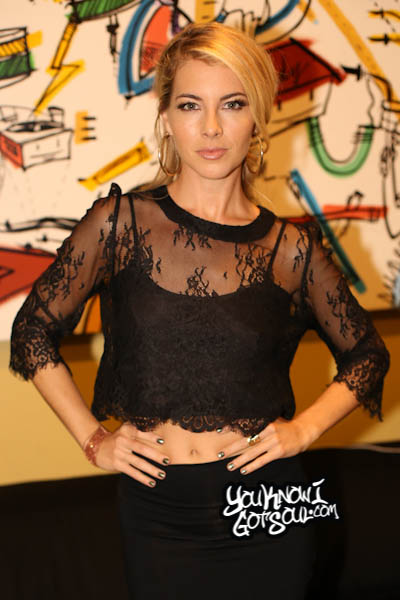 The path for Morgan James to r&b stardom hasnt been conventional by any means, but it's special all its own. After attending the prestigious Julliard School, she eventually landed on Broadway in The Addams Family and eventually the role of Teena Marie in Motown: The Musical. It wasn't until Berry Gordy Jr. took notice of her there and connected her with LA Reid at Epic Records that her music career began to take off. Now equipped with the hit cover of Prince's "Call My Name", she will release her album "Hunter" this week. YouKnowIGotSoul sat down with Morgan James while she was performing at our Sol Village event and discussed the origins of her career, getting signed to Epic, Prince co-signing her cover, and much more.
YouKnowIGotSoul: Let's start at the beginning. You're originally from Idaho and eventually came to school at the Julliard here in New York City. How was the transition?
Morgan James: *Laughs* Well I moved to New York City when I was 18 from California. I lived in Idaho when I was a kid and we lived in California and then I moved all the way across the country to go to Julliard. I thought 59th street was downtown. I was so sheltered, but I wasn't afraid because I knew I was supposed to be here. It's what I wanted to do, it was my dream to go to Julliard. I was so excited to be here and I just took everything in.
YouKnowIGotSoul: After you had graduated from Julliard, where did you career take you?
Morgan James: My career took many, many twists and turns. I kinda thought I would graduate from Julliard and be a star. *Laughs* I thought I had this voice and this degree, and I had talent and dedication, I thought I would make it. It's so much harder than that. I started auditioning for theater and singing in clubs and waiting tables and doing the things I needed to do to pay the rent. It was very difficult. After a few years I got on Broadway, I did four original companies on Broadway and I started doing commercials and TV and theater. Then I found my voice really. I think that's the hardest part for an artist is finding their voice and learning how to write, finding what they have to say that is unique.
YouKnowIGotSoul: What do you think triggered that in you? Your career on Broadway took off first but then you branched into singing. What brought that out of you?
Morgan James: What really brought out the voice that I have, my soul voice and true voice, was really not getting any work and being very sad and being poor and having to sit with that. I think that's where the blues comes from. I started singing out in clubs and I kinda just imitated other people, like Aretha or Mariah or Chaka or Sade. I would learn how to imitate these people but I really didn't have my own sound. You have to spend time listening and singing and practicing and you have to put in the time. What really got my career started and brought me to the label was when I met Berry Gordy Jr., he is a mentor to me. He introduced me to LA Reid and he really saw something in me that maybe nobody else had ever seen.
YouKnowIGotSoul: What do you think it was that made Epic Records so interested in signing you?
Morgan James: At the time I got signed, I didn't write music really. I really didn't know what kind of record I was going to make. I knew I was a soul singer and I was going to make a soul record. When Doug Morris signed me to Epic Records and introduced me to LA Reid, we kind of experimented. I did a lot of demos and a lot of songs that people would go "Maybe not yet". You have to experiment a lot before you find what you're ultimately going to make. I sang a lot of shows with the band because I had to try out material. Over the last two years I sang a lot of shows. Some were hits, some were misses. *Laughs* I tried to figured out what kind of record I was going to make.
YouKnowIGotSoul: Introduce us to your "Hunter" album which will be your second release on Epic Records.
Morgan James: My album "Hunter" is going to be coming out on Epic Records November 11th and it features my single "Call My Name" which is a Prince tune. It's currently on Urban A/C radio which I'm very happy about. I co-wrote 9 of the 14 songs. It's a really, really rich soul album. I sang all of the background vocals. I did not tune one single note, there is no tuning on my record, it's all real ingredients. Horns, whirly, organ, piano; it's rich and soulful and funky and I hope there's something for everyone on there. *Laughs*
YouKnowIGotSoul: "Call My Name" is the current single, and a Prince cover. What drew you to want to cover that song?
Morgan James: I'm a huge Prince fan and I had been singing "Call My Name" for several years. I sang it in the first show I ever did. It's been in my body a long time. I arranged it and I just love it. I love it from a woman's perspective; I think it's very intimate and tender. His lyrics are very romantic and appeal to me. I played it for LA Reid and he loved it and he knew that it probably was not going to be approved because Prince doesn't approve a lot of songs; he doesn't like people covering his songs. His lawyer said no and we initially released "Hunter" without "Call My Name" on it. Finally LA Reid basically called Prince and asked him to listen to it and he did and he got right back to him and said he loved it; so we had clearance. We took it to radio immediately, we pulled the other version of "Hunter" so we could add "Call My Name" and that's why "Hunter" is coming out in a month. Everything kinda changed with "Call My Name" because we took it to WBLS, they started playing it, and "Heart & Soul" started playing it and it's had a life of its own. I feel really, really blessed that Prince gave me his blessing.
YouKnowIGotSoul: Talk about where you future aspirations lie now that you've had success in both singing and acting on Broadway.
Morgan James: Hmmmm. I take voice lessons still every week. My aspirations and dreams keep evolving. I think dreams evolve and I want to become a better songwriter. I want to do more collaboration within my genre and I want to continue to make records. I want to just keep getting stronger as a musician and make movies. *Laughs* Being a better songwriter, that's top of the list because I think that is a very intimidating, difficult task. I really admire people that just continue to write and get stronger.
YouKnowIGotSoul: Anything you'd like to add?
Morgan James: I'm so happy to be here, thank you for having me. Thank you for the love everybody keeps showing "Call My Name".