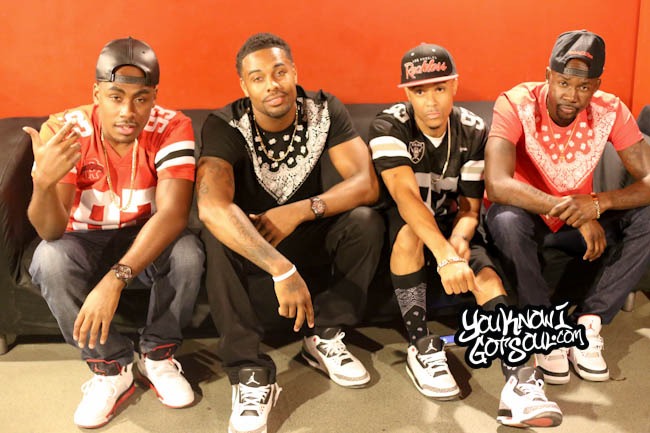 A little more than 20 years ago, R&B groups ruled the music industry. They were selling millions of records and topping the charts everywhere. The success of acts like Jodeci and Boyz II Men paved the way for other groups to shine like 112, Jagged Edge and Dru Hill. Sadly in 2014, R&B groups don't exist anymore on the radio and you can see that the radio is lacking real harmonies that only a quartet can offer. Motown's newest group MPrynt can bring that to the table along with much more. YouKnowIGotSoul had a chance to speak with the group out of Philly about their sound, their upcoming EP and their journey in the industry so far.
YouKnowIGotSoul: How did you guys get signed to Motown?
Tyce: We went in there and we knew that we weren't going to come out without a deal. I feel like they made a good decision by taking us. Thumbs up to Ethiopia.
YouKnowIGotSoul: Was it harder to convince the label to sign you because there isn't a huge demand for R&B groups right now? How did you convince them?
Rae: Definitely, we just showed them that we do this for real. Just vocally and just being ourselves, we were something fresh and something new. For us, we're not just the typical group. We play the piano, keys and the guitar. We added some new flavor, so it wasn't a typical group singing out there.
Tyce: We just come off really authentic. We weren't put together, they found us like this. It helped that we had a very strong production of GOOOOOOO! Music with Oak and Pop who have been making hits for a long time now. We just put together a winning combination and who isn't going to say yes to that?
YouKnowIGotSoul: How did you link up with Pop & Oak?
Fah: Our management. Once we got everything situated, they actually manage GOOOOOOO! Music also. They introduced us and it just made sense.
YouKnowIGotSoul: How did you know they would be the producers that would be able to capture your sound?
Tyce: I think with any kind of relationship, it's going to be some risk involved. I think because they were so open to being creative and also with trying to figure out who we are and who we wanted to be, when you have some creative individuals that are so open into making something dope, that's really wanted happened like with our single "Don't Hurt Me".
YouKnowIGotSoul: I know the single "Don't Hurt Me" samples H-Town. Was that done intentionally because they were an R&B group as well?
Rae: Pop & Oak came up with the production for that. We sampled H-Town and also 2Pac. We definitely wanted to pay homage to both of them and bring that nostalgia to the situation.
YouKnowIGotSoul: For a lot of R&B groups, they're either influenced under Jodeci or Boyz II Men. Which do you guys lean toward?
MPrynt: Both.
Tyce: Not even just those two, you can take it back to The Temptations, Jackson 5, New Edition, 112 and Dru Hill. Some of them who we have had a privilege meeting and getting co-signed.
YouKnowIGotSoul: Along with the single, you guys are working on the EP. What can we expect on that?
Rae: Our EP "Hotel Philadelphia" is fire. It's good music and timeless music. We're honest with our records and it touches the soul. And this is for the ladies, we're talking to them. We're not talking at you, we're talking to you.
Buddha: Let me just keep it real with you guys, the album is going to be amazing. Remember that we said it and we'll be winning a few Grammy's. In a few years, just watch. *Laughs*
YouKnowIGotSoul: There isn't a lot of real singing happening on the radio right now. Do you guys feel pressured by the mainstream sound right now?
Tyce: I think there's an element to everything. I think there are records on the radio that I sometimes wish were ours. I think artists have a way of showing a different level to what they bring to the table especially when you see them live. Just because you hear an artist on the radio, what they bring live could be something completely different. If you hear us on the radio, you might hear "Don't Hurt Me" but if you hear it live, we'll be singing that. I think that opens the door for us.
YouKnowIGotSoul: One of your biggest supporters is Marsha Ambrosius. You guys went on tour with her, so talk about that experience.
Fah: It gave us a lot of learning experiences. We had to bottle a lot of it. We had different trials and tribulations to overcome and different things we weren't exposed to before. It was all new to us and it built us to be stronger. A lot of different audiences that received us well and it was a shock to see how many different people fall in love with us.
YouKnowIGotSoul: Anything you'd like to add?
MPyrnt: Check us out at http://www.mprynt.com