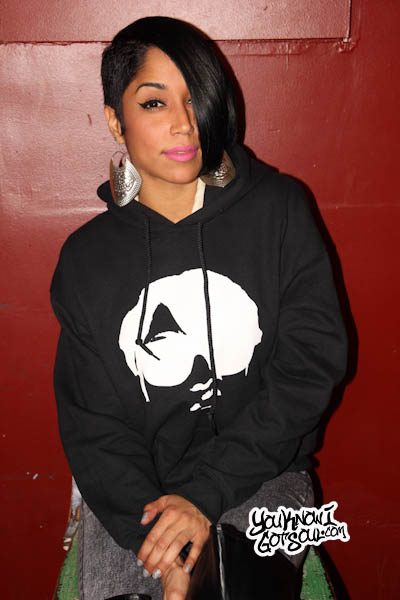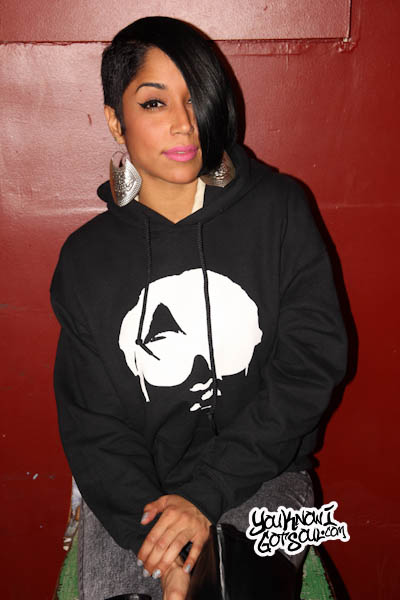 Music lovers, and especially Neptunes fans, will always have a fond place in their musical landscape for Natasha Ramos for the work they created together over the years. However, if you dig a little deeper past her history of making music with the production duo, you'll find a super talented singer/songwriter who really didn't need any help to carve her own path in the industry. Coming out of Connecticut, she was actually picked to be in a group with two of the original members of Destiny's Child, LeToya and LeTavia and eventually was given a deal at Arista after impressing L.A. Reid. Now she's looking to write the next chapter of her career, this time around as an independent artist where she can fully put her talents on display. YouKnowIGotSoul recently hand picked her to be featured in our monthly Sol Village showcase at SOBs and she blew us away! We also caught up with her before the show and discussed what she's been up to, lessons learned over her years in the industry, being independent, the Connecticut music scene, and much more.
YouKnowIGotSoul: Back in 2011, you had the "Dream Seller" EP. Can you fill us in on what you've been up to since?
Natasha Ramos: Since the EP, I've been working on a new mixtape. In between the new mixtape and EP, I've done remixes. The remix to Drake's "Marvin's Room", Ryan Leslie's "Glory" just to kind of keep putting stuff out while I work on my new mixtape. I actually just released a pre-single for that called "Summer". It's a little different, I'm rapping more. I dibble and dabbled into the rapping with "Marvin's Room" and "Glory" because it's always been another passion of mine. That's not the only thing you're going to expect on the new project, but you can expect different things.
YouKnowIGotSoul: Do you feel like The Neptunes' fans have followed your career since you left them?
Natasha Ramos: Absolutely. Especially overseas, I get a lot of love from the UK and France. It wows me and it's amazing to me because it was so long ago and they still follow me. They still show me so much love. They definitely have followed me.
YouKnowIGotSoul: Do you have a favorite Neptunes song that you did?
Natasha Ramos: I think "Midnight Hour" was my favorite. "Pack Up" is actually another one of my favorites. "Pack Up". "Midnight Hour" is the first that comes to mind, but "Pack Up" is definitely my favorite.
YouKnowIGotSoul: You've had quite a journey as an artist. You were in a group with LeToya and LaTavia of Destiny's Child back in the day. You were with The Neptunes as well. How do you summarize your journey as an artist?
Natasha Ramos: It started off really fast. The only way I can describe this journey is a very long learning process. It's between 12 years. It doesn't feel like 12 years, but I've learned a lot of lessons between then and now. It's been a growing experience for me. It's been wonderful. That's the only way I can really explain it.
YouKnowIGotSoul: Are you following for a major label situation again or are you happy being independent?
Natasha Ramos: Right now independent is the way I'm going simply because I had a taste of labels. I'm not throwing any shade at labels though. If anyone wants to throw me some deals, I'm more than willing to take a look. *Laughs* I feel like a lot of people are winning in the indie business. You also get to see a lot more of your own money. Right now I'm not necessarily looking for a deal. If someone were to come across with a good enough deal, I would take it.
YouKnowIGotSoul: You've been through a few labels already. How would you take those experiences moving forward?
Natasha Ramos: I've learned a lot in the business aspect of it as well as the artistry side of it. I just take everything that I learned. Simple things like writing your own record. Even if you're not the most solid writer, you have to keep on practicing and writing because that's where the money is to be quite honest. You can perform and dance the song all day, but you're not getting the writer's money. I honestly feel like it comes within. I feel like anyone else can take someone elses song and sing it, but it takes a lot to be able to write something that came from your own soul.
YouKnowIGotSoul: Being a Connecticut native, what's the music scene been like since you've been there?
Natasha Ramos: It's a little slow. I'm not going to lie. Even though I love Connecticut, it's rough because it's such a small state. There's a lot of people and talented people at that who are trying to do it. Nobody is really checking for Connecticut though. Big executives, A&Rs, other artists, producers, they're not really checking for Connecticut. It seems like if you're in Connecticut, people don't take you as seriously. They feel like if you're still there, you're not that serious about your craft. Like I said though, there's a lot of talented people in Connecticut. I just wish the music scene was a lot bigger. I wish they did have an SOB's type of thing there or an open mic thing more than one time a week. I wish there were a bigger music scene there, but they don't know so I gotta go.
YouKnowIGotSoul: Anything you'd like to add?
Natasha Ramos: Thank you to YouKnowIGotSoul for interviewing me. Thank you to IQ Management and 3D. I just have a very great team. I appreciate everyone. Look out for my new mixtape. You can find everything about me on Twitter at @uluvtasharamos. Also want to shout out the most important people to me, my fans and supporters!