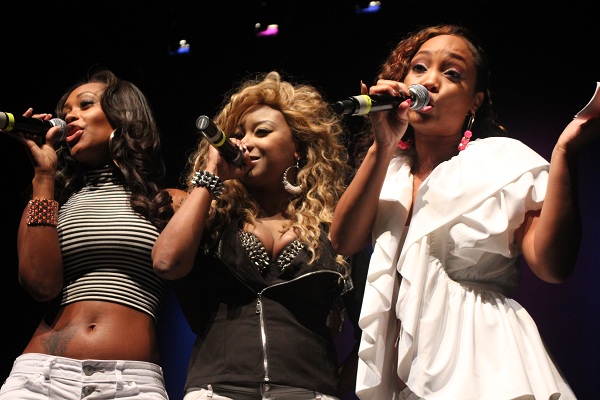 Under the tutelage of Lisa "Left Eye" Lopes of TLC, Blaque came out with their debut album in 1999 and really had an immediate impact on the charts with hits like "808" and "Bring It All To Me". With success like that along with an acting role in the movie "Bring It On", it may appear strange that someone like Natina has seemingly disappeared from the music industry. However, what most people don't realize or look at is the opportunity cost of starting in the music industry at a young age. With so many obligations going on in the prime of an artist's career, they tend to miss out on countless different opportunities. That is exactly what happened with Natina which is why she's taken a step back with her music career to focus on other aspirations that she has including acting. Rest assured though, Natina is still working on music. Aside from perfecting her own material, she's also preparing for Blaque's comeback which is needed right now due to the lack of Female R&B groups out right now. YouKnowIGotSoul had a chance to speak with Natina and catch up with her on everything she's been up to since Blaque. Along with that, we had a chance to talk to her about the history and future of Blaque.
YouKnowIGotSoul: Take me back to Blaque's debut album and what you remember about recording the album.
Natina Reed: Recording is one of my highlights when we were recording with Dallas Austin in Miami because we got a chance to stay at Lenny Kravitz's house when we were recording the album. It was just like "We were actually going to be at Lenny's house for two whole weeks!" We just had a ball because there was just a thrill for us to be there. I want to say working with Missy Elliott was fun because it was me and the girls and Queen Latifah had a studio right next to ours. We were in with Missy Elliott, so all of us kept leaving our rooms to play pool and jumping back into the session. Recording for us was always fun because we love our craft, we love what we do otherwise we wouldn't even really be doing this. There's so many moments of recording that I could just recall that was phenomenal, fun and just filled with life. I think that's why our music comes out the way it does.
YouKnowIGotSoul: I noticed on that album you not only wrote the raps in the songs, but you also wrote R&B songs. Can you take me through your writing process for an R&B song?
Natina Reed: When I was younger, I would always just bang on the wall to be honest. I used to create beats on the wall and just beatbox with my mouth. Then all of a sudden, I would start hearing the melody in my head. You can't write a melody down, but you can write the actual song itself so I would write it and then just perfect it, make the chorus, bridge and everything else. After that, I would say it to people and get people around me to actually sing certain notes and parts so that I can hear how it sounds even better. Once I started doing that, it started attracting a lot of people. When I was about maybe 14 or 13, I submitted something and I won. I just didn't know how to go about doing anything else after that, but then I started being more opened to letting people hear my material and Lisa "Left Eye" Lopes really loved it and she asked "Why don't you write for TLC?" At that point, I was like "Okay?" *Laughs* I would just be in the studio with her a lot and then all of a sudden, she was like "We can also go in with producers and you can get your ideas out and you can use them for your group!" I was like "Cool" and so from there, I became more so the official writer of the group. I was the one that said "I got an idea or a hot concept, we should try it." Tommy Mottola would always say "I want her to write more for the project" and I ended up doing it.
YouKnowIGotSoul: You worked with Left Eye earlier in your career and she helped you craft your sound. Was the influence a hands-on experience where she would help you out step by step with what and what not to do when writing or did the influence come from the vibe that she gave off?
Natina Reed: You know what? Lisa just let me be me. She was so in awe of my talent at an early age that she would just let me do me because I think that she wanted to see what was going to come from me without her help. It's almost like "Let me sit back and see what she's doing to do with this." She would say "Oh okay, I like where you're going with this!" and I was like "You do?!" She built my confidence and really inspired me through just believing me and sometimes that's all you need to give a person.
YouKnowIGotSoul: You guys went on to work on the second album "Blaque Out" which I felt was Blaque's best album.
Natina Reed: I agree.
YouKnowIGotSoul: What was the process for that album?
Natina Reed: On the "Blaque Out", it was interesting because this is the second album and the label realizes our potential at that point and they just wanted us to go higher and higher. The problem was trying to figure out what producers we wanted to work with as far as being the executive producer. We even sat down with Jermaine Dupri and we were going to make him executive producer. Then we sat down with Tone and Poke from Trackmasters and we were going to make them the executive producers. We decided to stick with family and we went with Trackmasters, but we kind of weren't really going in the right direction that we wanted to go, so we just started to say "Okay, we want to use different people". One of the people that we used was Sturken and Rogers who did some stuff for Prince and *NSYNC. Those were the types of people that we thought would bring something different out of Blaque and another person that we worked with that I really liked wa…What was the name of that group? It was the group that was in the movie "House Party". It was three guys, they were fun to work with. I can't remember their names, but they were very fun to work with because they had created so many different records for so many people different people. They knew how to bring out the "This group is not TLC." They kind of gave us that flavor that we needed. Oh yeah, the name of the group is Full Force. They were really, really fun to work with. They would do pranks in the studio and do stuff like that. That album is my favorite as well.
YouKnowIGotSoul: Another producer that I spoke with who worked with you guys is Salaam Remi.
Natina Reed: Yes, I loved working with Salaam, he has the dopest ideas. A lot of people don't realize that Salaam Remi the reason The Fugees got "The Score" album.
YouKnowIGotSoul: Unfortunately the album didn't get a chance to come out properly. What do you think people missed out on the most with that album?
Natina Reed: I think they missed out the most of being able to identify what Blaque really was at that point. I think the first album was a good introduction like "Okay they're different, young, vibrant and cute." But I think the second album was like "Okay, this has something on it that everybody can love." This album branched out a little more than the first one did and reached out to many more types of people. One song might remind you of a Timbaland and Aaliyah-type record and another one might remind you of a TLC record. It just gave you so many different feelings. Another one might give you that soulful feel of the records that you miss like a Dru Hill or something. It gave you so many different directions and I loved one of the ones that Full Force had did with us which is called "MTV (Thinkin About It)". I loved that one because of the message in it. It was a big record, but we dropped the ball on that record. Whether we did that, it was simply because we were making changes. Me and Kurupt from Tha Dogg Pound were expecting a child at this point and the label did not want to replace me. They felt like if Natina isn't going to be in the group, we aren't going to use the group. I had to keep certain things in mind and of course I was going to continue on and have my child, I wasn't going to give that up for nothing in the world. That's pretty much what happened during that time. It is confusing to the fans, but it was a little bit more personal than people thought it was.
YouKnowIGotSoul: Following that album was "Torch". Talk to me about the approach with the album.
Natina Reed: when we over to Elektra, that was our new home. We had a bidding war going on with Virgin Records and Elektra. At that time, Sylvia Rhone was like "I will put up more and give you more things than Virgin will" so we went with what seemed to be a better offer. However, I think that during the third album, we had some really amazing people that we worked with, I just don't know if the songs, in my opinion, I kind of felt like that from the writing standing point, they just wanted to trust Missy Elliott and where she would go. Just wanting to trust certain people and their ideas. Some people are great writers for certain artists, but some people are not so well for us because we are a different group. I felt that could have been a great album, but I wasn't sure if I liked the direction we were going in to be honest because Blaque is a little different from the direction that was taking place with that record. I felt like after the "Blaque Out" album, it should have been taken to higher level than that. I didn't like the direction of the "Torch" album and where it was going. A lot of people have some of their songs off the "Torch" album that they really liked, but for me as an artist, I have to be comfortable with what I put out first just so I know my fans will be.
YouKnowIGotSoul: That's interesting you mentioned that because I spoke with Brandi not too long and she said the same thing that she felt like with the "Torch" album, you guys didn't have the creative control that you may have wanted on it. Was there ever a point in the whole recording process where you guys spoke with the label and asked to record your own stuff?
Natina Reed: Sylvia Rhone is a very, very, very, VERY big business woman and when you're dealing with someone like her and if that's your boss, you want to trust the guidance that they've given you. You want to kind of say "Well if you think this person should do five records on us and you're paying for it, then fine this person can five records for us." *Laughs* When we got in there, we're thinking "Okay this is Missy Elliott, it's going to be a great record!" But some of those records could have been a little more tailored for Blaque and not one of those records where it's like "I'm getting five Missy Elliott records!" It's like "No, I want tailor made records simply for Blaque." At that point, we were just trying to trust the guidance of our label and they put us with some amazing people, it's just those people just didn't tailor make the songs for Blaque enough.
YouKnowIGotSoul: To this day we still haven't heard "Torch". Are there legal issues holding the album from being released? Do you think we'll ever get to hear the album?
Natina Reed: No, not really because we own the masters to it. Like I said before though, we'd rather be more comfortable in our own skin with what we give our audience. If it's not necessary to give them a record that we don't even too much care for, why give it to them? Just so they can say they heard a Blaque record? No, we want you to say "We heard a Blaque record and we loved it!" and there's a difference.
YouKnowIGotSoul: I know Blaque eventually broke up, but returned a few years later to record a project titled "Private Show" but the reunion didn't really last too long. Why didn't the reunion work out?
Natina Reed: Personally, we were in different phases of our lives. Shamari had just got married to Ronnie DeVoe, Brandi was in the process of getting ready to get married and I was very serious about making sure that this record was a good one. I guess when you personally need that time when you just get married, some people need personal time. That's where it was for us, we had so many different areas in our lives that were personally affecting us. We needed to take a hiatus and everybody needed to just handle their personal lives and handle business because what people don't realize is that we've been in the music business since we were 15 years old. We were babies when we first started this and we didn't get a chance and opportunity to really live our personal lives. It wasn't directly something that we planned, it was just something where we said "Okay, we need to take a hiatus for a second and breath. Then we'll come back to it." That's what we're doing now.
YouKnowIGotSoul: We've heard music from Brandi and Shamari, but we've never really heard too much from you. Can you bring us up to date with what you've been doing since Blaque?
Natina Reed: It's been a lot of stuff going on. I did this play that I was a part of. I played a lead role in a play and after that, I was working on trying to make sure whatever I did music-wise, I wanted to stick to that because when you're coming out and you have Nicki Minaj and all these different rappers out there, you don't want anyone to compare you to Nicki Minaj. You don't want anybody to compare yourself to anybody else but yourself. I wanted to put out a side of me that I wanted to show the world and I wasn't ready to release anything or let people hear music or do all of that type of stuff yet. I felt that was too premature.
YouKnowIGotSoul: Are you in the process of recording or potentially putting out anything?
Natina Reed: Oh yeah, definitely. I'm working on this book project right now. I just got an acting agent about a year and a half ago, so my thing right now is that I love acting. That's my main concern besides Blaque. My main concern is that I take the proper role and things of that nature. I'm also working very closely with a friend of mine who just got a deal with Paramount. We got like 26 movies and our budget is $50 million and up for each film, so I'm getting kind of closer to writing more scripts and things of that nature. I'm getting closer to the movie side of things right now.
YouKnowIGotSoul: Is that something you felt in love with recently or has that always been a dream of yours with the movies?
Natina Reed: It's always been a dream of mine. What people don't know is that when I was little, I used to always model. At that point, I started doing little small shows on ABC. There was one movie that I did called "Innocent Victims". I always dreamed about fulfilling that aspect of my career, but like I said before, Blaque got so busy to the point where we had to turn down so many films and roles and my main concern at that point was just making sure that I fulfilled my obligations to my group which is always important first and foremost.
YouKnowIGotSoul: Not too long ago, Blaque reunited for the Left Eye festival. Can you talk a little bit about that?
Natina Reed: I think it was a lot of people there that was so excited to even see all three of us together. What happened was some magic between Blaque that we didn't even remember was still there and everybody said that we never skipped a beat. I think that this time the magic that you're supposed to see in groups, that's what you're going to see from us this time. I'm excited about it!
YouKnowIGotSoul: Are you guys going to potentially record music as well or are you guys just doing shows?
Natina Reed: We don't want to give all that information away, but yes, yes and yes! *Laughs*