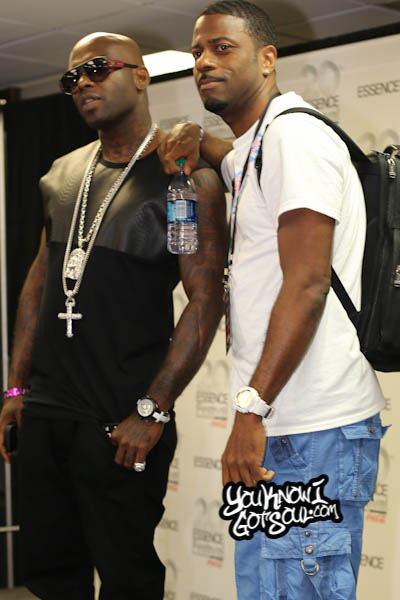 There's no denying the impact that Naughty by Nature has had on the hip hop world for the past two plus decades; simply put they are legends. We've also always had a great deal of respect for what the group's producer DJ Kay Gee has been able to accomplish in r&b with his Divine Mill Record Label over the years. If you aren't familiar, he's credited with discovering Next, Jaheim, Zhane, Koffee Brown and others. When we caught up with the group at the Essence Music Festival this year, we talked about Treach's respect for what Kay Gee has accomplished, and their memories of working with Big Pun and Aaliyah.
YouKnowIGotSoul: We've known Kay Gee for awhile and supported everything he's done in r&b. Can you talk about the respect level you had for him when he started his Divine Mill record label and had success with it?
Naughty by Nature (Treach): I was mad as hell, I didn't want him doing shit but Naughty by Nature! *Laughs* Nah. Kay is one of the most talented producers out there. It really shows when you can go from different genres of music like hip hop which we started in, and then we see him going and doing Zhane, Koffee Brown, Jaheim. He wasn't just our homey, we weren't just saying he was a dope producer because he was with us. Once he started doing that r&b stuff, we knew he was a world class producer.
Naught y by Nature (Kay Gee): They knew I had soul!
Naughty by Nature (Treach): You could see everything he's done throughout the years, he's right there. We never questioned why he was doing stuff outside of hip hop, a producer is a producer. When a producer is a real producer, he can do all types of music. I felt like my brother was doing something that I was proud of. You see your brother like in sports, I felt like he made it. He wasn't just a hip hop producer, I was telling people "My DJ is one of the dopest." Once he started doing r&b and other genres, I was like "See!"
YouKnowIGotSoul: Talk about the collaboration you guys had on "We Could Do It" with Tony Sunshine and Big Pun.
Naughty by Nature (Treach): You know Pun, he could write right there! Certain artists you give them the track and they go off for a month or two and come back with the track. Pun would be right in the studio, writing right there, lay it down right there, the song was done that day.
Naughty by Nature (Kay Gee): He could flow too, the flow was just ridiculous man. We miss Pun out there. We've got a lot of fallen soldiers in hip hop, you miss them all, but we definitely miss Pun especially for what he's done for Latin Hip Hop.
YouKnowIGotSoul: We do a lot to keep Aaliyah's legacy alive. What do you guys remember most about working with her?
Naughty by Nature (Treach): One thing I remember about her was that she was so much of a mega star and you would never know it. You would sit and talk to her like you grew up with her. It was no super star, it was no diva; she was the largest at the time. It was no extra.
Naughty by Nature (Kay Gee): She kept her family with her, her mother and her brother. She was one of those people where if you saw her, you just knew she was a star; it just came off like that. Even working with her, we were working with her in a small room in Battery Studios, with Renee (from Zhane). We were working on "Are You Ready" from the "Sunset Park" soundtrack. It was incredible. I just cherish the moment and I'm glad I had the chance to meet her and say I've known her and had the chance to work with her. There are some people you put on a pedestal and say you want to work with, and she's one I'm glad I had the chance.