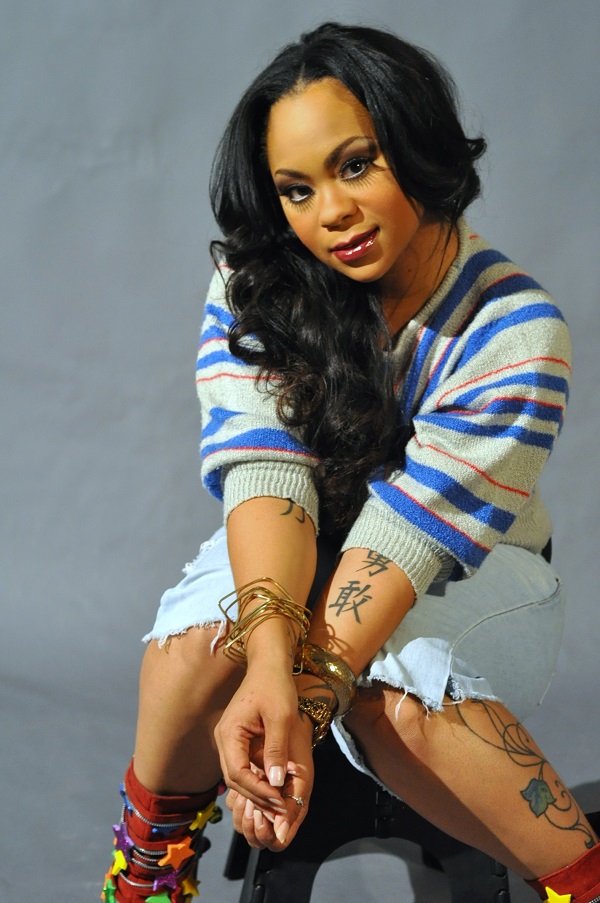 It may be a surprise to hear, but Nivea established herself in the music industry well over a decade ago now. She burst on the scene on Mystikal's "Danger", went Gold with her self titled debut album, but then began experiencing industry frustrations with the release of her sophomore album "Complicated". After well publicized relationships with The Dream and Lil' Wayne, reality TV would love to have her, but she's not interested in sharing her story that way. As a well respected member of the r&b community, she'd rather let her new music do the talking, and we admire her for that. Since she's spent much time involved in charity efforts, raising her family, and creating music independently, she's been out of the spotlight a bit and left many wondering what she's been up to. YouKnowIGotSoul had the opportunity to catch up with Nivea and take it back to her origins in music, what her journey's been like through the years, how she plans to move in the next phase of her music career, and much more.
YouKnowIGotSoul: Let's start with your origins in music. How did you originally get signed by Jive?
Nivea: Well I'll tell you I originally made the decision to become a singer at the age of 15. That was at the beginning of my high school years. It was my mission to shop my demo for a record deal right after high school and I did when I graduated. I went to New York and it happened. They liked my music and they offered us a deal and we signed. So I was 18 and I had just graduated from high school. It was cool times.
YouKnowIGotSoul: After you got signed you started working on your debut album. Take us back to that album and what you remember putting that together.
Nivea: It was very interesting because a lot of my first album was part of my demo that we brought to the record label. Back then, you would get a record deal and they would say they have producers and writers that they wanted you to get records from. In my case, I came with mine. "Don't Mess with the Radio", my first single, was on my demo. "Don't Mess with my Man" was on my demo, so was "Have Mercy" and "No Doubt". At the same time even though I came with a lot of records, I got a chance to work with The Neptunes on my first record. I actually did a double first album. It was released in Japan and then in the States. It was an interesting thing that I came with half my album and then at the same time had an opportunity to work with such incredible people that meshed with my new sound and introduced Nivea for the first time.
YouKnowIGotSoul: You had the huge single "Don't Mess With My Man", which originally had a different beat than the one that hit radio. How come you guys switched up the beat?
Nivea: That was produced by Bryan-Michael Cox and I actually recorded the song when I was 16 years old! *Laughs* When I did the video and release I was 19 and I liked both versions, but Bryan wanted to change up the beat.
YouKnowIGotSoul: You also had the big single "Laundramat" with R. Kelly, someone you did some great work with. What was your chemistry like with him?
Nivea: It was easy because once he heard a few of my records and he heard my voice and my tone, he said it was very familiar to him. He just went to writing. Whatever he came up with I would sing it, and he knew what to do with my voice. I would just follow his lead.
YouKnowIGotSoul: One of our personal favorites is "Runaway" produced by The Neptunes. Take us back to creating that one.
Nivea: It was interesting because they had done Kelis' album and I was already a fan. At the time, Mystikal and I were labelmates and The Neptunes had recently done "Danger" which I was featured on. Working with them was fun, it was awesome. To see how they create and the vibe and how it just comes to them, I just went in there and did what Pharrell said and that's what it was! *Laughs*
YouKnowIGotSoul: Many people heard you on Mystikal's "Danger" and that was their first time hearing you as an artist. What type of introduction do you feel that was for you as an artist?
Nivea: I liked it but at the same time it confused a lot of people. I was in the video but not in my full media image. *Laughs* When I first came out with "Don't Mess With the Radio" and the video, people were like "What? That's weird!" They didn't even think that was the same girl. It was almost like a misfire with my image and I was accepted more in a pop community even though I was a hip-hop/r&b artist. *Laughs* When I came out as a solo artist I was perceived as some other girl. It was almost kind of hard to integrate at first, I didn't know where I belonged yet.
YouKnowIGotSoul: Moving forward you had the second album and the big hit "Okay" with Lil' Jon. What was the expectation for you on the album?
Nivea: Yet again, "Okay" kind of came out of nowhere. I think "Complicated" was a mixture of me going through different personalities. I was a party girl, I was thinking about love, I was all over the place. That's where I was in my life, there was a transition going on and then I was falling in love again. It was a lot happening. "Complicated" has a lot going on in it! *Laughs* "Okay" I thought was fun and bouncy and happy. The Dream wrote that and I was happy to have it.
YouKnowIGotSoul: It seemed like after that single there wasn't a push for the album. I don't think you had a second single from the album?
Nivea: No we didn't. That was when a defect was occurring with my CD's and they did a recall. So I was like "I'm ready, please release me" and it happened. That was the end.
YouKnowIGotSoul: Looking back at that situation, do you regret asking for a release?
Nivea: No, not at all. Did not regret it.
YouKnowIGotSoul: After that, You had the "Animalistic" album which was very interesting from a production standpoint. What was the approach for that album?
Nivea: At the time I was married to The-Dream. He and I started our own company and we did a distribution with Formula Records over in Japan. We basically did that album ourselves. He did pretty much most of the production himself and we wrote and recorded the songs together. It was a mash of me and him, sort of like an alter ego. We just had fun with it. We were just like "Let's just some do other stuff" and he was at the height of his creative phase. It's not the best quality, but if you really delve into the lyrics and melodies that we were creating, it was pretty dope. That was released to certain areas, but not in the US. That was in 2006.
YouKnowIGotSoul: It seems like with that album, there's a lot of people on the internet that are fans of it. Do you feel like that album was ahead of its time?
Nivea: Absolutely, I'm hearing it now within the past year. That's why I said if people really paid attention, it's like "Wow". No one was in that zone back in 2006 which was 8 years ago. No one was in that zone. I do feel it was ahead of its time. I don't think that's being too arrogant to say, but it was.
YouKnowIGotSoul: How was the album received in Japan considering how advanced the sound was?
Nivea: It did well actually. It sold also in Australia and I don't remember the other places, but it did pretty well.
YouKnowIGotSoul: Where did you go musically after that album?
Nivea: At that point, I was a new mommy of 3 and that was around 2007. I was just about to become separated from my husband at the time, so during that whole transition, I did a lot of writing and I recorded a song during that time period called "Love Hurts". We shot a video to it in 2008 and I featured Lil Wayne in it. That was the inspiration. So in 2007, I was going through my separation. In 2008, I went through my divorce and started a new relationship over with Wayne. I was just in the middle of fighting of deciding if I wanted to sing, go to school or be a full-time mom. I just backed out for a minute, but I was still in the music industry. I was co-managing a Soul/Rock/Hip Hop artist and there was a Pop artist at the time. With my best friend, we had an image consulting company and I've always been doing mentorships. I stayed in the industry in very small ways from 2008 to 2009 which is when I had my youngest son. Here comes 2010 and I'm ready to release new music, so we did a cover album called "Nivea: Undercover" and this was all independent. It wasn't for sale, it was for free. It was just 5 remake songs. I wasn't necessarily pursuing a record deal at the time, but it was just to let people know that my heart was still in music and that I'm coming back too. I'm just now doing a lot of recording and writing. I'm just trying to get my groove and sound now. I'm more confident and into my penmanship and how I'm going to tell this story of me. I've been approached by every reality TV show and I'm not just interested in getting my story out that way. Maybe I'm not as brave as I think I am. I'm also involved with a lot of community service projects. There's an organization called The FreeDEM Campaign. I am a member of that and we do concert series every month. We just did the first one and I performed at it. I performed two new records "I Was Good Though" and "Suicide". That was great. It's basically an art and music event and we want to introduce what it means to get involved in your community and make it better. Every week, our group meets and we feed 600-700 people and we're partnering up with the boys and girls club and several other organizations in Atlanta that mentor kids and create a community. That's where my heart is as well. Along with the music and The FreeDEM Campaign, I also have Nivea's Lifeline which is non-profit. That's what I've been working on for the past year. I have 4 beautiful kids as well.
YouKnowIGotSoul: You just put out the new single "Loud Blunt" not too long ago. Talk about that song and why you decided to put out that one to reintroduce yourself.
Nivea: That song in particular was a zone that I was in and I was like "I want to sing this song". I was really into the melody that I had come up with and I felt like I should be able to say whatever I wanted to say. I finally felt like I was able to introduce my true self to anyone and not be afraid of that. I stuck true to my R&B side and I wrote what I felt. I love "Loud Blunt" which is available on iTunes by the way. *Laughs* We're still deciding if we want to do a visual for it or not. I'm getting requests for it here and there, but I'm just anxious for the new music that I have. The new music will be very revealing, so the new album will be called "Nivea Revealed". I'm just ready to give you to new music. It's been awhile, but I'm proud of it. I wasn't apprehensive about it at all. I had to convince the people on my team to let me do it. *Laughs* I'm just me, so I know where I want to go. It's my art, so let me choose the way it's supposed to happen.
YouKnowIGotSoul: How much of a priority is music to you nowadays? I know you have kids and you're doing this entire project independently which is difficult.
Nivea: It's very hard, but it's still that much of a priority for me. I don't know if that's selfish or not, but my children are very musical. At the same time that I'm pursuing my dream, I'm taking them along in the process. They're witnessing a lot of times that I'm doing music. Even with their father they visit the studio, the rehearsals and concerts. They'll be like "Oh this is how you make a CD". Whether they want to go in that area or not, they have the gift and I'm actually glad that I'm still pursuing it. It's still a priority for me. I just had to wait until I felt comfortable enough and they were of age. My youngest is 4 now and there's a little more freedom now. It's still a priority for me because I can't let it go. I'll never be able to.
YouKnowIGotSoul: What kind of respect do you get from your industry peers and fans?
Nivea: It's ironic, but I actually get a lot of respect from my peers. I get a lot of messages that are passed through from people saying, "Let her know I love her voice." When I meet people that I've never met, they'll always be like "I know who you are". I appreciate that.
YouKnowIGotSoul: Anything you'd like to add?
Nivea: Look forward to new music from me. My Twitter is @ThisisNivea and the same with my Instagram. Remember The FreeDEM Campaign and look for new stuff from me.