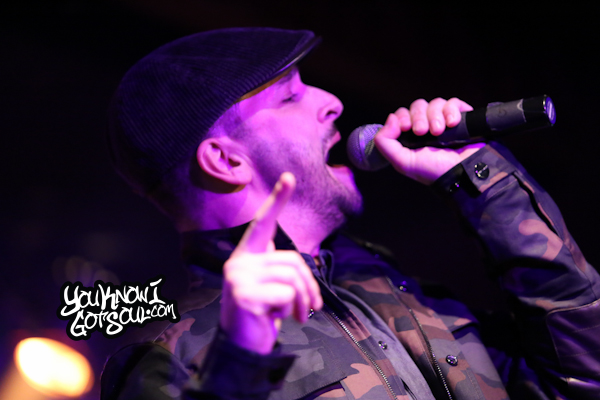 Jon B. is one of those artists that you can't help but respect what he does. Since his highly successful debut in 1995 followed by smash singles like "Someone to Love", "They Don't Know", and "Don't Talk", Jon is still here years later making quality music. For a man who's not only able to write, produce and sing his own music, but also humbly believes in the integrity of quality r&b, nothing's changed. His latest album and first independent album "Comfortable Swagg" is out now, and he seems as excited as ever to share his craft with the world. YouKnowIGotSoul caught up with Jon backstage following his sold out show last month at BB King's in NY. We discussed with him what you can expect to find on the new album, his new single "Only One", some new sounds he tried with this album, where he continues to find inspiration to make good music, and much more.
http://www.youtube.com/watch?v=BpQ5_1fxVks
YouKnowIGotSoul: Your new album "Comfortable Swagg" just released. Give us an introduction to the album and tell us about it.
Jon B.: Well I'm on album number seven now, this album is "Comfortable Swagg". This is the album I really think that sort of brings me out of the shadows that I was sort of lurking in on my last album "Helpless Romantic". That wasn't a shadow of a record, but I definitely felt like it could have got a lot more love and promotion from a label point of view. They could have just looked at it as a masterpiece and treated it as a masterpiece because it was in my opinion. It was a very thorough piece of work. I put my heart and my soul in every album. So when one album does better than the other, you've got to contribute it to a lot of different elements, there's a lot of politics involved. To make a long story short, this album just feels right, it's a comfortable record from beginning to end. There's only twelve songs on there so it's also one of the shortest albums I've done. I just feel like the styles on there are really cutting edge and something different than you are not used to hearing from me. I take you to the club on this record, I take you to the bedroom on this record, I take you to relationships. What I do, my M.O. has primarily been the love making and baby making records. I've still got that on there tough, there's a lot of that on there. It's the type of record that I would say is geared towards relationships and real life. It's grown man B.I., it's what I'm all about right now at 37, raising a four year old, being married, but at the same time being on the road and traveling the world.
YouKnowIGotSoul: I know you took your time on this album, since "Helpless Romantic" came out in 2008 it's been a few years. Talk about the growth this album represents.
Jon B.: The growth on this album is tremendous because I think music as a whole has grown to a place right now where we're so eclectic, we love it all; from rock & roll, to hip hop to house to dance music to dub step to reggae and dancehall vibes. It's just such a variety in music right now. I think for the first time we've got to a completely incredible place that really has no limitations. When I say we, I mean r&b. Now, you can go ahead and do an r&b song over a house beat or over a dub step beat or over a nice club beat, and it really makes more sense than ever. You can add sort of this distortion, rockfish guitar into a ballad and all of the sudden you've got this other kind of element that you'd think r&b heads would shy away from, but it's in good taste now. I think we've finally got a place now in music where people are open to energies where probably 10 years ago they wouldn't have been open to.
YouKnowIGotSoul: You've got out the single "Only One" and the video just released recently. Talk about the creation of the song.
Jon B.: "Only One" is the new single that's out right now and it's available right now on iTunes. It's a sexy record, that record is a record about really sort of role playing and there are some elements of having to recreate the magic. It's like after a little while, you've got to recreate the magic and maybe some role playing is involved or fantasy, aint nothing wrong with that. The record is really a statement, there's only one me, there's only one Jon B. The fans are so patient with the time between each album, I just feel like I haven't really lost anyone's interest. I think the interest stayed all of these years and that's been such a blessing. That's literally what this song is about, you know that there's only one me. I think it's a statement record for me, I've never really made such a strong statement on a record that can really have many different meanings and interpretations.
YouKnowIGotSoul: When "Helpless Romantic" came out, we did an interview and I asked about the song "Paradise in U" and I believe you said that was a holdover from the "Cool Relax" era. On this album, do you have any songs that you dipped back into the archives for?
Jon B.: Actually that's what's so amazing about putting an album together. I recorded probably 50 records or something like that in the last three to four years. You kind of make your records and you grow and you live with your records when you're dealing with a time period of like three or four years, you have time to really live with these records. I have certain records that stuck around since 2000 that made it on this album 12 years later. The song is called "Do You Miss Me" and it's a very, very soulful record, very relaxing. It's almost a return to elements of a style of "Overjoyed" from the "Pleasures U Like" album which was a duet that I had with Faith Evans. That sort of set the standard for that style of a ballad. I wanted to say that we returned back to that, and it's just lots of stuff to look forward to on this album. "Do You Miss Me" is one of those records that it's like "Do you know how longs it's been since we've seen each other, do you miss me at all?" *Laughs* It's nice to be missed, it's nice to know that that was one of the songs that people tweeted about when the album first came out.
YouKnowIGotSoul: Another song you've got on the album is the dance type track "It's Goin Down" which you performed tonight. People might not be used to hearing that sound from you.
Jon B.: It's an incredible party track. That's a record where it's self explanatory. The thing that I'm so excited about that record is that Adonis wrote and produced that with me. He had the track already done, he had certain elements of the pre-hook and the ideas in terms of melodies but I came in there and lyrically said I wanted to make this record about me just walking into a club and literally going in. I wanted people to feel the energy, I wanted it to be exciting. It was artists like Chris Brown, Rihanna, Usher, Ne-Yo, these people are really setting the standard in terms of music and in terms of a playlist. I've been to clubs where I've heard literally each one of those artists back to back. I really wanted to exist in that playlist as well with the likes of those cats. I just feel like music is evolving and you've got to have a good time with it too, there's so many different levels to it. I'm not just one of those guys who wants to be in the bedroom all of the time or in the car riding around like "oh let's just roll the window down baby"! *Laughs* It's not about that all of the time. Sometimes your boy wants to wild out and go on the floor and lose my mind, that's a part of life too.
YouKnowIGotSoul: You're releasing this album completely on your own and completely independent. What have been the biggest challenges you've faced?
Jon B.: Putting records out, from the very beginning, was about making the songs. Recording the songs, performing the songs, so what has changed in terms of what I do, how I make my records? Nothing. The only thing that's changed is the fact that I don't have somebody in my way now second guessing everything I give them and trying to point out all of the negatives with what I do. They don't make hearts like this very often, this is something special, this is something rare. So all of those labels out there that are thinking whatever, that's why I had to do this. I don't need anybody to believe in me. I believe in myself and God gave me the talent that I have and the ability and the opportunity to share it with yall, and I already know that yall believe. Why should I invest my time and my product and my heart with someone who's a non-believer! *Laughs* I'd rather share my skill with somebody that's an avid believer and is a supporter and would do anything for me. That being said, I'm independent now, I'm shooting all of my videos, directing all of my videos, putting together my own tour, doing my own artwork for my album, I buy my own clothes! *Laughs* It is what it is man, I'm not put together like that, I'm not a cookie cutter artist like someone needs to tell me how to sing or look.
YouKnowIGotSoul: How empowering is it to basically be able to write, produce and sing a full album all on your own? That's such a rarity these days.
Jon B.: It's a good thing for these kids to pay attention to, to understand what it is to be your own artist and write your own records and to program the drums and make the baseline and come up with the harmonies for the hooks, to come up with the melody for the song, to come up with the lyrics for the melody. All of these things, I take pride and that's my passion and that's what Jon B. is; it's the melodies, it's the beats, it's more than just the voice, the fact that your boy can't dance too good. *Laughs* It's more than that. Look inside my heart and see how much you get from one of my records that you listen to. I think any real person who has a heart can understand it's authentic.
YouKnowIGotSoul: There were a few songs that didn't make this album that you had released to iTunes over the past few years: "Quality Time", "Body Language", "Confident" and "After the Party". Will those end up on a future project?
Jon B.: I actually want to let people know I've got a new project that's going to drop in the Summer. I wanted everyone to hear everything I'm working on. I'm one of those types of artists that I feel like less is more sometimes. On all of my albums I've had numerous features, Nas, Jay-Z and 2Pac. I've been blessed to work with some of the greatest so I feel like I already did that and I don't need to continue to do that. I feel like some of the features that I had, I don't think I can do any better than that. At the same time, I feel like there's a time for that. Right now it's Jon B. time, it's not about Jon B. featuring anybody. *Laughs* There are not any features on this album except for one feature, and it's a feature I felt was only right being that I'm from Cali and I have huge admiration for DJ Quik. He is one of the producers and writers and rappers out in Cali just doing his thing. We got together and we made some great music, I love the song "Fill Ur Cup" featuring DJ Quik. You've just got to check it out to hear what it is. It's some smooth sophisticated funk! *Laughs* That presses the album in terms of bringing it to a very sexy kinda vibe in terms of the tempo. When you hear that, hopefully it's gonna make you wanna go get dressed and go out somewhere and get your party on.
YouKnowIGotSoul: This last question comes from @TeamJonB on Twitter. As you continue to grow older as an artist, where do you continue to find inspiration to create good music?
Jon B.: My inspiration has always come from the will to want to do it, the will to want to make music. The sounds will always be my inspiration terms of I bring a new sound up and I start playing with it and it's almost like that sound evokes an emotion. But before all of that even happens, my studio is in the basement of my house, and I have different levels to my house. Upstairs is family layer, downstairs is business studio layer. When I go from the family to the studio, it's like my heart is grounded in a way that it's never been grounded before. Your boy had his head in the cloud for years and years and years. I wasn't grounded in the way that I'm grounded right now. I think a child will do that to you and getting married will do that to you if it's right. If you're doing what you're supposed to do, it will be the best thing that ever happened to you. That's what's really continuing to inspire me every day and continuing to take my focus away from what just used to be all me, so self centered. It's not a negative thing because it's about music, it's about caring about the music, it's not like I was a model or something! *Laughs* It's just fun still, I'm really loving it. Hopefully you guys will love it just as much as I do. Big up Team Jon B., I love you so much, I love the fact that you love me, that's what it's really about. It's sharing this energy, and I so appreciate you guys, everybody out there.
YouKnowIGotSoul: Anything you'd like to add?
Jon B.: I'd just like to add, to everybody, just let me say from me to you, thank you so much from the bottom of my heart for always believing and always having your boy's back. Nothing's changed; we're still hungry and it's still like the first album. If anything, I just need a little bit more action from my fans. If yall get together on a real note and we show these major labels it can still happen and an artist can still have success and be an independent artist. That being said, go get that new album on iTunes "Comfortable Swagg". This is Jon B., one love.