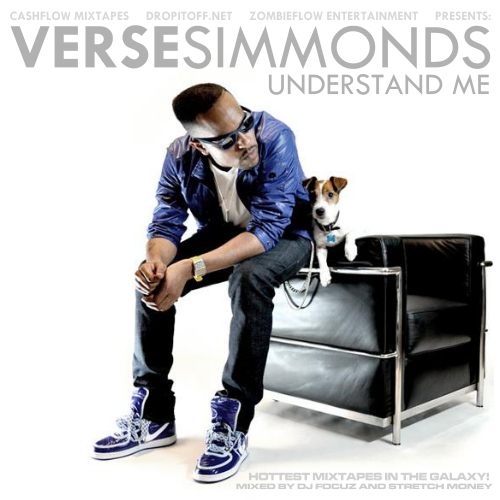 Prior to his performance at SOB's during Sol Village last month, YouKnowIGotSoul caught up with the latest signing to Akon's Kon Live label, Verse Simmonds. We took the opportunity to talk to him about his journey to this point from starting out as a writer/producer, to hooking up with Darkchild, to signing and being dropped from Interscope, to meeting Akon and his latest single with Kelly Rowland.
YouKnowIGotSoul: Tell me about your first major placement as a writer/producer.
Verse Simmonds: My first major placement was actually on an artist named Ak'Sent. She was signed to Capitol Records at the time. Me and my partner pretty much did the whole album. The first single was called "Zingy" featuring Beenie Man. We put it out overseas in Japan and it did pretty well over there. That was the first major placement we got.
YKIGS: Eventually you were discovered by Darkchild and he helped you get signed to Interscope. What was that whole situation like?
VS: It was great being able to work with Darkchlild who is one of the legends in the game. We had a nice, short little run together and I eventually ended up leaving the label, but that's the homie though. It's great to be able to sit down with someone who has been in the industry for so long and be able to really just learn a lot from him. He's worked with the best that ever did it from Michael Jackson to Beyonce and everybody. It was great.
YKIGS: You left Interscope on good terms, but you unfortunately did not get to release an album over there. Did you kind of get discouraged as an artist?
VS: No I didn't get discouraged because at the time, they actually released me from Interscope, but I looked at it as a blessing because sometimes you get into a situation and it's not exactly what you expected and it didn't work out how you expected it to. That's just because the chemistry of where you at isn't meant for you so I just looked at is something that was meant to be. Me and my team kept pushing. We kept putting out music from the club to the mixtape stuff and it's been working out real well for me.
YKIGS: Eventually you linked up with Akon. How did that all come together?
VS: I've been knowing Akon since 2003. I meant him through his DJ who is actually one of my close friends Benny Demus. Late last year, he was like "Yo I want you to have you come in and help me work on my album," and we just ended up really clicking and he was like "I want to start this whole new regime of Kon Live and I want you to be the face of it. Come on board!" So we ended up putting it together and we got distribution through Def Jam.
YKIGS: Earlier this year, you released your mixtape "The Sextape Chronicles 2", what's the reaction been to it?
VS: The reaction has been great. It's really been more than I expected. Really, when you're a new artist and you put out music, you don't know how people are going to take it. The response has been really great. The single that I have out with Kelly Rowland "Boo Thang" is actually one of the records that was actually able to come from that mixtape and be as successful as it is becoming right now. It just made the countdown on 106. I'm really happy about that.
YKIGS: What can we expect next from you?
VS: I got another mixtape that I'm going to put out before the album sometime mid next year and a few other singles I'm going to put out. You can just expect a lot more great music and that's what I'm looking forward to giving.