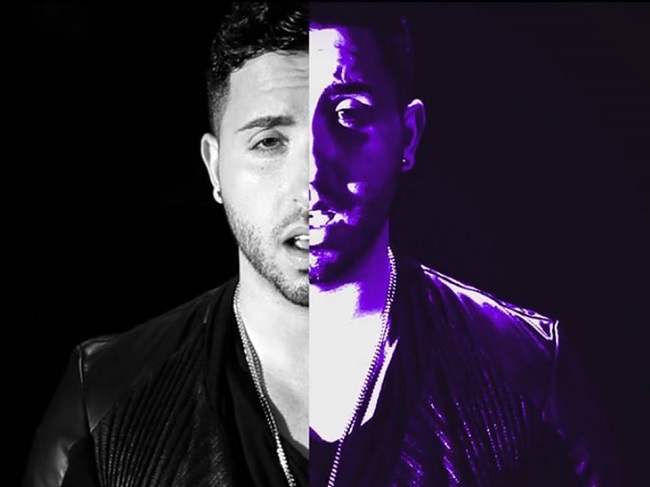 It seems like ages since we last heard from Colby O'Donis. The last memory of Colby was back in 2008 when he dominated the charts with his debut single "What You Got". The dance influenced R&B jam was a perfect fit for the radio at the time and turned him into a teenage Pop sensation. However, even with all of the success and fame that Colby O'Donis was experiencing, he was unhappy with his music and the industry-driven image that he was portraying. After his debut album, he took some time to live his life and decide what kind of artist he wanted to be. 5 years later, Colby is back under his name O'DONIS and he's ready to top the charts once again, but this time, he wants to do it his way. YouKnowIGotSoul had a chance to speak with O'DONIS about his upcoming project "Starting Over", his new sound and also his decision to change his name.
YouKnowIGotSoul: Take me back to your debut and what you remember about recording that album.
O'DONIS: Shoot man, it almost feels like a lifetime ago really. I started when I was 15 and we released it when I was 19 years old. It was a journey for me, it was definitely a learning experience to this next album I'm working on. It was definitely a journey and I feel like everything I do and all the music I've been doing is getting better and better. I look back at that in awe and I'm completely blessed and grateful that this is what I do and something that I will continue doing.
YouKnowIGotSoul: On that album you had a chance to work with people like Akon and T-Pain. What did you learn from working with them?
O'DONIS: I definitely can say I learned a lot about keeping to your roots, staying grounded and being absolutely grateful for everything you have. They were really cool guys and fun to work with. I learned a lot about music from them as well, especially from Akon who taught me so much musically. It was all a blessing for sure.
YouKnowIGotSoul: I noticed on that album you wrote pretty much most of it. Take me through your writing process.
O'DONIS: At the time, I was kind of making stories up in my head and a lot of the songs were off of stuff I made up like a fairy tale almost. It's a lot different from how I work on my music now. The music that I create now, I literally base everything off my life experiences and stuff I really go through. A lot of my music resonates better than my older stuff because I'm trying to keep my life experiences into my music. I look at it as a documentation now. Even with "Lean", I was really messed up on lean when I wrote that song, but that doesn't mean I do lean all the time. It was an experiment and I documented it in a song. That's literally how I live my life now, which is through my music. I might sing about something, but that doesn't mean that's how I live my life. That's just a moment that I experienced and I decided to write about it.
YouKnowIGotSoul: Talk about the development of your writing since your first album.
O'DONIS: I'd say a lot of ups and downs, in and outs, and happy times and sad times. A little bit of life experience has sculpted my writing skills and I've definitely honed my craft into being what it is today. Musically and not even just music, the production and the mixing as well. I've really gotten deeply involved in that aspect of my music. I really like to be involved with every little detail and I think when the people hear my stuff, they're definitely going to hear my passion for what I do.
YouKnowIGotSoul: Now you go by the name O'DONIS. What made you drop the Colby from your name?
O'DONIS: I feel like Colby O'Donis is the old me. It's not really who I was. I've definitely grown a lot now and I'm more of a man than when I first came out. O'DONIS felt more like who I am today. I'm definitely not a cute Pop kid anymore. That was definitely an image that was being portrayed through the adults that were pretty much telling me what to do at all times. I think O'DONIS is more of me and someone that doesn't really care about what people think on how I sing and what I sing about. I'm just going to do what I'm going to do and sing what I want to sing about. If someone likes it then cool, but if someone doesn't, everyone is entitled to their opinion.
YouKnowIGotSoul: This is your first project in almost 5 years. How did you know now was the right time?
O'DONIS: I don't think it was about knowing the right time, it was just a matter of feeling it. The reason I went into a hiatus was because I kind of lost myself. Everything happened so quickly and I had so many people involved in my life and there were so many people pulling me in so many different directions. It almost drove me to near insanity and I was just a kid. To me, I love doing this music and it's my craft and what I do. I just felt like it was getting diluted and tainted from all these different people that I was involved with. I made the choice to live a little bit and step away because everything was getting too serious to the point where it was no longer fun. I'm always creating music and writing for other artists, but for the past 6 months, I really fell in love with the music side of my artistry again and my passion kind of grew. The music I've been making, it got to the point where I was playing songs for people, they were like "You have to start dropping music again because this stuff is sick." I decided to do it again and share my music with the world again, but this time I'm going to do my way and I'm not going to let anybody control me or tell me how to do it.
YouKnowIGotSoul: Talk about the single "Lean" and why you decided to go with that song to reintroduce yourself to the listeners.
O'DONIS: The way the song was created was that I was drinking lean. *Laughs* I was really messed up on it and my friend was talking about it. I was actually curious to try it out, so he got some and we were in the studio. I was like "Yo let's write about it" and we wrote about it. That's the song that we came up with while we were on it. Like I said too, it's not like because I made a song about it or I tried it doesn't mean I do it all the time. It's a documentation of things I go through and what I experience. "Lean" happens to be a great documentation of how music sounded to me when I was on it. I was writing how I was feeling and it's a great opportunity for me to showcase the new me and that I'm not the cute little Pop guy, but that I'm a grown man. You have to live life and my music is documenting everything I go through day by day.
YouKnowIGotSoul: Talk about the balance between reaching new fans and making sure your old fans will continue to rock with you because "Lean" sounds a lot different from your previous stuff.
O'DONIS: I have been making a lot of music that would relay in the vein of where I used to be. It's mixed with the new me as well, so it's more of a grown mature sound, but it's also a lot of uptempo stuff that I've been doing. No one even has an idea what I'm about to come out with. I think "Lean" was more of an introduction of "Hey I can still sing." That was more a vocal showcase song for me, I just wanted people to know that I'm back. "Lean' was just a sample of what's to come because I don't want to give my best songs out first. That was definitely just a song that I wanted people to know that I'm back and a kind of warm-up song to get everybody ready for the music that I've been making which is absolutely insane.
YouKnowIGotSoul: Talk about the title of your new album "Start Over". What does that title mean to you?
O'DONIS: I have a song called "Start Over" and long story short, it's from a real experience that I've been going through. I had a relationship with a certain person and I did some fucked up stuff. This song is my plead to them to start over. It's a very broad song and in a sense, anybody can relate to it. It means a lot to me too because for my fans, I want them to see that there's more to me than just Pop songs. I'm here to start over. I've been gone for a minute and I haven't done music for years, so now you'll see a new me with new perspectives. I want to show them a new side of me and pretty much just start over.
YouKnowIGotSoul: As far as your album, who have you had a chance to work with.
O'DONIS: Right now, I've been mainly working with my production partner, he's really sick and amazing. Aside from being my production partner, he's also my best friend so it's crazy how it all worked out that way. He's actually one of the sickest producers I know. We get along well musically and as friends. The music shows that because we literally worked together like 23 hours today. I haven't even slept in the past 45 hours, I've literally been up. He just left the studio and we just finished another song last night. That's just who I've been working with, I've been trying to keep it very limited in the people that I work with because I don't want to have an album that sounds like a bunch of people were involved. I want to have a sound that works for me and I found that already. Now I just want to stick with and keep making music with that person and the music that we're making is insane. I don't have the urge to work outside of that circle for now because when you hear the music, you'll understand.
YouKnowIGotSoul: Do you see yourself working with Akon in the future?
O'DONIS: You never know. I never say never. At the end of the day, I'll always love Akon and he definitely taught me a lot. I had a lot of great experiences with him and I've met a lot of mentors that blessed me with knowledge and I take none of that for granted. Maybe one day I'll do a song with them again.
YouKnowIGotSoul: Anything you'd like to add?
O'DONIS: To all my fans, they can go to my Twitter @Colbyodonis. I just put out some tour dates, I'm going on tour with Travis Garland. I'm excited because I haven't gone on a tour, so it's cool to just get back on the road and doing my thing again because I definitely miss it.