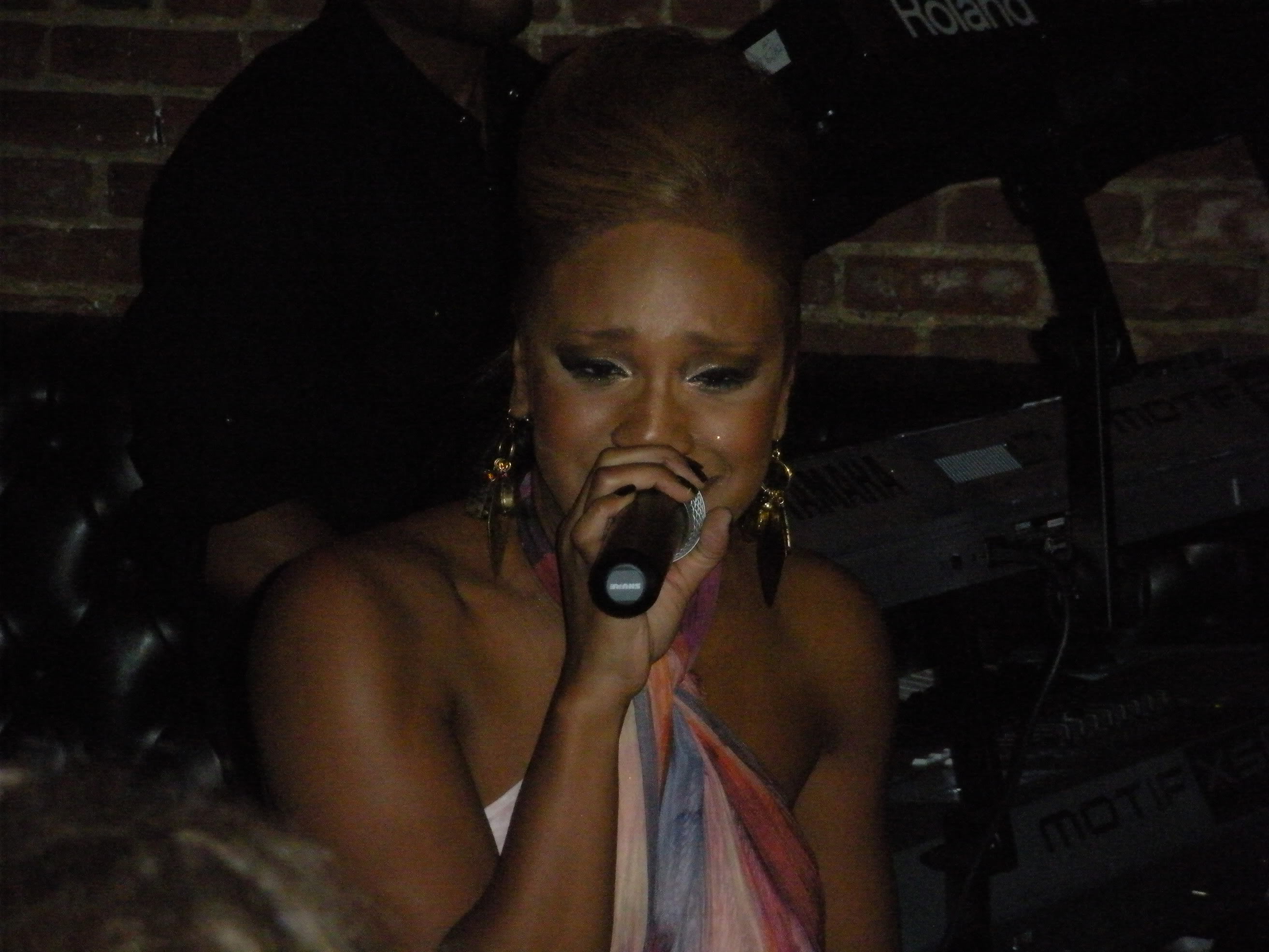 With the emergence of reality shows over the past decade, and more and more being focused on the lives of entertainers, fans are getting access to a side of their favorite artist that they never once had. Not only do you get an in depth look into their daily lives, but it also helps to create a certain connection to that artist because you have now invested personally into getting to know them. Take Olivia for example, "Love & Hip-Hop" might have been just the break she needed to get her career back on track. Not that she had fallen out of the limelight for any fault of her own, but a lot of times fans don't realize the politics that take place in the industry and what goes on behind the scenes. Now once again fresh in the minds of music fans, she's ready to release her second solo album "Show the World". In this interview, we discuss how she was originally signed to her first record deal, why she decided to roll with G-Unit years ago, what to expect on the new album, how she originally got picked to star on "Love & Hip-Hop", how she feels her image was affected by the show, and much more.
YouKnowIGotSoul: First I want to take it back to the beginning when you were on J Records and you first got signed. How were you originally discovered and what lead to your signing with the label?
Olivia: I had actually done a showcase at the China Club and Timbaland and everybody had came out. I guess word had got back to Artista, that's what it was called at the time, and I got a meeting with Keith Napoli who was the vice president. So we just sat down and talked about everything, he heard about the show, I played him some music, and maybe three weeks later I was signed to J Records!
YKIGS: What do you remember most about recording your debut album?
Olivia: A lot of fun. *Laughs* I just remember I was 18 years old so I was just excited to even be getting a deal and being able to do what I love so I didn't know about any of the politics involved. So I was just a happy child. *Laughs*
YKIGS: Following the whole J Records situation you ended up joining G-Unit. What was most attractive about becoming a part of that group?
Olivia: At the time 50 Cent was the biggest rapper out and had one of the biggest groups. Again, a lot of politics came into play because I was already signed to Interscope before I became a part of G-Unit. He just figured it would be a great look, they wanted to broaden the group a little more, and I just figured that it would be something that would be lucrative to my career and that's why I did it.
YKIGS: Currently you have the single out "December". Give me some background on how that song came together.
Olivia: Well ever since I was on J Records, I always wanted to be a voice for the women. I first came out with the single "Bizzounce" for all the ladies to tell their man to fall back, and that's kinda what "December" was. I want to be a voice for the ladies who are not able to say what they need to say to some men and I know a lot of women have been in this situation, so that was definitely the reason behind "December".

YKIGS: What's the reception been like on that song so far?
Olivia: It's been amazing! The amount of people that hit me on Twitter or any of my other outlets has just been wonderful. They tell me either how much they relate to it or it's just a beautiful song; even the guys! So it's been wonderful and a lot more than I expected.
YKIGS: Tell me about the album that you're currently working on.
Olivia: The album is actually finished and it's called "Show the World". Some of the producers on there are Missy Elliott, Ryan Leslie, Bryan-Michael Cox, Sean Kingston, Mario Winans; so it's a lot of great producers. I just put my heart and soul into it, I didn't use anything that was on my previous scrapped albums, I did everything over. Also, it's just real r&b how you hear on "December", the album is true r&b.
YKIGS: When can we expect the album to come out?
Olivia: This September.
YKIGS: I reached out to your biggest fan on Twitter and she'd like to know how many songs do you plan to have on the album?
Olivia: Probably 15 plus a bonus song.
YKIGS: What is your current label situation?
Olivia: I can't tell you that because obviously we're going to announce that on the show. For people who don't know we do have a season 2 and we just aired the reunion show for the first season.
YKIGS: How did you originally get the opportunity to be a part of "Love & Hip-Hop"?
Olivia: Mona Scott-Young, the executive producer, has been a good friend of mine for a few years now, I've known her well enough because she's Missy's manager and Missy and I are also good friends, so we've always been in contact. She told me they were going to do this show which was originally called "Jim & the Family Jones" which was about Jim Jones' family and his mom and girlfriend and everything. Eventually, they wanted to revamp the show to something new because I think they had been trying for a few years to figure out what they wanted to do. Jim didn't want to be in front of the camera at all by himself so he was really pushing for it to have more to do with his girlfriend, and that's when Mona suggested we should do it about four women. They also really loved how me and Chrissy were because in our first meeting we totally bonded, and that was the first time I had met Chrissy. I had known Jim for years, but I had never had a chance to meet her, so we just clicked. After that, they decided they wanted to do a show about women and their careers and about finding love, so that's how "Love & Hip-Hop" came into play.
YKIGS: Now that the first season is over, how happy are you with how you were portrayed on the show? Do you feel it's affected your image in a positive way?
Olivia: For the most part it's been very positive for me. Of course, edits can do certain things, but you've got to have some BS *Laughs* along with the good stuff because everybody doesn't want to watch all good stuff and I know that. So I'm not even mad at any of the stuff on the show.
YKIGS: I was going to ask if you would accept to do another season, but you already mentioned that you definitely are doing another season?
Olivia: Yes I'm going to do another season.
YKIGS: Did you have any reservations about another season or were you just excited to do it?
Olivia: None at all. *Laughs* Like I said I'm probably the one that came out the best on the show so I would definitely do another season.
YKIGS: Back to your music. Since you've only had one album release since you've been out as an artist, what would you say is the biggest struggle in trying to release your music?
Olivia: Politics. Politics always plays a lot in this industry and people don't always know what goes on behind closed doors and the things you have to do in order to get things right. For me, I had to change my management; I knew that I had to but since I'm a very loyal person it took me awhile to figure out who I wanted to use and how I wanted to do it. Then one day I kinda just made the decision and went out and got a new manager. Even with the music, I want to do different types of music, I don't just want to do r&b music, I love pop and rock & roll, so I have to be able to tap into those genres as well, so I had to start off somewhere. So the politics is a lot, a lot of people ask me why they don't hear my music on the radio, but that's not how it works, you can't just go to a program director or DJ and have them play your record on the radio. There are a lot of things involved, but politics really plays a lot.
YKIGS: You released your debut album about ten years ago and now you're getting ready to release your new album. What was the biggest difference between the recording of each album?
Olivia: I had no clue with the first album *Laughs* I just sang and J Records did everything else. Like I said, I was just happy to be out performing and doing what I love. Now knowing the business, I know exactly what I want to do; I built the majority of the album, I know the direction I want to be in, I know my image, I know how I want to be marketed, so it's a total difference.
YKIGS: Anything you'd like to add?
Olivia: Everybody can follow me on Twitter at @1andOnlyOlivia and my website is OliviaWorldWide.com.