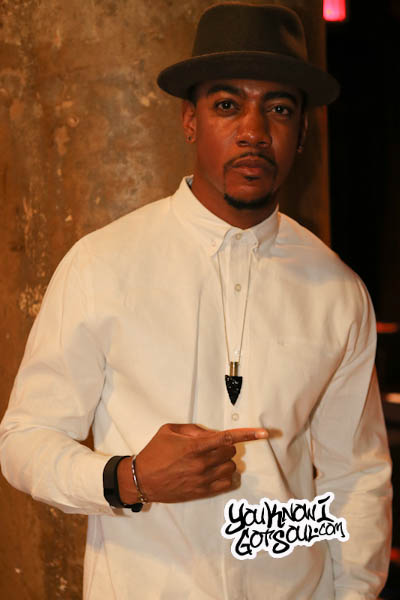 When I was first introduced to Rudy Currence's music, I saw him perform live at the Apple Store earlier this month, I was immediately impressed by his style of music which I felt was was reminiscent of a young Bilal mixed with D'Angelo. The newest crooner signed to Ludacris' Disturbing the Peace imprint on Def Jam, Rudy is nothing like you'd expect from a singer coming out of r&b's new generation; and that's a good thing. In this interview, we talked about his roots in music, how he was originally discovered by Ludacris, his unique sound, where he feels he can fit in the current landscape of r&b, his upcoming mixtape, and more.
YouKnowIGotSoul: The first time I saw you perform live and heard your music, I immediately recognized that you had a unique sound. How would you describe your sound?
Rudy Currence: I feel like my music is can't be classified just because I have so many different influences, but it's definitely soulful. I would also say it's innovative because I'm a singer/songwriter and I try to set trends and not follow them which is the same as the artists I've been influenced by, so I try to do something different with it. Trend-setting and just trying to be like the legends like Michael, Prince, Stevie, and Madonna even. Those are artists that kinda broke the mold and kinda set the pace for other artists.
YKIGS: I know that you were doing your thing independently for awhile, but then eventually you were discovered by Ludacris and became a part of Disturbing the Peace. How did he discover you and what led him to sign you to his label?
RC: I was an independent artist for several years and released two independent albums. The first titled "More Than You'll Ever Know" which is on iTunes along with the second one "Here With You". I got a decent amount of attention just from my music being released and touring and doing different venues around the country. At that point, we did over 100 concerts in one year, so I was pretty busy as a recording artist. I think DTP heard about me from a couple of different sources, they heard about me from a couple of artists on the label and they were hearing about me through a couple of radio personalities and then some of the A&Rs were coming back to them like "Who is this Rudy Currence we keep hearing about?" Actually, it was a couple of Christmas' ago, I was out doing Christmas shopping and ran into one of his A&Rs in Charlotte, North Carolina and he was like "You know DTP is interested In signing you" and I looked at him like "Huh?" because it was random. I gave him my mom's information who was my manager and they set up a time where they could see me perform. I had an upcoming show in Charlotte so they drove up from Atlanta to see me perform. They were really impressed. The show was a great show and then they wanted me to go perform for Ludacris and the CEOs. I want to say a couple weeks later, they set up a showcase and we drove down to Atlanta and I performed there. The rest is history!
YKIGS: Talk about the single you have out now called "Cold Hands Warm Heart". Give me some background on that one.
RC: Well, it's definitely a love song. It has a throwback 50-60s rock feel to it. I love just great music in general. It kinda came about because I had this quote, well a lot people have this quote "Cold Hands Warm Heart", but I say it because my hands tend to be cold, like they're cold right now! *Laughs* If I'm in a relationship with somebody else and I touch her and she'll jump, and I'll say "Yo cold hands, warm heart!" It's just something I say as a term of endearment and just like "Hey I'm sorry, I know my hands are cold, but my heart is warm." I kind of just expanded that idea and wrote the song and then I just applied it to my life because a lot of times in my field of work and for most entertainers, their work schedule calls for you to travel a lot. You're not going to be home and it's not your typical 9-5. When dealing with somebody, they have to be understanding of your work schedule and your passion and be the bigger person sometimes and support you. That's kind of what that song is about. Even though I'm not always there, you'll always have these cold hands and warm heart.
YKIGS: You're a triple threat meaning you're singer, writer and producer. Tell me the advantage that gives you over other artists who can only sing.
RC: I don't know if it's an advantage, but I'm blessed to able to do those things and I try to be a perfectionist about it. I think one of the advantages is that I can really feel with the world with all my heart as a writer because I'm a singer-songwriter and a musician and it's a beautiful process to be able to take an idea that's in my head and see it come to life and to be exactly like I wanted it to be and to see the work on it from exactly how I heard it in my head. I don't need to describe it to somebody else and they write my story for me. I have so much to say as an artist, so it's a blessing that I'm able to do it myself. In years past, I've been able to write and produce my entire albums by myself kind of like Babyface or R. Kelly and those artists are rare. A lot of times, someone would have a great voice, but they might not be a strong writer. Or they'll be a song musician, but not be able to sing. I thank God for giving me the gift of music in so many different capacities.
YKIGS: I'd like to hear your process of putting a song together.
RC: It really depends. Just recently, I've been inspired a lot in the shower. *Laughs* I get melodies and I always sing and I always sing in the shower. So I get a lot of melodies and I have to hurry and finish my shower so I can grab my iPod or something I can record the melody. At the same time, the writing process is kind of random for me. I mean I'm also disciplined enough as a writer that I can also go in a session and work with a producer and I'm not necessarily producing and they're coming to me with a track, I can write a song over the track as well. As far as my music, I like to be a little more organic, I don't like it to be too structured, it's kind of free form, they just come to me. I feel like that works the best for me. So when I was working on this new album "Black Keys, Blue Skies", I would have an idea and producers that would co-produce the ideas with me would help me flesh it out versus coming in with a bunch of beats and I just write to some beats. I think that tends to create continuity to my process because it's kind of created the same way.
YKIGS: I've read that you've been a recipient of the ASCAP writer's award. Is there a best song that you feel you've written for someone?
RC: I don't know if I have a best song because I love all the music I write and I put my heart into everything I do whether it be on stage or in the studio. I enjoyed working with Mya when I wrote some stuff for her. The Ray J song, I wasn't in the studio with him. That happened because I was in the studio with Rodney Jerkins and one of his producers. I wrote a song called "Let's Play House". Ray J heard it and loved the record and ended up being one of his singles. Then the "Bourne Identity" movie, it was me performing so those are pretty much my placements. Also the Quincy Jones song, I wrote a verse featuring Naturally Seven and Ludacris and then we performed it on The View and 106 & Park we did an interview. Those are pretty much my major placements as a writer to date, but I'm with Sony now as a writer so I'm on a couple of projects working on some things too.
YKIGS: With the way R&B has evolved, true musicians and singers aren't really at the forefront anymore. Where do you see yourself fitting in the current climate of R&B?
RC: I think there is a place for you when you stay true to yourself as an artist. There's always somebody whether your audience is worldwide, regional or local. I encourage artists to stay true to themselves and not compromise or conform to who you think people want you to be because at the end of the day, music is meant to inspire, encourage and connect with people. You can't do that if you're not genuine. Somebody at some point has to be sincere whether it's the writer who wrote the song for you or the singer who conveys that emotion of the song. Something has to be a real emotion, so because I feel I make good, classic, timeless music or at least I strive to, I think there will always be a place for me. I think there will always be an audience. Big shout out to my fan base. They've been very loyal and have been very supportive and eagerly waiting for a new release. I want say to as artists, a lot of times real artists get so passionate about what you do, you don't focus on the business, promotional and marketing side of things, and that's something that I'm learning. Sometimes you see someone who has a great image and might not have a lot of substance, but the image sells and so they get the attention of the world because they have a huge marketing machine behind them that's pushing them. That is where a lot of real artists can learn from the people who might not be as talented musically. These people have found ways to market to the world, so you already have the package so you just have to find a way to present it to people.
YKIGS: Finally, talk about this new project that you're working on.
RC: The album is titled "Black Keys, Blue Skies". I'm really excited about that. Right now though, I'm in mixtape mode. I'm really going in on this mixtape and I'm so excited about this. I don't want to give too much away, but I definitely want to talk about it when the mixtape drops, I want you to be involved with that process. I appreciate the support. The mixtape is going to be on some other stuff. I think people are used to hearing me a certain way, so it's going to have a little shock value to it. It's going to be like "Yo is that Rudy?" I'm really geeked about that because the mixtape is giving me an outlet to be experimental and creative, things that I wanted to do anyway so I'm really going to go hard on it. That is going to be out before the actual album. The will be out in December and I'm working toward trying to finish the mixtape up this month so I can get it out to everyone in August.
YKIGS: Anything you'd like to add?
RC: First and foremost, thank you to God for everything. I would like to thank you and all of your readers for checking me out and listening to what I have to say. Big shout out to my fan base.
Lastly, people can reach me on twitter @Rudy_Currence and if they want to be a fan of my Facebook page, we have a fanpage. We also have a YouTube page and you can also find me on the website www.rudycurrence.com