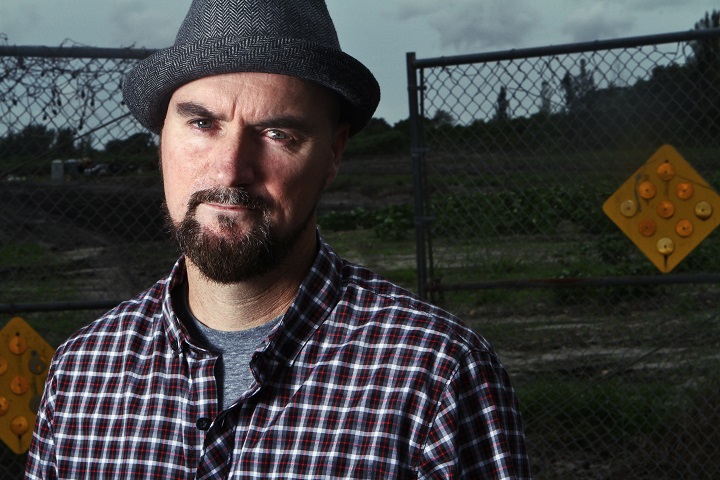 Jim Jonsin is clearly no stranger to hits. After exploding onto the R&B scene in 2005 with hits for Pretty Ricky ("Your Body", "Grind On Me") and Jamie Foxx ("Unpredictable), Jim has shown no signs of slowing down. His melodic beats have continued to be in high demand in the music industry and why not? Since Pretty Ricky, he has gone on to produce some of the most biggest songs from Lil Wayne's "Lollipop", Usher's "There Goes My Baby", Beyonce's "Sweet Dreams" and Kelly Rowland's "Motivation". YouKnowIGotSoul had a chance to talk to Grammy award winning producer Jim Jonsin about his history with Pretty Ricky, the makings of the hit single "LOllipop" and also his company Rebel Rock. With multiple number one hits on his résumé, you can be assured that he'll be here for the long run.
YouKnowIGotSoul: The first project that introduced me to you was the Pretty Ricky project. How did that connection come about?
Jim Jonsin: I had worked with them early on. Their father and I had a partnership. We started an independent label and I had worked with his sons for awhile. It was a couple of years of development with them. The latter part of it, we were looking for something fresh and new. This young man Marcus Cooper [Pleasure P] came into the studio to do a feature with them. Blue and I thought it would be great to put him in the group and from there, they started writing some songs to some beats that myself and Bigg D had done. It turned out to be a pretty good project. The album did really well. It sold like 3.5 million copies. It was their first album with Atlantic.
YouKnowIGotSoul: You had a couple of singles on that album. My personal favorite is "Your Body" so how did that song come about?
Jim Jonsin: We worked in the studio with a guy named Static Major. He actually passed a few years ago, so I'd like to say rest in peace to my brother Static. He came into work on that project. We were over at Vision studios and came up with the instrumental to that song. It was me and Bigg D. We started working with the group and Static top lined the song. Those guys came up with the melody and words to the song which I mean, that thing happened in about two hours time.
YouKnowIGotSoul: What do you remember about working with Static Major?
Jim Jonsin: He was one of the most amazing writers I've ever worked with. He was such a great mentor to young writers and producers like myself. He helped me a lot with understanding melody and harmonies and why it was so important to have strong music melodies. If you look back at my career, he was the first person I worked with where I started doing R&B records. I learned a lot from Static. He was the guy that when you walked and he walked in, he brought this amazing, uplifting energy. It was always positive energy. It was great working with Static. He is definitely one of the greatest of all time.
YouKnowIGotSoul: Another song you worked on with Static is "Lollipop" for Lil Wayne. When you guys initially put that song together, did you expect it to blow up like it did?
Jim Jonsin: I actually did that track over at Circle House Studio working on Danity Kane's project. It was something they had passed on. I immediately brought it over to Static because I thought the track was kind of unique and really cool. I brought it over to him at our studio on the beach and he was in there with Pleasure P. I played it for him and he flipped out. He loved the track and he immediately started writing to it. Once I heard the top line and some of the melody that he came up with. I thought it was going to be a great song. I didn't know it was going to be a number one song nor did I know we were going have it on Lil Wayne. Pleasure P suggested Lil Wayne, so we brought it over to him and Wayne got on the record. Static called it, he told me a few weeks before he passed away that this was going to be my first number one record. It sure was, it was huge. Unfortunately he didn't get a chance to see it go number one, but I'm sure he did from heaven. The song was huge. Did I think it was going to be as huge as it was? No I didn't, but it turned out to be great.
YouKnowIGotSoul: That song led to a lot of future success for Lil Wayne and it also gave Static some recognition as an artist. What do you think it did for your career?
Jim Jonsin: Well first of all, I won a Grammy. That was huge. It definitely opened up the doors for a lot of other artists to reach out and get some music from me. The very next record was something I did with T.I. called "Whatever You Like". That was a record that followed "Lollipop" and then a few others. It opened the doors to a different sound for me.
YouKnowIGotSoul: Another writer that you've been working with is Rico Love. What's the chemistry like there?
Jim Jonsin: I would definitely consider Rico to be somebody very much like Static. Rico and Static Major have a lot in common in terms of their artistic ways and their melodies. Rico is a phenomenal writer and he's also a great friend of mine. Working with Rico from the beginning was always like working with one of my brothers. It's always been great. He's super talented.
YouKnowIGotSoul: As far as you guys working in the studio, I know Rico Love is a really hands on producer and you are as well. How does it work in the studio with you two?
Jim Jonsin: It's pretty simple. We come up with ideas together. If he has something that I think is great, he lays it down. If I have something he thinks is great, I lay it down. We kind of communicate back and forth. If he likes certain chord changes or different melodies, we just work together for the most part. We respect and appreciate each other's talent and I stay out of his way and he does the same for me. If he's going to write a melody or top line, I know what he's doing so I just let him do his thing.
YouKnowIGotSoul: It seems like although you've had a handful of hits, you're still under the radar as a producer. Are you content with that or would you like to be in the spotlight more?
Jim Jonsin: I'm cool with where I'm at. I think that it's not important for me to be a celebrity. It's more important for me to be a great songwriter, producer and artist development guy. I'll leave the artist the stage and they can go get their Grammys on the big stage. I'm cool getting it in the side stage. I get my shine and celebrity on the race track.
YouKnowIGotSoul: Speaking of "Lollipop", you mentioned that it opened up the doors for a lot of future projects. Do you think artists come to you for a certain sound now because of the success of "Lollipop"?
Jim Jonsin: They did for a little while. They were reaching out looking for the next "Kiss Me Thru the Phone", "Lollipop" or "Whatever You Like". That's cool and that was a nice era. A lot of producers followed and used that sound and that's cool, it's kind of flattering. But we're moving onto bigger and better things. I'm trying to create new sounds. I've got some great producers that I'm working with like Finatik N Zac, Frank Romano, Danny Morris. We've got some guys that are really doing some phenomenal work with me. I'm also developing new artists, so I'm trying to reinvent myself.
YouKnowIGotSoul: Talk to me about the balance because for the rest of your career, you could produce beats similar to "Lollipop" and you could have a lot of success with that. Then there's the creative side of yourself where you want to explore and try new things. How do you maintain that balance?
Jim Jonsin: It's basically based on songs. Every idea or beat, it's not so much about the track. It's more about the song itself. As long as whatever I'm doing and every song we do is great in its own way, then I don't think there's a signature or specific sound that needs to be followed.
YouKnowIGotSoul: One song you did recently was "No Such Thing As Too Late" by Brandy. What do you remember about that song?
Jim Jonsin: I did that with Rico, Frank Romaro and Danny Morris. That track was really simple. That actually falls in the line of some of that "Lollipop" sound. Doing that record, we kind of came up with the chord changes with Morris and then built around it. Rico had the melodies and ideas. That was a pretty typical session. We played it for Brandy later. I love that song.
YouKnowIGotSoul: Another song you did was "Dive" by Usher. What do you remember about that one?
Jim Jonsin: That was also me, Frank, Danny and Rico. We basically sat down and came up with some cool chord changes and built off that. It started on guitar and then we created the drums and keyboard lines in there. Rico started writing the top line and then we made the bridge. We added some strings and made it a little epic. That was another phenomenal song. Rico's melody was great. Frank Romaro actually came up with some of that melody on guitar.
YouKnowIGotSoul: Talk to me a little bit about Rebel Rock and what it means to you.
Jim Jonsin: Rebel Rock is our movement. It's our record label, production company and also our race team. It's a little bit of everything. Rebel Rock as a production company has signed a couple of producers. Finatik N Zac who are out of Australia, they are incredible. They did the A$AP Rocky record with me. We got Frank Romano who has done quite a few big records in his career alongside Mary J. Blige, Usher and Musiq Soulchild. Then there's Danny Morris who did "Dive" and "There Goes My Baby" with me. He's also working with some big artists in the latter part of this year. He's doing really well. That's what we got lined up there. As far as the label, we got Leroy Sanchez who is our second artist. B.o.B is our first artist.
YouKnowIGotSoul: At this point in your career since you've had a lot of hits, do you see yourself getting more into the development side of things?
Jim Jonsin: Yeah, that's what I've been doing for the past few years. It's been developing this artist Leroy Sanchez and developing the producers. I would love for my future to be the head of my own empire record label. I would like to be the next Jimmy Iovine or Doug Morris. I just want to grow. I want to be an executive. I want to pick and choose and sign artists and develop them. I want to sign the greatest writers and producers and help develop those artists with me. That's where I'm headed.
YouKnowIGotSoul: Who are you currently working with on the studio?
Jim Jonsin: We're working on Leroy right now. We're trying to get his single done in the next 30-60 days. We're also getting in the studio with the likes of T.I. and B.o.B. We have quite a few of the other major artists lined up. Rico Love and I probably going to do the majority of Usher's next album.
YouKnowIGotSoul: Anything you'd like to add?
Jim Jonsin: I appreciate you for doing this interview. Look out for Leroy Sanchez. @IAMLEROYSANCHEZ is his Twitter tag. Check him out on YouTube, he's phenomenal.