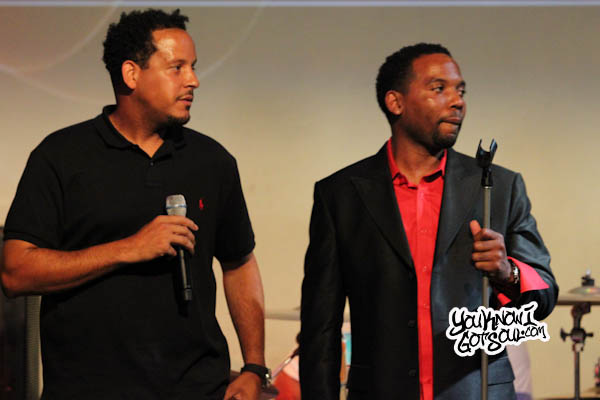 A Touch of Jazz Studios, the recording studio owned by DJ Jazzy Jeff, has been the center of the music scene in Philly and been producing talented artists for years now. However, if you look beneath the surface, it's the writing and production teams that have been thriving there as well and helped to create these hits over the years. Carvin & Ivan are two who got their start at A Touch of Jazz writing and producing for Musiq Soulchild among others, and building off of that success to work with just about every big name in r&b and soul music. Perhaps what's most evident about the duo is that they have musical integrity and respect the essence of the r&b genre, doing their part to help it remain intact in a time when it's been pushed from the fore front. YouKnowIGotSoul caught up with Carvin & Ivan for this interview to discuss their origins as producers, tailor making songs to artists, their work with Musiq Soulchild, and much more.
YouKnowIGotSoul: Talk about how you guys originally linked up and got into production together.
Ivan: We both started out started as rappers, and me being a rapper ironically is how I ended up meeting Carvin. We actually met at DJ Jazzy Jeff's production company called A Touch of Jazz Productions. If you know anything about the Philadelphia modern music scene, it all came through Jeff. I remember coming up to Philly trying to find a way I could connect as a rapper and one of my acquaintances brought me up there. I was already producing, but I was more so trying to be an MC and this camp was so amazing; there was just a whole bunch of music. I met Carvin there, he was also an aspiring rapper and we just kinda struck up a friendship and we were even in a rap group together when we were down there. Then on my end, that kinda developed into me becoming a producer under the Touch of Jazz staff.
YouKnowIGotSoul: What would you pinpoint as the first break or first major placement you had that led you to the success you've had today?
Carvin: The good thing that when were at A Touch of Jazz, we collectively worked together as a group of six guys, so we were all placing records on various acts from Will Smith to Kenny Latimore to Love Jones soundtrack to Cherokee. We were just collectively working, but our first initial connection was with Musiq and that collaboration happened. Basically it came from just Musiq coming into the studio, being brought in by Jerome Hipps and Michael McArthur, who are actually our managers now, and just going in and creating a sound for him and a vibe for him. The initial success was "Just Friends".
Ivan: That was the one record that cemented what was to become the Carvin and Ivan sound. I've got to point out that Carvin was the first person that ever worked with Musiq. That was something that he was developing down there, and nobody was really paying attention. We were just trying to find our way, nobody was really checking for him at one point. So to kinda piggyback on the other question you were asking, that was probably what brought Carvin and Ivan together and helped create their synergy. We were just two people who were aspiring rappers, we didn't know a whole lot about music like in terms of arrangements, orchestration, out of key, out of tune. *Laughs*
Carvin: We were basically the kids on the playground that they didn't want to play ball with! *Laughs* We were the last ones picked on the court!
Ivan: At that time I was really pursuing a lot of hip hop production, anybody that came through, Common, Slum Village, anybody that came through a Touch of Jazz, Eminem, we worked with all of those guys back then. So I was really working on developing the hip hop aspect of my sound. Then when Carvin had Musiq down there, I was like "Man this kid is dope!" Everybody was like "He sounds like D'Angelo" which he really didn't, but they didn't have anyone to compare him to so they threw him in that box. So I was like "Yo Carvin, I really like this kid!" So I gave Carvin some tracks and one of the tracks that I gave him was the track "Just Friends". Musiq wrote a crazy record to it and the rest was history. That was the inception of the Carvin and Ivan sound that everybody came to know us for.
YouKnowIGotSoul: You guys have had a great impact on Musiq's career, contributing to many of his albums. Did you ever expect his career to take off like it did?
Carvin: The idea when we started the project was like "I'm not trying to appeal to the masses, I just want to have this conversation with people that are just like me". So there's an intelligent hoodlum in every neighborhood across the country and across the world. So I want to have that conversation with that intelligent hoodlum. A dude that knows how to hustle, knows the street game, and actually was an honor roll student and good in school. Basically, I want to speak to that person that's got manners but can be a thug if he needs to be, but don't really want to be a thug, just wants to have fun. These are the people that I want to talk to. So the idea was that's the communication, that's the conversation and that's what we're going to talk about. This whole album, to them, for them, the theory that we have that we still have is that the whole world is listening. If there's a thousand people in one room and there's two people off in the corner having a really intense conversation, eventually the whole room will start to pay attention to their conversation because it looks that intense. So that was the idea. Let's have that conversation that's so intense that the world will turn around to see what they're talking about versus trying to talk to the whole world at the same time.
YouKnowIGotSoul: What is your chemistry like together in the studio?
Ivan: I'm oil and he's vinegar! *Laughs* You know what it is, I think the cool thing about what me and Carvin do is we do certain things separately. We still make comments about each other's aspects of production, but him being a songwriter and handling those duties, and me handling the musical aspect of what we do, kinda creates a little bit less pressure. It's kinda like Gamble and Huff where one guy wrote the music and the other guy wrote the top line part of it.
Carvin: The flipside of it too is that we respect each other's craft, and the bottom line is it isn't about what I do or what he does, it's about the product. If the product's not good, then we both know how to go and make it better. If it's terrible, we go "Ok throw that in the trash, let's try that again!" *Laughs* The movement is bigger than us, it's not about us, it's about the music and the product. I think we were trained in being this way, but we kinda adopted it and made it our kind because there is no ego in this music.
YouKnowIGotSoul: You've worked with a ton of very talented artists over the years, many different artists with different styles. When you are going in to work with an artist, do you tailor your production to them? Do you bring them ideas? How does that go?
Carvin: Everything we do is tailor made. That's the Carvin and Ivan niche to the game that we do. It's bigger than our production, we meet the artist, we get to know the artist, we find out where they are from, even the people we are about to meet with, we do research, we find out where they came from. Then when we sit down and talk to them, we get a better understanding of where their life is. Then everything we make is like a custom built suit.
Ivan: To elaborate on what he said, we do research, we always make sure that when they come in, they leave with a better sense of who they are. Like if music on your business card, they know you from what you've done out there, they come in a lot of times and say "I love that record you did, I need a record like that!" I guarantee you they come in looking for a record like that and they leave with exactly the opposite. We kinda figure out who they are and they may need a song which is an extension of who they are and not necessarily like a sound that we do and we gave somebody else. We approach it like that and it always makes for good magic in the studio.
Carvin: We try to make sure that everybody has their own lane. It doesn't make sense to put five blue Bentley's on the street when you can put a blue Bentley, a red Ferrari, and other cars. We're trying to make sure that we can give you what you need, and like Ivan said, make you better at who you are as a character and create something great for you. Jive came to us with Raheem DeVaughn and said "Can you give us a record like 'B.U.D.D.Y.' for Raheem", and we brought Raheem in and we gave him "Customer" which is nothing like "B.U.D.D.Y.". That's the record that fits him perfectly.
YouKnowIGotSoul: Give some background on the creation of Justin Timberlake's "Worthy Of" from his debut album.
Ivan: I remember when Justin came to Philly. A guy that we knew that was working with him at the time, he was like "Yo, I'm working with Justin, we're real close, I want to bring him to Philly, he's a fan of what you guys do." At first I was like "Yea right, stop playing, Justin is not looking for what we do, he's a pop guy, what you talking about?" Sure enough, three months later, the big tour bus showed up in front of Larry Gold studios, before we had our own studios, that was a month before we got into ours. We were working out of Larry Gold, and that year was crazy from June of 2001 to June of 2002, everybody came through Larry Gold studio at some point in their careers. He came in and he was working with us and he worked with Dre and Vidal, Timbaland was in there doing strings. I've gotta say, Justin was probably one of the coolest most down to earth artists of that stature that we worked with. I thought it was going to be a lot of security guards in the studio, but he was cool. It was like somebody came in and didn't try to make himself the center of attention and bigger than anybody else, he was just happy and excited to be around the energy we all had.
Carvin: His work ethic is incredible. He might have knocked the song out in a very short time, but he did it, knocked it out, listened to it, went back again and did it better than the way he did it the first time. We cut the record, we listened, it sounded great, and he went back in the booth and cut again.
YouKnowIGotSoul: Talk about the work you did you Faith Evans "First Lady" album because I know you did a lot of songs on there.
Carvin: The Faith Evans project was actually a really good project and exciting as well. Coming up, Faith was already hot before we were even heard of, so it was hot to even get in the studio with her. They gave us three days, and said "Go in the studio with Faith for three days". We went in and in three days we had four songs. So they asked us to extend the stay for a week and then they wanted to bring us back for another week. Just the energy and the excitement. Faith was actually one of those artists that listened. You could tell her what's needed and she'll listen and figure out what you're talking about and then work to make sure the song gets accomplished the way it needs to be accomplished. She didn't bring an ego into the room as well. It was fun, we had a good time with Faith.
Ivan: I always like when we work with iconic artists and they come in and whatever you think it's going to be, it's totally opposite in a good way. With Faith, you know she could sing, she was with Bad Boy, she's gonna be a diva. I hope we have good tracks! Although I'll say this, she came in there and we played all of these beats and she was like "I'm not feeling none of them". This was when I first started using Logic Pro. I was like "Man, we are in here in L.A. and about to be here for a whole month, and she didn't choose any of the tracks". She liked a couple of songs that we had, but a lot of the tracks that I had, she was like "Eehhh, they aiight". That made me go to the hotel with my laptop, and I just locked myself up in the hotel room and made like ten joints. Out of those ten, I think four of those were the ones that ended up making that session.
Carvin: He's being modest Tom. Literally we were in the studio recording a record, and you've got the front of the studio where the mixing board is and the chairs and then you've got the glass and the booth and Faith is there. Right behind the mixing board and the control chair is a whole nother sitting station where people sit and eat. Ivan had a rig set up right there making beats while she was recording. As soon as we would finish a song, we'd grab an engineer and play it for her, she'd like it, and we'd start writing to that track! Then he'd start working on another track and it all began again.
Ivan: It was cool because I think it put us in a different place, sometimes you need to get challenged. We still got mad love for Faith, every time we see her it's love. I'll tell you what though, all of this comes from the school of hard knocks, the Jazzy Jeff college of music production. Everything was always under pressure, right now, you've got to be ready on the spot. Everything is preparation.
YouKnowIGotSoul: Who are you guys currently working with?
Ivan: Besides developing our own acts, we're in the studio with Keyshia Cole, we were just in New York with her. She hit us up and said she wants some more tracks. We were in the studio recently with Redd Stylez, another dope singer/songwriter, he's got the new Usher song out called "Climax". The Estelle joint that just dropped too, it's the first song on Estelle's album that just came out. We've got what I think may be the next single, "I Wish I Knew" for Alex Boyd, he's a recording artist on RCA.
Carvin: We've got a record for Tamia that's coming out on her new project also. We just worked with Glenn Lewis also. Then the Kenny Latimore single that's coming. What we like to do is bring back some of the old school as well as work with the new school.
Ivan: Aside from us working with other artists that are established, I think the one thing we are always conscious of is that we helped to launch some new artists back in the day, that's how we got into the game. It's always cool when you can add another artist into the music industry narrative, so we are always conscious of finding new talent. We are doing just that right now, we've got this project on our label Forever Music, an artist by the name of Curt Chambers. He's a singer/songwriter/guitar player from Philly. He's actually Grammy nominated with us on the Jaheim "Finding My Way Back". He just released his album for free digital download, we dropped it on Valentine's Day, you can download it on www.CurtChambers.com, it's called "One Way Ticket". We are just doing it to brand and add to the whole catalog by just saying "You know what, everything doesn't have to be a mixtape that you get for free." We went in and did a whole album on there and it's available for free, all you've got to do talk about it on your social network. This is us saying you've got to keep adding to the whole soul narrative and adding new artists into the fold or else the music is going to go away. Carvin is working with two amazing vocalists as well.
Carvin: We are just developing and you'll be hearing from them real soon. As a tandem we try to make sure we bring something new, refreshing, and add some yin to the yang. There's a lot of yang out there, we need some yin to be added! *Laughs*
YouKnowIGotSoul: Anything you'd like to add?
Ivan: We've always gotta show YouKnowIGotSoul love for keeping a forum out there alive for artists that are doing this urban music genre. It's really, really needed right now. I think a lot of emphasis is being placed on how unpopular our genre is and how it's not selling, but I think what's happening is that the message is getting clouded and it's not really getting out there the way it used to be. The focus needs to go back to people making music that they feel and not music that they feel like they gotta get forced to make.