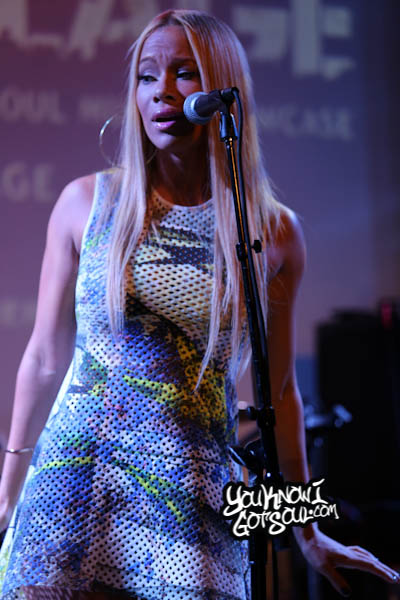 The road hasn't been easy for Brave Williams. Even though she's had an opportunity to work with one of the biggest producers in the industry (Rich Harrison) and tour with one of the biggest artists from this generation (Beyonce), this former member of the female R&B group RichGirl has had to face many obstacles in her career. After second guessing herself on numerous occasions, Brave was able to turn all her struggles into inspiration for the new music that she's currently working on. The loss of her father, her group, and her manager left Brave in a dark place, but it's also the reason why she is back better and stronger than ever. YouKnowIGotSoul had a chance to talk with Brave about RichGirl, her personal struggles and her solo music. One thing is for certain though, Brave will not broken down.
YouKnowIGotSoul: Talk to me about how you were originally discovered by Rich Harrison and how you guys linked up.
Brave Williams: Ultimately I was signed to Rich when I was 16 as a solo artist. He found me at an open mic place where I was doing my poetry and I was rapping. What's crazy is that before I met with him, it's when I just discovered when that I could sing, so it was fairly new. We ended up working on a project together and we decided to go separate ways, then I went to L.A. and ran back into him with the idea of RichGirl. We kind of spearheaded the group and found the members, and the rest is history!
YouKnowIGotSoul: I wanted to talk about your first project that you were working on. I read the song "Crazy In Love" by Beyonce was originally intended for you?
Brave Williams: This is true, this is very true. When he first played me the track, I just went crazy and I was like "This is it! This is a winner!" But that was when it was very early on when I was premature in terms of my vocal ability, so once we decided to go separate ways, so did the track. Obviously we heard it several months later placed on her, so *Laughs*
YouKnowIGotSoul: Talk about the decision to work with Rich Harrison again and if you initially felt like joining a group was a step back for your career?
Brave Williams: Well with RichGirl, when we first came up with the idea, I was completely comfortable because I knew we were building the group around me, I knew there were certain criteria each member had to have, so knowing that each girl had to be able to sing, each girl had to look a certain way and know how to dance, I never once thought it was a step back because I was in an environment where I could constantly be growing. I knew that if every girl could hold their own, then in my mind, we would be destined for greatness. I came up with the name of the group and kind of created what I wanted us to represent. It was never really an uncomfortable moment, I never thought it would ever hurt. If anything, it would just help make me grow as an artist and become more developed around such talented vocalists.
YouKnowIGotSoul: You guys went on to release a couple of singles, but eventually things just didn't work out and you guys didn't get a chance to come out with an album. Why do you feel like that whole situation didn't work out?
Brave Williams: Well as you grow, people change and minds change. Intentions change in terms of what they later on as opposed to what they wanted from the beginning. I kind of feel like we grew not so much apart because I still love them to death, I still talk to them frequently, but in terms of their own personal drive. Certain things just changed. In terms of the album, we were recording so much so we definitely had the material to create an album, but it just never manifested. I made sure though that before we decided to disband, we did put out a mixtape so at least there was a body of work that we could look back and say "Okay, something did release." Granted, it wasn't an album but it was still a body of work, so I was able to leave the situation okay, if that makes sense.
YouKnowIGotSoul: Was the breakup of RichGirl a collective decision?
Brave Williams: It was a collective decision after a certain point. We kind of decided that once Se7en wanted to pursue her writing full-time, it was best to gracefully bow out and like I said, we all keep in contact with each other, those are my girls, but just in terms of the group, we just decided that it was time to focus our energy on something different.
YouKnowIGotSoul: You're back again as a solo artist. Was there ever a period after the split where you thought perhaps a music career wasn't for you anymore?
Brave Williams: There were moments where I second guessed myself. A lot of my second guessing came after I lost my manager. 2011 was a really tough year because that's when i lost my father, the group disbanded and then I lost my manager. After losing him, I went through the mourning phase of the uncertainty, but once I came out of it, which is what was the inspiration behind "Break Me Down", it was like "Okay Brave, you cannot let this destroy you. You have the talent and you know what it takes." I was able to see firsthand what really goes into breaking an artist. I just had to get myself together and just know that I'm in it for the long haul. My uncertainty moments came after I lost my manager, but as soon as that, I wrote some really great songs and got some really great material which spearheaded me knowing that I can't give up.
YouKnowIGotSoul: You have the new song "Break Me Down". Talk to me a little bit about how that song came about.
Brave Williams: Like I said, "Break Me Down" came at the moment when I was at a very low point because I wrote that song after I lost my manager and I was kind of coming out of the mourning and it was completely inspired by the tragic things that had happened throughout the beginning of the year from losing my dad, losing the group and losing my manager. I was coming from a place of inspiration like "Okay I cannot be broken down by this. If I give up then I've been defeated." I just made a decision with myself that I would not be defeated until I decide I don't want to do music anymore and not because of the circumstantial things that I had experienced. That song really just came from a place of inspiration, I just believed to pull myself up. I remember when I wrote it, it just felt like I had relieved so much of whatever pain or whatever hurt I was feeling. I was like "I can do this!" so that's kind of where the inspiration for that song came from.
YouKnowIGotSoul: I noticed you're rapping on the song, something we saw a little bit in RichGirl. Is this something that we'll be hearing on a regular basis?
Brave Williams: Yeah, it's my first love. I'm a poet and I'm a lyricist first. The album and the EP and the next songs will be a hybrid of both because I sing as well. Some songs may be all singing and the third verse may be a rap or the verses might be rapping and the hook is singing. It will definitely be a combination of both.
YouKnowIGotSoul: What kind of sound are you going for with your solo project and how is it going to differ from RichGirl?
Brave Williams: The rapping will be very prominent because that is my first love. I call it "Gritty Pop", that's the difference between the group and my music. The tracks might be very hard sounding, but I might be singing a ballad, but the hard sound will complement the rhyme that I spit on the last 16 bars. It's kind of just a hybrid of something new and something different.
YouKnowIGotSoul: What is one thing that you learned from the RichGirl era that will help you succeed now?
Brave Williams: Wow, I learned so much. You have to be in control of your team. I learned that managing your team is very important even though you have managers that are there to manage you. When you are a business and when you have people in place to do X and Y, it's still up to the artist to make sure that everything is executed properly.
YouKnowIGotSoul: One thing I found interesting about RIchGirl is that even though you guys didn't get to come out with an album, you guys still had a huge following. Have you felt your fans have stuck by you?
Brave Williams: Absolutely! The responses are amazing with "Break Me Down" which was quite shocking honestly. That's another reason why I wanted to release "Break Me Down" first because I knew this was specifically for the fans that held me down that year when I was really going through it. They were so supportive and sending flowers. I don't know how they found our addresses and hotel rooms, but they sent me cards and told me to stay strong. That song was definitely for them and they definitely played a huge role in me saying "Okay, I can come back and do this!"
YouKnowIGotSoul: What is next for you?
Brave Williams: The grand scheme is to release an EP called "Brave New World", so that's something to definitely look out for.
YouKnowIGotSoul: Anything you'd like to add?
Brave Williams: To everyone that supported and held me down last year and continues to hold me down with "Break Me Down", I love you!