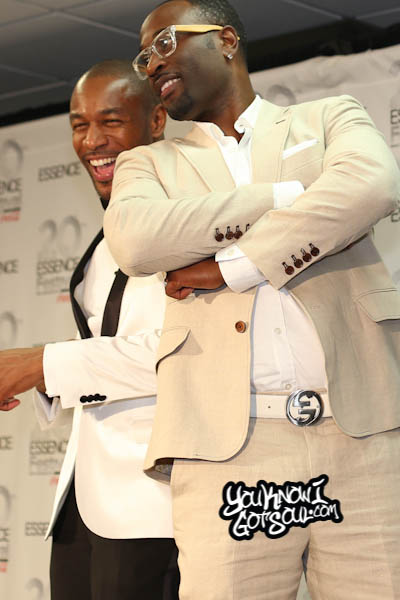 For a decade that started in the mid 90's, you'd be hard pressed to find many acts in r&b that were more successful than 112. After a string of successful platinum and gold albums during that run, the group disbanded and three of the members went on to release solo projects. The lone exception to that to this point has been Q. Parker, but that's about to change. After keeping an ear to the street, carefully creating his brand and image, and developing a pure r&b sound, he's ready to reintroduce himself to fans as a solo artist. YouKnowIGotSoul once again caught up with Q. Parker and this time discussed his upcoming solo debut "The MANuel", building his brand as a solo artist, how he feels fans will embrace him as a solo artist, if he always planned to do a solo project, and much more.
YouKnowIGotSoul: You have out the new single "Show You How". Give us some background on the song and how it was created.
Q. Parker: The lead single off of the album "The MANuel" is called "Show You How". It's a perfect first record from "The MANuel" because "The MANuel" is basically a how to guide, and it's an in depth look at who Q. Parker the man is. It's also a how to guide on how I feel like women should be treated and how women require a man to treat them; to let women know that there are gentlemen out here and chivalry aint dead. It helps to understand all of the nuances when it comes to catering and treating a woman the right way. The lead single is an extension of that; give me a chance and stop settling for less. We've all been in a situation, male or female, where you've been mistreated or not loved the right way. It's like "If you give me a chance, I can show you how you're supposed to be loved". So that's the lead single.
YouKnowIGotSoul: You mentioned the upcoming album "The MANuel". Talk about the sound we can expect on there.
Q. Parker: The sound is straight up r&b records. I come from a hip-hop and r&b group, 112, but the core of me is an r&b artist. The album has a lot of substance. I think a lot of times r&b artists stay away from staying true to r&b and don't make an r&b record what it's supposed to be. The lyrics, how we're wording it, and the melody, how we deliver it and the vocal performance. That's what I took into account every time I wrote a record, every time I sang a record, and every time I chose a record. I put together an album full of what I think every r&b fan is looking for, and I think I did a great job. I A&R'ed my own album, I pretty much wrote 85% of the album, and I think we did a great job.
YouKnowIGotSoul: When you were part of 112 you were on a major label and now you're doing this independently. Talk about the major differences.
Q. Parker: One of the major differences with 112 was I was always on the artist side. Now, the way that my situation is set up, I established my own production company, I signed myself Q. Parker as an artist. Then I took my company and did a partnership with Malaco Records. Malaco is an independent record company, but they operate as a major, they have all of the leg work and the man power. For me it was a good situation because being a veteran in this game, I knew I didn't want to go back into the majors because they are just asking for too much and requiring too much from the artist. Now, the way my situation was set up, I'm not just an artist but I'm sitting at the table coming up with the ideas with the team. I have a say so in how the movement of Q. Parker is created and how it is carried out. For me, that's like the best situation.
YouKnowIGotSoul: It's been some time since the last 112 album came out back in 2005. Do you consider this a reintroduction since this is your first solo project, or do you think you're just picking up where you left off?
Q. Parker: It's kind of a reintroduction because for years you guys really got to know Q from 112. I really didn't have a forum or a platform to really fully introduce Q. Parker the man. That's really what this mission is about, allowing you guys to really get to know me as a man, as a songwriter, and how I've matured musically and as an entertainer. Me doing this the way I'm doing it shows maturity, it shows that I've grown. It shows not only where I've come from which is 112, but I'm on a whole new mission and that mission is Q. Parker. I've just chosen to do it a lot differently than probably the 112 albums were done. I think you can definitely see that.
YouKnowIGotSoul: Each of the other members of 112 have already released solo albums in the past and this is your first one. Was it always your plan to do a solo album?
Q. Parker: No, it really was never my plan to do a solo album. After the last 112 album "Pleasure and Pain", we all decided to take a break and just kinda allow everybody to explore their individuality. As a songwriter I'm constantly writing records for other artists. For male artists I get to demo my own songs and to demo a song, I found myself putting 112 to the side. Next thing I knew, I had seven songs which were a good foundation to actually start the idea of a solo record. I found my manager and then a year later, here we have "The MANuel". It started out from me just demoing records and it kinda grew now to a full album and a Q. Parker solo album.
YouKnowIGotsoul: I know that sometimes when it comes to groups, fans might not know the individual members, they might just know it as a whole. Do you feel it will be tougher to have fans embrace you without the 112 brand behind you?
Q. Parker: Well, I don't think so because what we've been doing is a lot of groundwork. Really we've been positioning me as a new artist, not relying solely on the 112 brand. I think the thing that we've been doing musically from a viral space and from a marketing and promotional space; people know that I'm from 112. It's just really getting them to believe and trust what Q. Parker has to say and sing about and just buying into the whole Q. Parker idea. I think we've been doing a good job and we still have a lot of work to do, but I don't think fans will be disappointed because I come from my brand and when I open my mouth, you can't help but say "Hey, now I see what contribution Q. played in 112" when you hear my music. I think people will still be able to get their 112 fix but still be open enough to embrace Q. Parker and what I have to offer.
YouKnowIGotSoul: How have you had to evolve as an artist over the years? R&B is so much different now than it was when 112 was on top of the world, so how have you had to change to remain in the music industry?
Q. Parker: One thing is of course I'm big on the image. One of the things that I've had to do was keep myself looking the part, competitive, and keep my ear to the streets and see what songs are being successful, what artists are being successful. I'm a competitor by nature, so I'm always putting in work, I'm always doing the things to set myself apart and prepare myself for success. It's just keeping my ear to what's going on and paying attention to how the industry is evolving so I won't seem dated and I can just slide right in.
YouKnowIGotSoul: Speaking of image, I know this is your second year releasing the fitness calendar. Talk about your motivation for putting that together.
Q. Parker: We all hear that from a country standpoint, America has one of the highest obesity rates. I wanted to do my part in motivating and educating our society and our country and our nation on the benefits of being healthy. Longer life, feel better, more energy. I felt I could give the ladies some eye candy, but also give some nutritional tips, some easy to follow workout tips, to just make it not only just entertaining, but educational as well. I do give believe in giving back and doing charity work; partial proceeds of the calendar go to the American Cancer Society. That's a disease that has affected my family personally. You can get the calendar at www.QParkerFitnessCalendar.com.
YouKnowIGotSoul: Now that you're in your second year of this, have there been success stories? Have fans come back to you and told you that it's helped?
Q. Parker: I hear it all of the time traveling around the world. People tell me it's a motivation. Even guys have told me "I had to look at your abs man, my girl was talking about your abs, and it made me want to go to the gym and workout." However I need to motivate you, that was my mission.
YouKnowIGotSoul: Fans are always asking about the possibility of a 112 reunion someday. I know Daron mentioned a couple of months ago that 112 would be back. Can you comment on that?
Q. Parker: Well yea, we are in conversation right now about a possible 112 summer reunion tour. I have never really spoken about any new music or a new album yet, but just to appease the 112 fans, you will be able to see us this summer. We are in the negotiating stages right now and in the process of putting it together. You will see 112 this summer, all four original members.
YouKnowIGotSoul: Anything you'd like to add?
Q. Parker: My Twitter handle is @QParker112, Facebook.com/QParkerMusic, my YouTube for all of my webisodes is QParkerSings. Go get the single, it's on iTunes and Amazon. Just follow me, friend me, and keep up with what I've got going on. The video just debuted, Olivia plays the leading lady, my boy Willie from Day 26 is playing the "other guy" in the video. We have a lot of great things going on. I'm performing at the Essence Festival this year, I'm really excited about that.