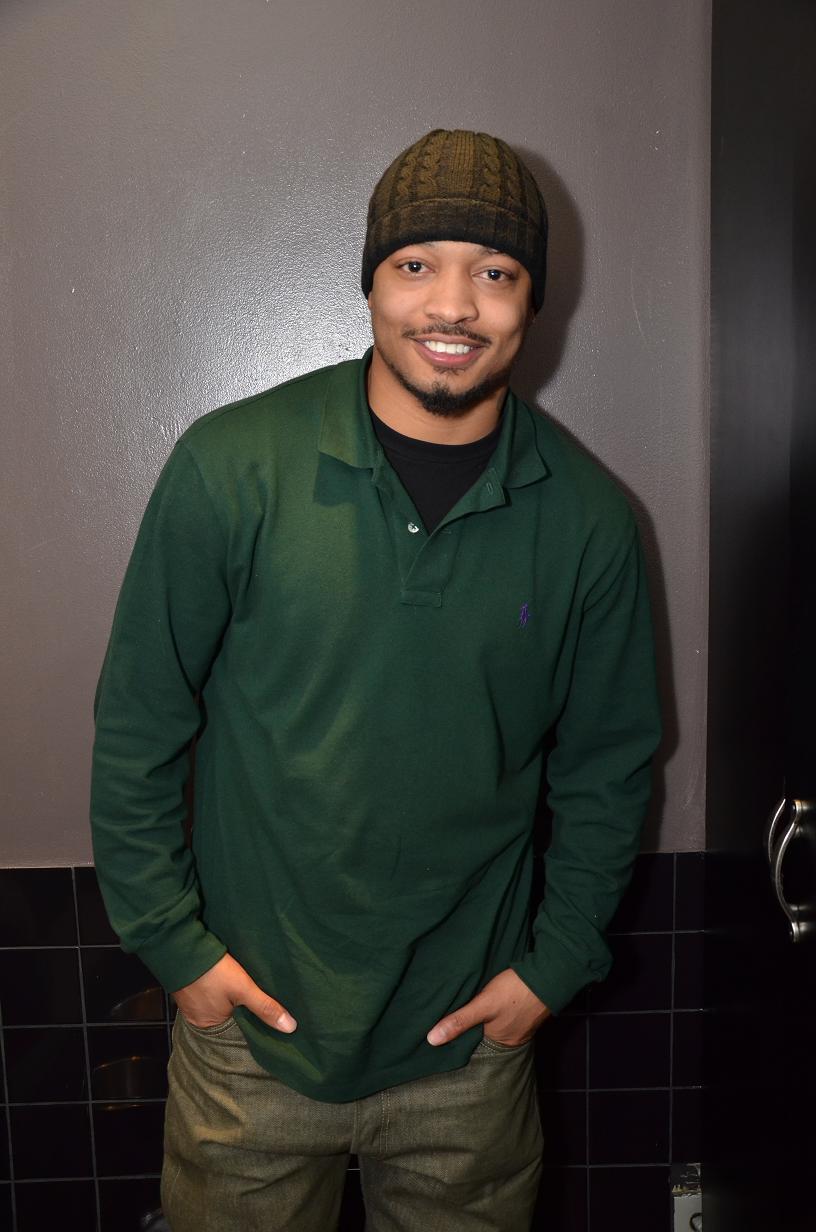 After spending years, a bunch of reality shows, and a couple of albums as part of the Day 26, Que split from the group a few years back to embark on a solo career. That wasn't the only change he made, to go along with this fresh start as an artist, he's also changed his stage name to Anthony Q. YouKnowIGotSoul recently caught up with him backstage while he was performing at B.B. King's in NYC. We talk to him about the upcoming solo album he's working on, how the sound will compare to that of Day 26, his goal in releasing this first solo project, if Day 26 fans have stuck with him, and much more.
YouKnowIGotSoul: Talk about the two new singles you have out.
Que: I have two new singles out. The first one is "Melody", it's available on iTunes. Basically, the concept of the song, I'm in a relationship with the melody. I'm singing to the melody as if the melody is the woman. It's a dope r&b song. "See Me" is also on iTunes, it's really dope. It's basically saying "I've been in a relationship with a woman, and if she could see me right now, what would she say? What would she do? Because I haven't seen her in a long, long time". So I'm singing this song and it's like "If you could see me right now, tell me baby what would you do, what would you say? I've got my Moscato Rose waiting, I've got all of these surprises waiting for you". So that's the concept of that record.
YouKnowIGotSoul: Talk about your recent name change to Anthony Q. What made you decide to go with that?
Que: I wanted something new and fresh so I took my middle name, which is Anthony, and put it in front of Q. So I just wanted something different and new. Everybody knows me as Que, so I thought I'd change it up a little bit and put Anthony in front of the Que.
YouKnowIGotSoul: Give us some details on the solo album you're working on.
Que: I'm working on the solo album now, I've been in the studio for the last two years *laughs* getting different songs and trying to get the best r&b album for my fans. We're talking about releasing some stuff hopefully in March. We have a date in March we're hopefully trying to release some stuff by. We might do it through iTunes because I'm independent right now and doing everything myself. It's still great though, because for instance when we put "See Me" out there, within 24 hours it had 60,000 views. Three or four days passed and we are over 100,000. Imagine if all of those people bought that when it came out. *Laughs*
YouKnowIGotSoul: Who have you been working with on the album?
Que: I've been working with a lot of my friends that are into music, a lot of friends I went to college and high school with, we've been putting a project together. Also, my family. Of course I want to work with those big time producers like Swizz Beatz and Polow Da Don and all of them, but in this project I've just been reaching out to people who know me and know my talents and my gifts. It's not always about working with big timers. Sometimes you get the best music out of people who are trying to come up with you.
YouKnowIGotSoul: After having a couple of albums as part of Day 26, what are you looking to accomplish with this your first solo album?
Que: Honestly, when my fans hear my music, I want them to feel like it's therapy. Like when they walk away from it, I want them to be like "This is so soothing, his voice is so calm and relaxing." I want them to feel like they went to a therapy class and got healed through my music. *Laughs*
YouKnowIGotSoul: For those fans of Day 26 who have stuck with you, talk about how your sound will compare to the sound of the group.
Que: If you're a fan of Day 26, you'll probably be a fan of my music. It's all great music. If you're a fan of old school r&b, r&b in general, you'll be a fan of my music. That's what I'm trying to bring to the table with a little bit of crossover, not too much, I don't want the fans to be like "What is this guy doing? He's doing too much". I want it to be smooth, calm r&b.
YouKnowIGotSoul: Has the recording process been much different recording solo compared to recording with the group?
Que: It's actually been pretty fun. It hasn't been a hard process. No disrespect to the guys because they are great singers, but I actually enjoy the process that I've been going through with my friends and family. I'm in control of my creative process. When I say "I want to sound this way" or "I hear the harmony this way", it's real easy. *Laughs*
YouKnowIGotSoul: Have you found that Day 26 fans have stuck with you since you've gone solo?
Que: They've really been supporting me through this whole process. The last three years since the breakup of the group, my personal fans have been following me, they've been sticking by my side and supporting my music and anticipating this album.
YouKnowIGotSoul: What do you remember most about recording "Since You've Been Gone" with Day 26?
Que: I remember when we made the video, it was magical. I think that was the second video we shot. It was something I will never forget. I remember us being on top of the roof and I think we had black on and they sprayed water on the floor for the shiny effects. We were dancing and they had this big camera that would spin around, it was in the middle and it was huge and it would spin around in circles to capture the city and us. That whole process was fun, it was incredible.
YouKnowIGotSoul: What would you say is the most valuable lesson you learned while part of the group that's going to help you succeed as a solo artist?
Que: I would definitely say I've learned a lot in the business and just seeing myself on television and seeing my success in different magazines and pictures; I've been able to see myself. So I would say this whole process has grown me up. It's been a fun process, it's not too serious, we don't want to get too serious.
YouKnowIGotSoul: Anything you'd like to add?
Que: Follow your dreams. For those of you who are inspiring to be singers and entertainers, have a lot of faith, believe in yourself and your vision and your brand. Anything is possible if you put your mind to it. Have faith even when you think it's impossible, if you have faith, it's possible.