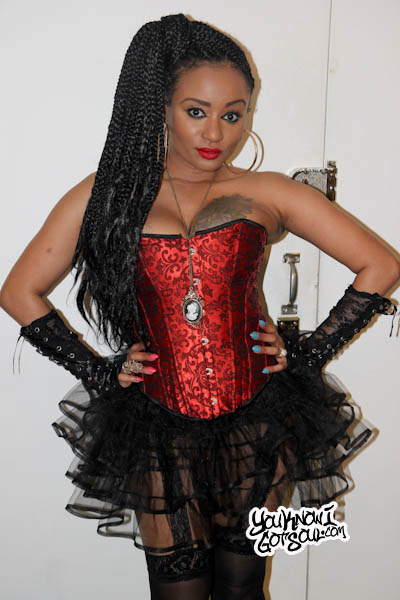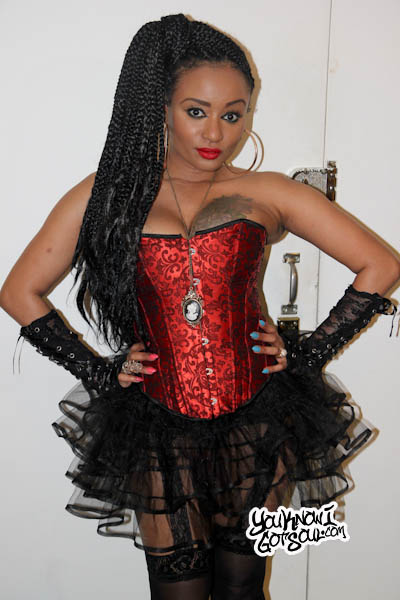 You might remember Qui Qui Martin from being the lead singer of the girl group Isyss from the early 2000's. When we caught up with her last year, we did an in depth interview on her career and where it's gone in the years after Isyss. A couple of weeks ago, we got to sit down with her in person for an interview giving us a further update on her current label situation, her upcoming solo album, and Isyss' original break into the history. Check it out!
YouKnowIGotSoul: Talk about Isyss' origin and how you guys got discovered.
Qui Qui Martin: Initially they were looking for a lead singer for the group. One of the girls in the group, La'Myia Good, is Megan Good's sister. I had met Megan Good in High School at Winter Formal and her sister was in the group. They didn't have a lead singer and I ended up meeting the girls. Our production manager was Billy Moss and he put a demo together. We shopped the record and we had two deals on the table. One was with Clive Davis when he was first starting out J Records and one with LA Reid over at Arista. We chose to go with LA Reid and that's how it happened for us.
YouKnowIGotSoul: In our previous interview, you mentioned that Isyss was in the process of recording a second album and it kind of didn't work out. Was it discouraging for you as an artist after the second album didn't work out?
Qui Qui Martin: Absolutely. I was really young in the business when I first started out. When we got dropped from the label, it was kind of like "Where do you go from here?" At that time, I was young and I decided not to go to college so I could pursue my singing career. Once it was over, it was like "What am I supposed to do now?" It definitely was discouraging at first to try to figure out what the next move was. With the group, we actually tried to stay together and we tried to work it out, but it still wasn't the same because one of the members had left to do politics. It just wasn't the same. We decided to just all go our separate ways but we're actually all still really good friends. We're actually still best friends.
YouKnowIGotSoul: A lot of people know Isyss, but has it been difficult establishing yourself as a solo artist?
Qui Qui Martin: The biggest challenge is that people know me from the group and yeah we had a gold album and two videos out and I was the lead singer, but I still have to cultivate an entire different brand for Qui Qui Martin. Another thing is sometimes in the music industry when you've had a first chance, it's hard to get a second chance. It's hard for producers and labels to believe in you and take a second chance on you if they feel like you didn't reach the highest potential that they would want you to reach. All those things are definitely discouraging but you have to keep going. That's the whole thing about being an artist. If you can't believe in yourself then you can't expect anybody else to believe in you.
YouKnowIGotSoul: Talk about your current label situation right now.
Qui Qui Martin: Well I have a great friend named Anna who has been in the music business for a long time. She's been a close family friend for a long time. Last year she called me out the blue and said "I'm going to be closing a deal with Fontana/Universal. I would love you as an artist!" I was like "Wow that's crazy" because I had been working on my music because I had been back and forth and not really as serious as when I got that call. When I got that call, it was kind of like my eyes opened and I was like "I have my second chance. I'm ready to do this." We got the paperwork together and I signed to her sub-label which is OMG. The distributor will be Fontana/Universal so they will be the ones releasing my debut album "A Melodic Seduction".
YouKnowIGotSoul: The last interview you mentioned that you were working with producers such as Kendrick Dean and Mike City. Those are some big names in R&B. Do you feel like you still get the respect in R&B as a solo artist?
Qui Qui Martin: I've been really blessed. I've cultivated so many wonderful relationships with so many producers in the business. This business you would think is really big, but it's actually very small. Everyone knows everyone. I've been blessed to have people believe in me and really respect my talent as an artist, so I've been able to get my album alone done based me being able to pick up the phone and call Mike City, Kendrick Dean and Kwame. It's calling these great producers and basically saying "Can we get this album done?" and they've been more than willing and above and beyond to work with me to get a solid album. I'm very excited and the album has some amazing producers. My good friend Makeba Riddick will be writing on the album. It's going to be awesome.
YouKnowIGotSoul: Tell us more about your album.
Qui Qui Martin: "A Melodic Seduction" is basically what it sounds like. It's feel-good music and it's very sexy. It's really promoting love and femininity with women and feeling good about yourself and having your man wine and dine you. It's an awesome album. I have a track called "A Melodic Seduction" produced by Kwame and that's also on my mixtape "B-More to LA". It's available for download on DatPiff.