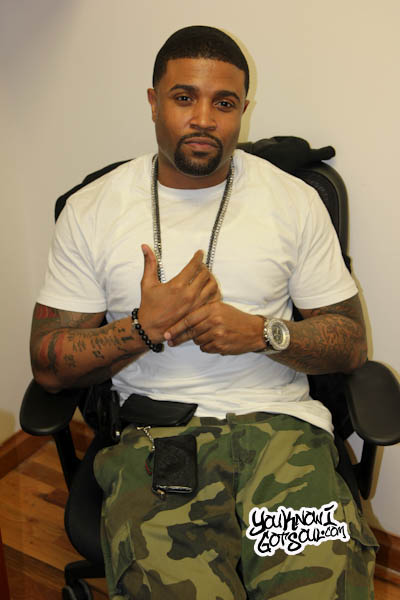 While Next might not have always received the credit they deserved in the late 90's and early 2000's compared to other r&b groups, there is no doubt their music is timeless and still has a big impact today. R.L. had a huge role in that success, not only being the lead singer and face of the group, but also being the masterful pen behind just about every hit. For that reason, he's been able to easily parlay that success into a solo career over the years. Even after his debut "RL: Elements" in 2002, he's been writing hits for everyone from Ginuwine to Lloyd to Jaheim to Jamie Foxx behind the scenes. Although he's been able to make a successful living touring with Next off of the strength of their timeless music, the time is now for R.L. to once again step into the spotlight as a solo artist. With the release of "Boo'd Up", his first official single in over a decade, R.L. will surely bring timeless music back to an r&b genre that is sorely missing it. YouKnowIGotSoul once again caught up with him during a promo run in NYC and discussed his hunger as an artist, his new album "5:15", artists asking him to write hits like "Too Close" for them, taking a break from Next, and more.
YouKnowIGotSoul: Your new single "Boo'd Up" is your first official single in 10 years. What inspired you to write this song?
R.L.: I just wanted to be able to do another anthem. I wanted to make sure that if I came back, it would be on the level that I left and I'm known to have. I had to ask myself if I was only going to sing three records right now, I know I had to do a "Too Close" and I had to do a "Wifey" but I had to put something in the middle. I wanted to make sure it's a record that would be on that level. It's relative I think, people can relate to it so it could be timeless.
YouKnowIGotSoul: Since it's been so long since your last official single, even though you had mixtapes and songs here and there, did you always have plans to come out as a solo artist?
R.L.: Only if I was ready. I think the success that I've had and the ability to continually tour with the records I've done in the past afforded me the latitude to just relax and really work on my craft and make it what it needed to be. If you look at a lot of artists now a days, that's because they're popular but they're not successful as you'd think. If you look at the big acts like a U2 or Rolling Stones, they can put out an album every 5 or 10 years because the music is so timeless they can continuously travel the world on those records. That's what I wanted to do.
YouKnowIGotSoul: I was reading about your new album "5:15" and that you're treating it like it's your debut again. What made you take that approach?
R.L.: Well it's called "5:15" because I was born at 5:15 AM. I think a lot of times artists get relaxed and take their fan base for granted. I didn't want to do that. I wanted to take it back to how I felt as a new artist. When I really look back, that's when it was the most enjoyable, when I was innocent and didn't know about the politics. When I wasn't afforded certain things like "I need to have this or I need this room or this flight", different things that don't make the music what it needs to be. The hustle and the struggle makes it, so I wanted to go back to that hunger.
YouKnowIGotSoul: Where you are now as an artist is a little different from where you were when you released your solo debut "RL: Ements" years ago. How are your goals different now as you prepare to release this project?
R.L.: To be honest, when I did "RL: Ements", let me start with a story. The truth is, we put out the second Next album, but then Clive Davis left and started J Records. We were the only artists that had an album out during that change. We were told that if we stayed, the label would promote. If we left with Clive, both labels would promote it. Of course we left and went with Clive only to find out they weren't going to promote our album and J wasn't either because it wasn't under the J label. So we went and had a meeting with Clive. I had a whole new album ready for Next. We had just put out an album, we were on our second single which was "Beauty Queen", we couldn't put out a new album that quickly, it would confuse the consumer. So he said "I'll tell you what I will do, let's do your album". So when I went into the studio, I worked with Walter Milsap. I learned how to be an artist doing my solo album. It was really a school project, it wasn't me just doing a body of work because I wanted to put out a solo album. It was more so experimenting and see what I liked. It was all over the place. The difference now is I know what I'm doing; I record, I engineer, I write pretty much everything. I know what I want to do. I know what I like and what sound I want and what vision I want to put across to the audience. This is where I feel like I'm at my apex as an artist where I can give you exactly what I hear in my head and make it come out of the speakers.
YouKnowIGotSoul: Just like you've said, you can do it all yourself: write, engineer, record. Are you prepared to do this album independently? Does that make the most sense?
R.L.: I want a machine but we decided to go this route from the beginning. We felt like we had the resources to get it to the masses. I've always liked having a machine, I just like family. It's like if I'm at a BBQ, I want somebody cooking, I want somebody to get the ice, I want somebody to make the drinks. If we have a team, everybody can do what they need to do to make this successful.
YouKnowIGotSoul: Since we've been covering you as an artist, we've heard of the "LoveMusic" album you were going to put out, then the "Minnesota Nights" album. What made you go away from those albums and leave them behind?
R.L.: I recorded hundreds of records. Actually for the "5:15" album I recorded 70 records. I dealt with a lot of leaks with the previous records. People might have thought I was leaking records and putting them out to stay relevant, which makes no sense because I was already writing for other artists. These records were coming out because of hackers in Germany. They hacked into publishing companies, record labels, and everybody else's e-mail address and took records. For me, I'm a perfectionist. To be honest, the only reason this album is coming out is because management and some people from the label came in and said "No, it's ready, you've recorded too much". I recorded four records last week from scratch; I just wanted it to be perfect.
YouKnowIGotSoul: You've still been getting writing placements over the years. You've had Mindless Behavior and some others. As a veteran now, do you still feel like you get the respect you deserve from artists looking for writers?
R.L.: No, not like a lot of people have. But I think my gift is my curse. When I work with artists, early on everybody wanted a record like "Too Close", so I had to keep making records like that with Kay Gee. I always tell artists I work with, "I don't want you to sound like me because I want to keep my day job as an artist!" I want to be able to make an artist sound like themselves in the best possible way. Since I do that, a lot of times people don't hear me talking or singing on the records, unless you really listen and you can hear me do some backgrounds. People don't know that I've done a lot of things because it's not about me when I'm working on another artists, it's about them. Nowadays a lot of writers, they make the songs about them.
YouKnowIGotSoul: What's new with Next?
R.L.: I made a decision to focus on my solo career right now. That can be revisited, it's not a beef thing or anything negative. It's really me deciding to focus on this "5:15" project right now. We have a lot of Next records recorded, I love them, I think that we have an amazing history, but I need to grow as a man. I have to take this journey right now by myself.
YouKnowIGotSoul: If there's never another Next record that comes out, are you happy with the legacy you guys have left behind?
R.L.: Yes, but I'll say this. I never thought I'd live to see 30 and I'm 35. I never thought I'd live to see 30 because I really didn't feel like my work was respected or appreciated. I think one day people will look back and realize. If you ask any person right now on the street, what was your favorite artist back in the late 90's, they'll rarely mention us. Say I took you to the studio and you didn't know Next or know me and I played you a Dru Hill, Jagged Edge, 112, and Next record. You'd like the Next record the least, but you'd wake up the next morning singing our record. That's how it's always been. We never got the critical acclaim like we wanted, but that's fine because we had the longevity and we had records that will stand the test of time.
YouKnowIGotSoul: Anything you'd like to add?
R.L.: I just want to say listen, you know that you're my pale brother. *Laughs* Wherever I'm at, whether it's a concert, I got to have you there. You know you were the first person out of anybody I sent the new record to because I know that you've been following me and always showing me love and anticipating it. It will be the same with the next single. I really appreciate your support and I want you to know that even when I'm winning crazy awards and I'm back where I want to be, it won't change, you better be there! If you guys see a salt and pepper haired white guy following me along, no it's not the cops. *Laughs*