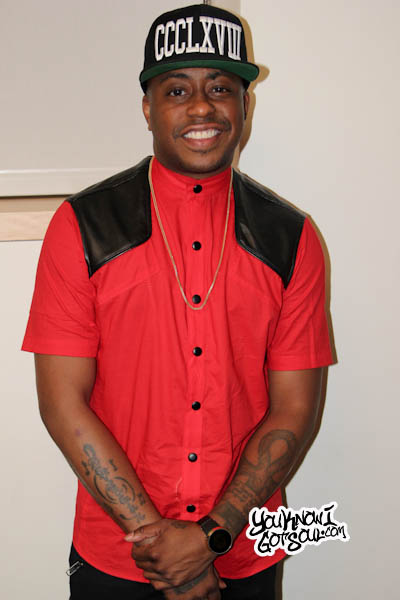 When Raheem DeVaughn went to make the move to become an independent artist a few years back, our reaction was "What took so long?" Since he's always been the biggest supporter of his own career, constantly coming up with inventive ways to promote himself as an artist, it was only right that he take full control. His new album "A Place Called LoveLand" marks his first release as an indie artist and just so happens to be one of our favorites of the year. Being an indie artist should not carry a negative connotation, and just as you'll hear from listening to the album, and artist can certainly release their best work without the constraints of a major label. We sat down with Raheem after a recent promo performance at the Apple Store Soho in NYC and discussed what it took to make his first indie project successful, the progression in his sound, and what it will take to promote the project on his own.
YouKnowIGotSoul: "A Place Called Love Land" is your first independent project and it was a great album. What did it take for you to make it a successful project?
Raheem DeVaughn: It took many things. I've got a wonderful management team, so shout out to Kevin Liles, Jerry Vines, Jerome Hipps, Michael McArthur and Ron Dickson. It's just a wonderful team behind the master plan. It's definitely my vision to be independent, but it's also my vision to be successful. It's been a learning process for the entire time because although I feel like I'm still a fetus, all the OGs that I roll with have been in the game for so long. They come from an industry background and the industry has changed 360. It's a learning process for everyone and we're just really hitting the pavement, running and touching the people. Everyone is just doing what they can to make this run very successful for this album.
YouKnowIGotSoul: You have the single "Ridiculous" which was written by Ne-Yo and definitely shows growth in your sound. Talk about the progression in your music.
Raheem DeVaughn: I had a groundbreaking tonight because I just started performing that record. It's a challenge because it's such a dope record. I don't want to misrepresent the record because it's one thing when you write a song and you connect to it and it's another thing to take the responsibility to connect yourself to a song and someone else's brand. Tonight was groundbreaking and that was probably the best performance I've had of that record. The more comfortable I get with it and just being on the road every night, it's going to be crazy. It's just one of those records. You have records when you perform for the audience that as an artist, you want to perform because you're connected to the song. Then you have your radio records and then you have songs you must perform every time and you can't leave the stage without doing the record. They don't want to hear the record remixed or an alternate snare, they want to hear that record. I think "Ridiculous" is one of those timeless songs.
YouKnowIGotSoul: The album is done now, so I guess it's now the hard part which is promoting the album as an independent artist…
Raheem DeVaughn: No that's the easy part! The album is out now! As far as promoting, this is what we do. This is what I do man. The difference is that 10 years ago, I may have had to do it alone as far as me and my team. Just on Facebook alone, I have 450k fans that can help me spread the word. I'm definitely not in this alone. This album is not about me, it's about the integrity of music and that R&B is not dead. Really, we need to put value back into our art because for so long we had to do mixtapes. Doing mixtapes is cool and I'll continue to do that, but we have to put value back into our music. We can't just give it away for free. I think it came to that point where we had to give it for free because people were so suspect like "I don't know if this dude is worth that $10". I want to be worth that.
YouKnowIGotSoul: Anything you'd like to add?
Raheem DeVaughn: Shout out to all the wonderful artists that are giving me the raving reviews online and snap shotting photos of the album. I'm just riding off the energy and the vibe of having new music out. I don't feel like I left or anything, but it feels like I'm back, it's a new chapter and I'm reborn again.