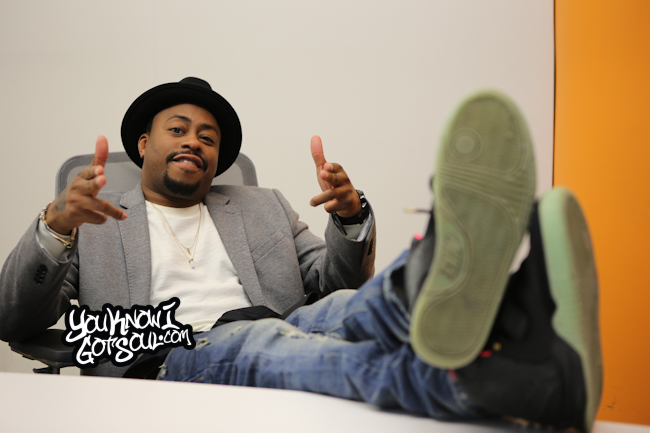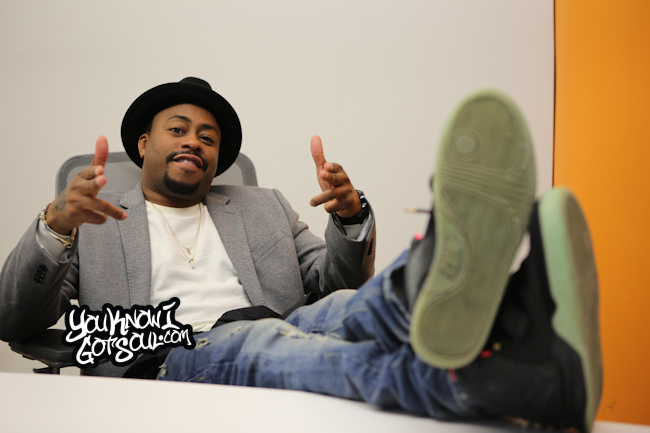 YouKnowIGotSoul was on hand in DC to help celebrate Raheem DeVaughn's new album "Love, Sex, Passion" at his official release event. We sat down with him for a unique interview to get his take on a few things, including what went into the new album, focusing on love and vulnerability when it's not popular in the mainstream, lack of radio support for R&B, the culture being made to look bad,and much more.


Interview By: Zeplyn Tillman
YouKnowIGotSoul: Tell us what it means to be back home celebrating your 5th album "Love, Sex, Passion".
Raheem DeVaughn: It's great, it's an honor. It's a humbling experience. I just did an in store signing and over 250 people came through. Someone came out with a signed poster of when I first came out in 2005, and had me sign it again. That just kind put it in perspective for me. A lot has changed in the music business, but I feel like my grind and hustle is impeccable. I actually just got off the phone screaming on a PD (from a radio station). I don't feel like my culture or what I represent is being represented like it should be by radio. But it won't be defined by radio. It will be defined by the people, the internet is a testament to that. I'm taking to the world globally. As long as you put out quality music, that's all that matters. I'm trying to lead by example. It spreads like wildfire.
YouKnowIGotSoul: As a champion of the independent side of things by embracing the independent route, I want to hear your thoughts on the emerging trends we're seeing with artists dropping artists by surprise and not really following traditional methods.
Raheem DeVaughn: I think the surprise works best for artists who have such a big following. It makes sense for them. Beyonce, Drake, it makes sense. Personally, I don't know if it was wise for D'Angelo. I think what he does is so iconic that it deserved the proper rollout. I get what they're trying to accomplish, it's a tremendous records, but he could have sold more long term. At the end of the day, and a wise man told me this, it's not where you start but where you end up. I don't think I'm there just yet with the surprise album stuff, but my movement is a little different. It's a word of mouth movement, it's a grassroots movement, it's a mixtape movement. It's not as glamorous being independent but it's a lot of hard work and it pays off.
YouKnowIGotSoul: The first thing about the album that caught my attention was the close attention to detail you really paid to the way you fade certain songs in, to trying to match the emotion of the moment you're trying to convey. Tell us about the approach you took sonically.
Raheem DeVaughn: It's crazy that you picked up on that because I realize that I'm becoming a producer and an executive and A&R to a certain standpoint. I A&R'ed my project. It's been like that for some time. A lot of times I let people take credit for work that they didn't necessarily do. Not that I'm a control freak, but when help is needed I go get help. For me, everything is about detail. It's a meticulous process putting an album together. I remember when I was completing the "Pretty Lady" track, I felt like something was missing, and at the time Trombone Shorty had just did the horn solo and I was like "something is missing". So took the horn and chopped it up and put it throughout the rest of the song. He actually didn't play those lines. It had me reminiscing of Rich Harrison who is also a DC native. That's where you start getting into producing, it's the difference between cats that make beats. I don't touch a drum machine or an instrument, that doesn't mean I don't have an ear as a producer. Puffy is a prime example of that. I want to become even a better producer and I think that will happen with me being a student of music.
YouKnowIGotSoul: You've embraced the concept of love throughout your whole career as well as with this album including "Terms of Endearment" and "Countdown to Love". Especially when we are in a period when the culture doesn't seem fascinated with conveying true and authentic portrayals of love. What goes you the inspiration to go keep going back to love?
Raheem DeVaughn: I feel like they are trying to kill our music, kill our people ,and the great black idea about what family and black music and the purpose of it and what it's supposed to support. The message becomes derogatory or demeaning and meaningless for women and men of color. I'm trying to have people give it a chance and make babies. That's the fight that I'm up against. From every time I make a mixtape to when I release a single, you have the companies that run the radio stations now, there are very few black owned radio stations. I'm very fond of a radio station in Rochester, NY that is black owned and moves differently. Major corporations run these stations now. They don't know anything about our culture. No disrespect to them, I'm grateful to the ones who play the music, but I earn the right because I create great music. I shouldn't have to pay you to play my music or politic with you. If I do, it should be fair exchange and no robbery. The fact is every DC station should be playing my music and Wale's music. For the DMV in particular, that's what's going to be the tipping point for the staple of artists that are coming out. I know what it is when R. Kelly's music come out in Chicago, or Jeezy drops music in Atlanta, or any artist in Atlanta. They support all of their artists in Atlanta. When it's go time, all of the people support that artist and so do all of the people. So I definitely wave the flag for all of the artists in my city.
YouKnowIGotSoul: I've heard you say this album is a retro futuristic 90's feel. I want to give you two simple choices and you give me your first response. Fresh Prince or Matin.
Raheem DeVaughn: Man, the Fresh Prince represented being able to get out of the ghetto. It also represented the importance of family and holding it down. For me, Martin represented black love, like the Cosby's did as well, with a different twist to it.
YouKnowIGotSoul: One more for you, "Boomerang" and "Love Jones".
Raheem DeVaughn: Once again, just black love. "Love Jones" just represented from an artistry standpoint, how they interpreted and communicated. Anybody could look at that movie and be like "That could have been me" because of how it was shot and how the storyline was depicted. "Boomerang" was the era when it became cool for the brother to become a player and it was publicized. It shows you that guys could fall too. I think that's part of the message in my music, the vulnerability. I want men to know when they listen it's cool to express yourself to your lady or somebody that you are checking for. It's cool not to know how to express yourself too sometimes and play a song that does.
YouKnowIGotSoul: When you mix "Love & Sex" you get?
Raheem DeVaughn: Hopefully infinity.
YouKnowIGotSoul: When you mix "Sex & Passion" you get?
Raheem DeVaughn: A spontaneous combustion, you never know what you're going to get! You might get crazy, you might get lonely, you might become a side piece.
YouKnowIGotSoul: When you mix "Love & Passion" you get?
Raheem DeVaughn: You potentially are creating infinity again.
YouKnowIGotSoul: Anything you'd like to add?
Raheem DeVaughn: This is probably one of the best interviews I've done in awhile, great job!