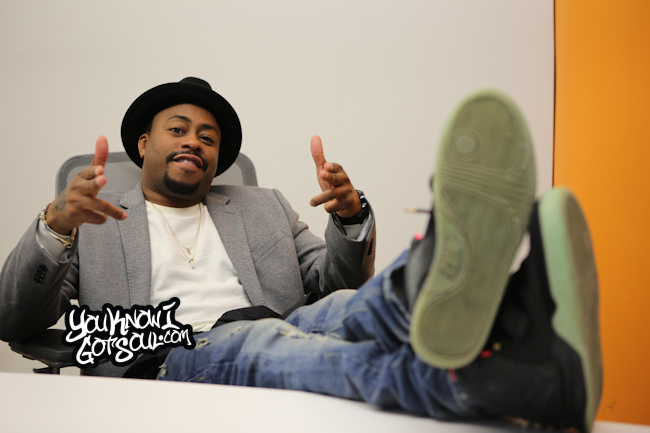 There is probably nobody more equipped to be a successful indie r&b artist than Raheem DeVaughn. Since his start in the industry, he's been the biggest champion of his own career and developed unique methods of promoting himself. There were certainly lessons learned following the release of "A Place Called Loveland". And while that album was one of our favorite of 2013, he will apply the knowledge learned to the release of "Love, Sex, Passion" this time around. YouKnowIGotSoul once again sat down with Raheem DeVaughn and discussed the sound of the new album, being an indie artist, developing his hustler spirit, his upcoming tour, and more.


YouKnowIGotSoul: Your new album is out next week. What went into creating "Love, Sex & Passion"?
Raheem DeVaughn: I wore it on my sleeve a lot on this album in particular. I'm feeling very grown and mannish but also vulnerable state. I just wanted to touch on all of that as a songwriter and let my fellow men know that it's cool to be vulnerable, emotional and express your feelings for that woman of interest. It's cool to say "I love you" and "I don't know what love is. I'm still trying to figure it out". As far as the content of the music and the message that I want to put out there, it's uplifting for not only black women, but women as a whole. That's important to me. I really wanted to continue to spread that message.
YouKnowIGotSoul: You mentioned touching on some new topics in your lyrics. Does this album represent growth you've experienced personally?
Raheem DeVaughn: I chose to put those records out on this album because if you're going to talk about love, you have to talk about the good and bad of the love process. I think I captured that. I haven't had those begging records, but I felt that. I've had relationships where I felt like that. I feel like you can't tell the story of "Love, Sex & Passion" without having those records.
YouKnowIGotSoul: From what we've heard so far, the album definitely has a 90's throwback feel. Where idd you take the album sonically?
Raheem DeVaughn: It's definitely an organic, retro, futuristic 90's feel. You think about the 90's and a lot of great artists came out. My music is a fusion of a lot of things. I want you to hear all those elements when you listen to the album. This album for me is like my "12 Play" or "Purple Rain". I feel like it's some of my best work to date. Critics may argue to say different, but if you're into buying singles, this is not the album necessarily for you. This is an album where you want to listen to every word, close your eyes, feel the emotion of the record and see where it takes you. You want to enjoy that moment uninterrupted. This is an album that you want to get with that significant other or person of interest and really get into them. Not literally, but literally. *Laughs*
YouKnowIGotSoul: What new elements did you introduce on this album?
Raheem DeVaughn: I wrote every song on this album unlike the past. It's more like my first album where I took it back to the essence of "The Love Experience" where it's very guitar driven at times. I'm a big fan of Prince, Lenny Kravitz, N.E.R.D., Jimmy Hendrix and The Beatles. I hope you hear that element when you hear a record like "Black Ice Cream" or "Infinity". I think that I'm developing and getting better as a songwriter whether that's tapping into my emotions or creating an emotion.
YouKnowIGotSoul: This is your second album as an indie artist. What is the biggest lesson you've learned as an independent artist?
Raheem DeVaughn: It gets better and it's about consistency. Don't wait too long to put out new music and make sure you're picking the right single. Looking back on it now, I may have picked the wrong single for the last project. Coming out the gate with "Love Connection" because with indies, it's a partnership with my brand 368 Music Group and eOne. When the music runs out, it runs out so you have to spend it wisely and go with the best first look. Hopefully you get to a second look and if that's a great look, you get to a third. Usually in the indie life, you only get one time to make a first impression so you have to get it right. As far as artistically, just being consistent and making consistent work so people can compare your work.
YouKnowIGotSoul: You've always been innovative and the biggest promoter of your own career. Where did you develop that hustler's spirit?
Raheem DeVaughn: I think it's just in my DNA. You can't teach someone to be a hustler. You can teach someone how to sell, market and promote, but you can't teach that ambition of saying "I'm going to grind for this. I'm going to start my day at 6 AM and it's going to end at 10 AM the next day". You definitely have to refuel and reboot the system. You can have to get rest because it's not effective if you're not alert. You have to be focused and be ambitious. Set a goal and work towards it. The greatest challenge is being able to challenge yourself. Can you accept the challenge and make it happen?
YouKnowIGotSoul: Through the years, you've been involved in many events and organizations to give back. Talk about your charity work with the "Love Life" foundation.
Raheem DeVaughn: I just try to lead by example, but also be lead by example. I have some great people in my city who were already doing great things and I wanted to be part of it. As far as the foundation, it gives us an opportunity to just be like Robin Hood in the community. It's the give back component of it.
YouKnowIGotSoul: Talk about the "Intimate Truth" tour that's coming up with Ledisi and Leela James
Raheem DeVaughn: It's about the kick off the last week of February, The first date is in LA and it's 22 cities. It's Ledisi, Leela James and myself. It's going to reminiscent of the Motown era where cats took out one band and grinded it out. It's going to set the benchmark for a new blueprint for how it's done. Although technically this is Ledisi's tour, we approach it kind of like a co-billing situation. I'm humbled that she asked me to go with her. It's her time right now and you just kill it.
YouKnowIGotSoul: How will your new album make people feel when they hear it for the first time?
Raheem DeVaughn: I can't really determine that. I can't wait. The feedback has been great though with the pre-order and you can preview the album on iTunes. The album was originally supposed to come out February 10th and now it's February 17th and with good reason. We wanted to make sure retail stores had more units and it's like "If this is the difference between 5000 and 1000, we're all for it". I just wanted to get the fans some free downloadable music in the spirit of the 90's. I've got some treats who are watching on Twitter and Instagram. I keep giving people teasers like a remake of a Janet Jackson song. That's going to dope. I've got some other treats up my sleeves. A few Mary J. Blige joints and a Sade joint.
YouKnowIGotSoul: Anything you'd like to add?
Raheem DeVaughn: Thank you for supporting the music and culture. Make sure you buy the album February 17th.