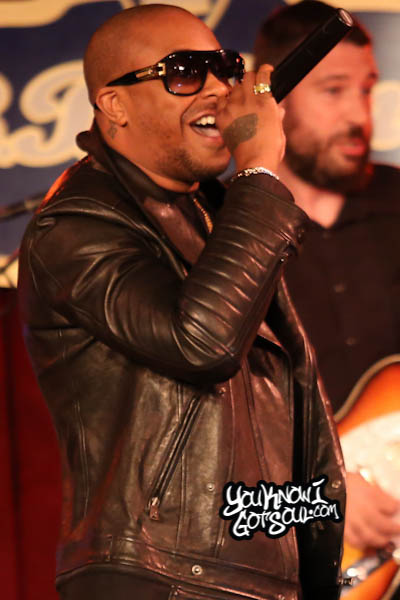 Raheem DeVaughn has always fit that mold of an artist who would be able to have great success going the independent route. He's super talented, very innovative, and has taken his career in his own hands from the start. Fans have been waiting patiently for his next effort "A Place Called Loveland" for some time, and he teased them earlier this year with the "Destination Loveland" mixtape. One thing is for sure, whenever new material does release from Raheem, he will surely have raised the bar from his previous work. We caught up with him backstage after a recent show in NYC. For this brief interview, we touched on his next projects, being independent, his 368 Music Group, and his radio show.
YouKnowIGotSoul: You had the "Destination Loveland" EP earlier this year and you're working on "A Place Called Loveland" and it's is coming soon. Tell us about it.
Raheem DeVaughn: "Destination Loveland" is kinda like, I feel like my fans needed some new music. I have something else really big, I think I'm tentatively going to call it "Nights Before Loveland". I'm just tweaking it and deciding when I want to release it. I feel like It's important to keep giving people the music and keep feeding the music and I feel I've always had my own movement like 50 Cent's and Mike Jones' in hip hop at that time. More new artists like Curren$y just put out mixtape after mixtape and grind it out. That's kinda like where the "Destination Loveland" came from and really just mixtapes period. It's just keep feeding people new music. People just want to get the music and enjoy it and hear it live.
YouKnowIGotSoul: I know you performed some new songs tonight here live. Tell us about those.
Raheem DeVaughn: "They Don't Make Them Like You Anymore" and "Make a Baby". Those are songs that actually will be featured on my album "A Place Called Loveland". I just signed on with Kevin Liles management. We're trying to throw some new music in the loop and see how people take to it. We'll be switching it up from show to show and just get a feel for how the audience takes to them. This was the third show this weekend, and NY was the best show, the songs were received very well. It's also about setting them up, it's new music that people have never heard before in their life.
YouKnowIGotSoul: I know you were with Jive for the previous three albums, are you independent now?
Raheem DeVaughn: Yea right now I've started my own label 368 Music Group with artists like Phil Ade who we've been branding and building the whole brand for the last two or three years now. Another artist, PDP (Phil Da Phuture), and artist Dee Boy. 368 Music Group is actually like a hip-hop boutique label, we represent the DMV. Actually, 368 stands for DMV numerically in your phone. We're very much about the artists from the area and bringing up and grooming and managing and signing the talent from the area; really putting on for the city. Definitely in my partnerships and distribution for the new music, you will see the brand, the stamp on the back of the CD; 368 Music Group.
YouKnowIGotSoul: I feel like you're the perfect artist to do your thing independently. You've always taken control of your career, managed it, and drove that thing on your own without waiting for anyone else to do it for you. Do you feel that's the case?
Raheem DeVaughn: Yea I feel like it's been very successful for artists like Tyrese in particular who just did a big independent thing; it just worked so well for him. I think it's going to be huge, we're going to do crazy numbers independently and most important I can make good money. It's no secret that the music business is downsizing. At times it's more on black music and our black executives in the business, so definitely I just take it to the people.
YouKnowIGotSoul: You've got big things going on with the radio show right now. Talk about that.
Raheem DeVaughn: The Raheem DeVaughn show is every Sunday, it's on BLIS FM. It's just showing me in another light, the media world, and giving my peers a platform to have an outlet where people can hear them all over the world and that type of thing. Urban radio is declining, a lot of stations are more rhythmic, even satellite radio; it's a struggle for them to maintain that. Who wants to pay for radio? Who wants to pay for it when you can just go and log on with your Smartphone and internet stations are popping up? For me, it's giving people in that profession something to fall back on. Once they get this in the cars, which they're already working on in some vehicles with Wi-Fi, it's pretty much going to change the face of radio forever just how it has with the music business. Once again it's showing me in another light, we have a lot of fun and we play great music. The Raheem Devaughn show, every Sunday night, tune in.
YouKnowIGotSoul: Anything you want to add?
Raheem DeVaughn: Love life. It's the r&b-hippie-neo soul-rock star. I love yall, peace.