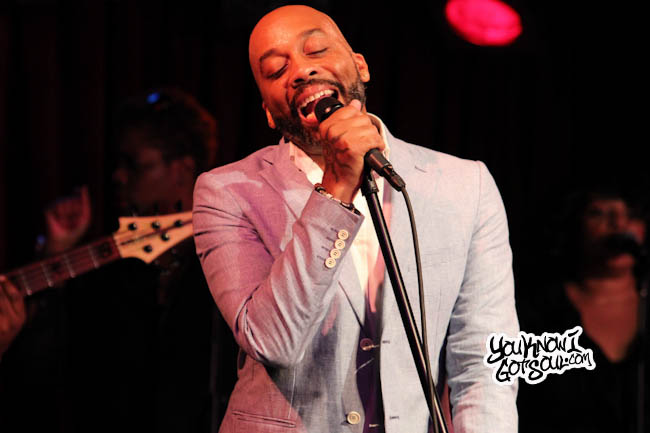 As a follow up to the interview we did with Rahsaan earlier this year prior to his "Bleuphoria" album releasing, we talked with him again to get a feel for how things were going since the album's release. Additionally, we also discussed the new single "Crazy" with Faith Evans and Shanice, taking record sales into consideration when making an album, some of the stories behind his music, continuing to work the "Bleuphoria" project and much more.
YouKnowIGotSoul: The album has been out a few months. What's the reception been like from your fans?
Rahsaan Patterson: It's been great overall. There are those people for who it may take a little time *Laughs* to get the space that I'm in and the space I created on this record. The possibility that they may never get there is there too. But overall it's been good.
YKIGS: The last time I interviewed you, I hadn't heard the album, but now that I've heard it, there's one song that I really love and we actually featured as our Featured Song of the Week and that's "Stay With Me".
RP: Wow thank you very much!
YKIGS: Give us some background on that song.
RP: That song was a song that came when I was in the studio with Keith Crouch and he started playing me some of the tracks that he had been working on. He was just playing random songs that he'd done for me and when he played that one, that one stood out for me and I started writing the song and he laid it down and that was pretty much it.
YKIGS: You've got the new single out "Crazy (Baby)" with Faith Evans. Last time you mentioned how you connected with her, but tell me what the creative process and working with her in the studio was like.
RP: It was a fun process to create the song and to work with her. When the song came to me initially, the groove and the whole feel of the song, I heard her voice in my head singing the hook. Some months had passed before we got to another stage of development with the song, but at that point, I had in mind that I wanted to reach out to her to see if she would be interested in being on the song and on the album. It just so happened that she was looking for me to be a part of her last album that just recently came out. Unfortunately I didn't end up on her record, but she still came through and sang on mine, so it was a great experience. She came to the studio, it was really light, she wasn't there too long. Before she sang, she played some of her record before it came out and I played her some of the stuff that I had worked on for my record. We talked and laughed and chilled out for a minute and then she went in the booth and laid it down. Shanice actually sings the ad libs at the end of the record, her and I have been knowing each other since we were ten years old and this was the first time that she got to work with me on my record. I've worked with her on her previous records.
YKIGS: A few weeks ago I also had the opportunity to interview a good friend of yours Lalah Hathaway. I know you two also collaborate; you were on her album, she is on your album. What's it like working with her?
RP: It's really easy, it's like home really. We have a connection and kinda give each other the space to be free and who we are and what we do. We appreciate that and respect that in one another and bring out the best in one another. That always works.
YKIGS: I read this album peaked at number 36 on the Billboard R&B Charts which is in line with where some of your other albums landed. Are record sales something you ever consider when creating music? Is that something you ever focus on?
RP: It's definitely something that crosses my mind in the process. Creating the music, there's always a thought of how it's potentially going to be received and particularly in the sense of the people who do support your career and your music and have been with you through all of your growth and your journey. There's always the thought of "I wonder how people are going to feel about this". In terms of record sales, the industry is so different now that it can't be your main focus. For me, that can't be the focus and priority for me when I'm creating my music. I create my music based on my personal experience, my spirit, and where the spirit takes me and guides me to where I'm supposed to go. In that, there's always the hope that people can relate to it. At the end of the day, someone's going to relate to it. It may not be a million people; it might be a hundred thousand people that relate to it. Whoever relates to it, that means the most because that means the music and I have served its purpose.
YKIGS: Tell me if you agree with me on this. From my point of view, I don't feel like where you land on first weeks sales are that telling of the quality of the album. You can keep working the album and it could be months before people catch on. Talk about that.
RP: Absolutely. Back in the day sometimes albums took over a year to actually get off of the ground. It also has to do with the money that's invested into it and the time and the people involved and the proper provisions to take the music to where it needs to go. It's a matter of believing in the record. Whoever is involved has to understand what's on the record and understand its potential and be able to support. Ultimately, that's the defining factor of how long a record can take or how long a record is actually going to last.
YKIGS: I've followed your career for years now, and I'd like to ask you about a couple of songs from earlier in your career. My favorite song of yours is actually "Spend the Night" from your debut album. Give me some background on that song.
RP: Oh man, I remember we recorded the basic demo, which ultimately is the foundation of what the record ended up being, we recorded the music with Jimmy Jaz back in 1994. *Laughs* It didn't come out until 1997. We recorded it and wrote it in 1994 and I remember singing the lead and the background vocals. We had to go to one of my friends' studios at their house in their garage. It was cold that night, it was late at night. We would take turns sleeping on the floor in between each of our individual parts. It was cold in there and I remember there was a heater in there and I was sleeping on the floor and when it was my turn to sing I would get up and sing my part.
YKIGS: Another song I wanted to ask about is "I'll Go" which you recorded, but I know there's also a version out there by Donell Jones. Tell us the story behind that and how he eventually ended up recording that.
RP: The story behind that is I recorded the song along with a song called "Get Here" for my second album "Love in Stereo". "I'll Go" never made it to my second album because I didn't choose for it to be on there and somehow the people involved and in charge with the "Love & Basketball" soundtrack heard the song and initially asked for me to do the song. Somehow, it probably got to someone else and they realized they wanted a bigger name at the time. So they had Donell Jones record it for the soundtrack. I wasn't opposed to that at all, whatever is whatever, and that's how he ended up doing. I remember hearing somewhere that he didn't necessarily want to record the song but the label and the soundtrack people liked it so much that he just inevitably recorded it.
YKIGS: I actually asked him on Twitter about that song and I remember him mentioning to me he just kinda tried to do what you were doing on the song, so it wasn't really his own.
RP: Exactly. Which makes sense as to why he may not have wanted to record it because I had already put my stamp on it and they liked the song so much and I can imagine when you're in that situation, you want to do the song justice.
YKIGS: You had a hand in writing one of Brandy's first hits "Baby". What do you remember about writing and creating that song?
RP: I remember Keith Crouch extended the invitation for me to write it with him. I remember going over to his house for two nights in a row and from the first night that he wanted to play the track for me, I heard what I heard, but I kept it to myself because I was pretty much intimidated thinking he would think it was horrible. So I kept it to myself in my head for two days. *Laughs* Then by the third day, he was like "We've got to turn this song in by Friday, so whatever you think of, just sing it!" So I sang to him what I had heard instantly when he played it and he was like "Man you've been sitting there holding that!" and I was like "Uhhhh….yea!" So that's how that went down. We recorded the backgrounds and stuff in his apartment back then in one of his bedrooms.
YKIGS: I know your album is only a few months old now, but what can we expect going forward from you?
RP: More promotion. Thanks to you and all of the people who have been blogging about it and writing about it and reviewing it and sharing it on Twitter and Facebook and all of that kind of stuff. I really appreciate that because it extends the life of the music. At this point, we want to release "Crazy" as the next single. We're also working on putting the final touches on the live DVD that I recorded, so that will be coming soon as well. More shows. The more interest we generate from the album and the more people who purchase the album is the potential for the life of the album to last longer. Hopefully that will continue to happen.
YKIGS: Do you see yourself shooting a video for the single "Crazy"?
RP: I do see that. I'm just working on the right timing to make sure that it can happen.
YKIGS: I look forward to seeing that. I believe Faith is working on her new album as well, so just maybe you can get it on that as well! *Laughs*
RP: Exactly! That would be hot, I owe her! *Laughs* Shout out to Shanice as well for being such a lovely person and singer and my friend and for lending her talent to the song "Crazy".
YKIGS: Anything you'd like to add.
RP: Just thank you, I appreciate it very much.