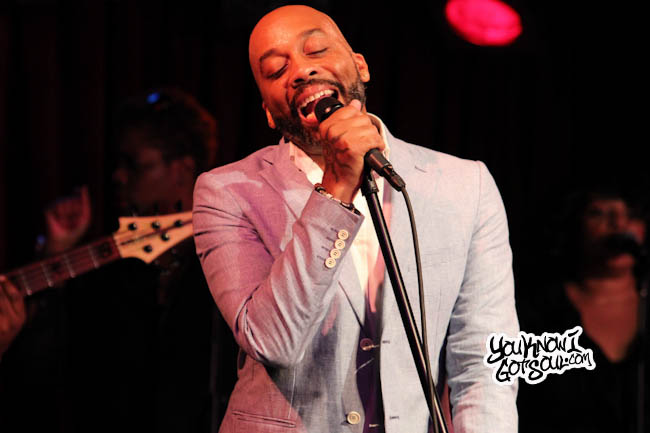 If you were to look up the term "under-appreciated r&b/soul singer" in a hypothetical dictionary, there's a very good chance you'd find a picture of Rahsaan Patterson next to it. Although since the late 90's he's released five albums, garnered rave reviews from critics, and gained a very strong following, his music has pretty much been non-existent in the mainstream. In fact, artists like Rahsaan are one of the major reasons we do what we do here at YouKnowIGotSoul; try and give increased exposure to artists who truly deserve it. Always known for pushing the limits sonically with his music, he's back with his sixth album "Bleuphoria" to continue exploring new sounds while firmly positioning himself as one of the great talents in our industry. In this interview, we go in depth into his new album "Bluephoria", his creative process, being overlooked by the mainstream, struggling as an independent artist, how being open about one's sexuality can hinder their career, and more.
YouKnowIGotSoul: Let's talk about your new album "Bleuphoria". How did you decide on that title for the album?
Rahsaan Patterson: The title came to me in like 2007, long before I started working on the music for the album. From the time it came to me, I was trying to figure out what it was and why it came so from the point when it revealed itself to me I had to go on a journey of trying to figure out what it was. Ultimately, it's several things. One being the bliss and euphoric state one finds as a result of love; falling in it, finding one's self in it, the revelations that come from it. The other definition is after the pursuit of truth and love and spirituality in God, that place that I ultimately believe as humans is our place to strive for. That state would be blissful and euphoric when we are all on one accord and spiritually in tune with one another.
YKIGS: Talk about the sound on this album. I heard the first song you released "Easier Said Than Done" and it had almost a futuristic/techno sound to it.
RP: "Wines and Spirits" kinda scratched the surface of that with songs like "Deliver Me" and "Delirium" a little bit and "Pitch Black". Production wise and sonically they were elevating me to the space which then became "The Ultimate Gift" which was the holiday album where that whole piece was celestial. That lead to "Bleuphoria".
YKIGS: Talk about the single "6 AM". You've got Lalah Hathaway on there with you, so tell me how that collaboration come together and give me some background on the song.
RP: Her and I are dear friends and whenever we are creating and working, we have an open invitation for each other to come through and be a part of each other's work. I was in the studio one day on that particular song and she called me and asked what I was doing, and she said she was coming over to the studio. She started filming on my Flip Camera and that was the first and beginning of our online show "The La and Ra Show". People then get an idea of that process and how that song developed from watching that first episode. The song lyrically expresses that point after a relationship has been troubled a bit and then you come back around and it feels ok. Lyrically if people listen they will hear that it begins after some shit has gone down, and it feels good again!
YKIGS: I saw the tracklist for the album and I saw a song which features Faith Evans. I'd love to hear about that song and how that collaboration came together.
RP: That came together because we've seen each other over the years from being in the industry and being in L.A. and we both have mutual respect for one another's gift; we're both real cool people. I was coming up with tracks for this album, for that particular song "Crazy", I kept hearing her voice in the chorus and I knew I had to get her on this. Oddly enough, she was looking for me at the same time I was looking for her because she wanted to get me to sing on her record, but I didn't get a chance to sing on her record. So I just thought it was pretty cool that we were in the same space at the same time looking for each other for the same reason. I'm honored to have her sing on my record, honored to have Lalah on it, Shanice, Jody Watley, Andrae Crouch. It all manifested naturally and it's a stellar cast of icons.
YKIGS: You also have a cover of Frank Sinatra's "I Only Have Eyes for You" on there?
RP: I did the song but my favorite version is by The Flamingos. What's interesting is that when I was in the studio working on the track, it wasn't for that song; I was just working on a track to come up with a new song. So I was working on the track trying to come up with a song on top of it, but the only melody that would ever come to me was the melody from "I Only Have Eyes for You", I kept hearing the first verse. So after about five tries of trying to write a song other than that one, I just decided to cover it because I felt something was telling me to do it.
YKIGS: I love to hear the creative process of how songs come together. I've talked to many writers and each seems to have their own process for creating a song. Take me through your process.
RP: If I'm collaborating with somebody, sometimes I'll go into the studio and just hear some music that the producer's playing, and if I like it I'll take it from there. Or, I'll come in with an idea and some chords and I'll come in and see what the producers think of that and then go from there. If I'm in the studio by myself, I'll just go in there and start fiddling around and start hearing baselines and drum sounds and beats in my head and I'll just start there, the build of it. Then the lyrics come with the melody at the same time and once I have a beat and chords and a bass line, I hear a melody and lyric and then the story starts to reveal itself.
YKIGS: Your albums throughout the years have always had favorable reviews from critics, but it seems like the mainstream hasn't always picked up on them. Why do you feel that's the case?
RP: I think years ago when I first released my first two albums during the time when there was Maxwell and D'Angelo and Eric Benet and Kenny Lattimore, there were a lot of us. At that time, the two biggest were Maxwell and D'Angelo, and then under that tier was Eric Benet and Kenny Lattimore and then myself really. At that time, it was just a lot to focus on for people. Maxwell had the big afro and his sex appeal going on and D'Angelo had his thing going on. I was over in my own little corner doing my own thing which was a little off center so it was then and always kind of will be off center for those who can go over there. Now it's a matter of positioning myself to go further into the mainstream area with my off centered shit which is actually quite centered. *Laughs*
YKIGS: As an independent artist, talk about the struggle and challenge in trying to make it and keep doing what you do in this music industry.
RP: Well I'm fortunate and blessed that I've been able to still have financial backing as an independent artist and be signed an independent label that does have somewhat of the finances to get me to radio. That's a major factor in being able to have presence for people who listen to the radio and who watch videos and stuff. I'm grateful for that and I know that it can be difficult when you don't have the monetary means to support and get your music to places. The radio part has always been the most difficult part for me even when I was on a major label because it's always about having to combat what's being fed mainstream and if you're not doing that it's not always easily accepted and easily played. It's getting a little better and I'm fortunate too because there have been stations across the nation who do give me a spin so I'm grateful for that.
YKIGS: You mentioned all of the great collaborations on this album. Is there a dream collaboration you'd like to get one day that you haven't got yet?
RP: Yea, Whitney Houston and Sade because they are icons, legendary in my eyes and I love their gifts. They are really strong personalities and spirits and I would just like to be able to mingle and create with them.
YKIGS: For a person like yourself who is in the public eye, do you feel that openly admitting sexual orientation can hinder one's career due to public scrutiny?
RP: I think that it can. I think it has in the past. I believe it has been one of the major reasons why you have tons of people who are perceived as being straight when in all actually they are far from it. On one side, it's not about someone's sexuality, it's about their art, which is who they are. It is what it is and I believe in some aspects people's inability to just accept any and everyone regardless of sexuality or religion or any of those things, that keeps us hindered in that way. There are a lot of people who may not agree with it, but can still support someone's music and creativity and their gift. So I'm just grateful and continuing to be on my path and have the support that I have from anybody that does support it. I'm not trying to bash anybody over the head to make them like me, it's either you feel it or you don't. If you don't, that's fair too. *Laughs*
YKIGS: Anything you'd like to add?
RP: Just, thank you!
YKIGS: No problem! How can people reach you?
RP: My Twitter is @MyNameIs2Long or you can find me on Facebook under Rahsaan Patterson or www.Rahsaan.com.
YKIGS: I've always wondered how you chose that Twitter name! *Laughs*
RP: My name doesn't fit! I'm one letter too long and I've tried to abbreviate it and come up with stuff but it doesn't work. So the first thing I could think of is MyNameIs2Long. *Laughs* People always think it's something else, but that's what it is!