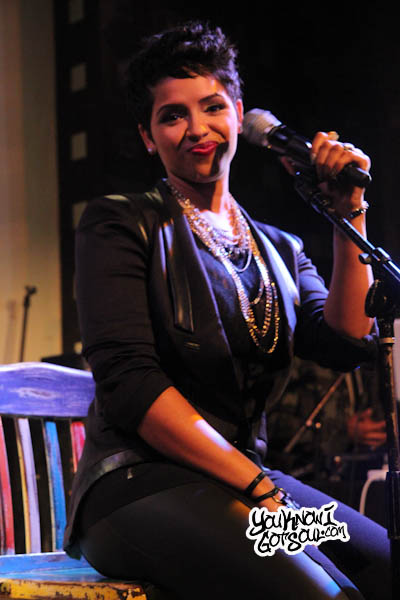 When we introduced you to RaVaughn in this interview at the start of the year, she was a new artist that had just signed to Ne-Yo's Compound University label. Since then, we've had the pleasure of watching her develop as an artist since her debut single "Same Ol' BS" to her "Love Always…The Introduction EP" to her new smash "Better Be Good". This all culminated when we recently caught her performing live for the first time at the BET Music Matters show here in NY. Now, we couldn't be more excited about her future as an artist, it's obvious that the sky is the limit for this young songstress. We caught up with her backstage that night for this interview and discussed her journey as an artist, the progress of her debut album, challenges of an upcoming artist, and much more.
YouKnowIGotSoul:You got the new single "You Better Be Good" featuring Wale. Talk about the creation of it.
RaVaughn Brown: Jerry Wonda produced it. I came out here to do a session with him and he played us the track and we loved it. When Ne-Yo came to the studio, we played him three different tracks and he chose that one. We didn't tell him "This is the one we want to do", but he chose that one and it just meshed really well together. My album is just about women empowerment and I think that song is a great introductory track just because it's just telling a guy that he needs to be good to you for him to give you our time, you better be good!
YouKnowIGotSoul: You have the EP out, how is the album progressing?
RaVaughn Brown: We're almost done. I'm super excited about it. Man, just about done recording. I actually just had a session with J. Cole a couple of days ago which was really dope. I have a lot of good features, not too many but I have Ne-Yo of course. I have Marsha Ambrosius who I worked with. She wrote a couple of records on the album. Yeah, I'm almost done. I got the single out and just pushing. Soon as we get enough publicity out and people like you guys, the supporters, looking forward to the album then we can put it out.
YouKnowIGotSoul: On the EP, you had a lot of different sounds on there like some Hip Hop beats, traditional R&B and some progressive sounds. What is your album going to sound like?
RaVaughn Brown: For the EP, we had so many great songs and I was just ready to put some music out. We did something that people could kind of listen and groove to and not necessarily straight R&B. You could play it in the club or when you're getting ready to party, you can listen. For the album though, we definitely have that feel good vibe, but it's old school Mary J. Blige. We tried to channel that because I love Mary and I just think that when you set a bar for yourself, it's really important that when you go into the studio, it's like "Okay set a bar and if you can at least get to that point, then you're good". I'm trying to get to that point.
YouKnowIGotSoul: I remember when we first interviewed you, you were just being introduced as an artist. You're on this journey now. You were on the "Think Like a Man" soundtrack, you had the EP and you're on Ne-Yo's new album. What's the journey been like?
RaVaughn Brown: Man it's absolutely incredible. I have no life now! *Laughs* I never know what my schedule is going to be. It's kind of like "Oh RaVaughn, you're going here tomorrow!" It's just been real great, working with great people like Ne-Yo, Marsha and J. Cole. Just preparing for everything, I used to sing background for Keri Hilson, Brandy and Keyshia Cole so it's been a long journey. It's not just from what you guys know, but just for me building, singing backgrounds, doing records for other people and singing on Glee.
YouKnowIGotSoul: You originally grew a fanbase by singing on demos for different artist. What do you think attracted the fans to you when you did those songs?
RaVaughn Brown: I don't know, a lot of people tell me that I have a very distinct voice. The songs that actually ended up on the internet were songs that were leaked that I did for Keri Hilson, Kelly Clarkson, Michelle Williams and Brandy. They got leaked somehow and they just started spreading. I know my cousin saw someone who said it was Keri Hilson on one of the records and he went in and was like "This is not Keri Hilson, this is RaVaughn!" It just kind of started spreading and people were able to recognize my voice and I would read some of the comments and it would be like "This is RaVaughn!" It started spreading and people started getting used to my voice.
YouKnowIGotSoul: I know recording demos is how you got your start. That's not the route that a lot of artists go, but that's how you got exposure. Was it always your goal to be a solo artist or were you just doing that on the side?
RaVaughn Brown: I wanted to be an artist for as long as I could remember. When I heard "The Miseducation of Lauryn Hill", that's when I was like "This is what I want to do". I started off acting and dancing first and then when I heard that record, I was like "This is what I want to do". It's always been a dream of mine and I was in a couple of groups before. Then I got content with making good music and singing background and do what I love like travel. I believe in destiny and I believe that I ended up where I was supposed to be. Whatever the path was, it was supposed to happen. I learned so much singing background and traveling and doing that with other people. Now I know how I want to treat my team and how I want the people around me to feel. I learned what to do and what not to do. It's just me getting called to do a demo where I didn't know who the writer was going to be and Eman called me to do this demo and I was like "I'm really tired, I just left a Glee session" and he was like "It'll be really fast, an hour and half tops". I was like "Okay I'll go" and when I was there, it was Ne-Yo. I can only imagine had I not gone, it would have been crazy and I wouldn't be here right now. I think that everything happens for a reason and I learned so much building up to where I am now.
YouKnowIGotSoul: As an upcoming artist, what is the biggest challenge?
RaVaughn Brown: I think for me, my biggest challenge is not being able to be with my family all the time. I'm a super family girl. I like to hang out with my family. I have a younger sister and a younger brother and we're really close. My brother goes to Cornell and my sister goes to USC, so we're really close and now us being spread out with my brother being in New York, I'm always traveling and my sister is in LA, it's just my mom and my dad and my family in general. That's the biggest challenge. I never know where I'm going to be, I might miss a family function or a birthday or holiday, but I have to remember that this is what I wanted to do and this is the career I chose and what I wanted to do my whole life. If I can touch people and I have to sacrifice not being able to be with my family all the time, I would do that.
YouKnowIGotSoul: Anything you'd like to add?
RaVaughn Brown: Follow me on Twitter and Instagram @ItsRaVaughn and thank you guys.