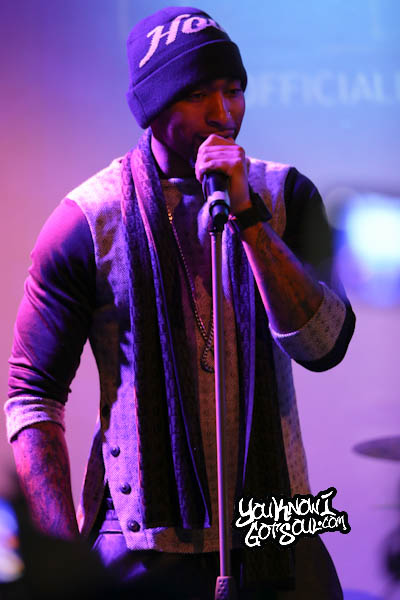 Although the breakup of Day 26 was recently announced, it was clear that Willie Taylor already had contingency plans in place, setting up his personal Noivak Music label years in advance. Being that he was part of "Making the Band" on TV, fans knew exactly who he was with the group, but now it's time to get introduced to Willie Taylor the solo artist. Although we got a taste of that with his "Sextape" mixtape last year, we'll definitely get a feel for his growth with his upcoming new mixtape and album. YouKnowIGotSoul caught up with Willie for this interview and discussed his sound as a solo artist, being a workaholic, his hopes with his label, what he looks to achieve as a solo artist, and much more.
YouKnowIGotSoul: You have a new mixtape coming out. Talk to me about the overall sound and what people can expect from it.
Willie Taylor: Well just like "Sextape" which was my first mixtape, I'm doing a lot of writing on it. I just want to give everybody a new sound coming from myself as well as the group sound that you're used to. It's going to be a lot of R&B music and it's going to be heartfelt music and it's going to be fun music as far as the "Instagram Ya Body" record. It's just a whole lot of different varieties of music from myself which I'll be writing all of, so you get a different idea of who exactly Willie Taylor is as an artist.
YouKnowIGotSoul: Talk about the title. Why are you reintroducing yourself?
Willie Taylor: The title was brought to me because I know a lot of people know me from "Making The Band", Day26 and they've seen me with the "Sextape" mixtape. All the reintroduction is really just letting you know that I've been gone for a minute and here I am again. It's like "Let me remind you of what you loved about me but then again, let me show you exactly who I am and that I can stand alone." That's what the reintroduction is all about.
YouKnowIGotSoul: You mentioned that you did a lot of writing on this mixtape. Can you take me through your writing process?
Willie Taylor: For me, sometimes it can come from a track or off the top of my head. I sit down and think of a whole lot different of concepts. I'm a real concept writer. I just want to be really creative in my music. I want to take something in every day life like the "Instagram Ya Body" record. That's a social network that everyone is gravitating to, but I want to show people how I can make it sexy as far as me taking a picture. All it's really saying is: "I want to take a picture of my woman and show the entire world how beautiful she is." That's exactly what that record is all about. That's what my writing process is usually about. I did records like "Knock It Out The Park" on "Sex tape" which is about bringing sexual activities to baseball. I just do creative records like that. "Full Course Meal" from my last mixtape was just about how scrumptious a woman is. I want to write with concept and creativity and just to be like "Wow I would have never thought of it that way." That's what my creative process is like.
YouKnowIGotSoul: As a writer yourself, how do you decide what to give to yourself and what's for the group?
Willie Taylor: I think it all comes as far as dynamic and where the song is usually going. A song initially could be for a solo artist or a group, but as a writer, you think like "Do I want to change a tone here? What do I want to hear at this part?" That's what changes for me as a writer.
YouKnowIGotSoul: When you were in the group, you were on a major label and now by yourself, you're on an independent. Have you noticed any differences?
Willie Taylor: The majors are able to reach the masses quicker. That's what you always want to do, you want to be able to make an impact and let the world see it all at the same time. Independent is a little harder, but at the end of the day I think if you put out great quality music, word of mouth will spread faster than any major label can do. I guess we just have to continue putting out great music and let the people talk.
YouKnowIGotSoul: I know you also have your own label running. What can we expect from you guys in the future?
Willie Taylor: Noivak Music is my label that I started out back in 2005. I just really started signing artists last year. I got Avrey Smith on my roster now. He has a new mixtape that just dropped recently called "Underrated Is an Understatement". You can get that on NoivakMusic.com as well as "Instagram Ya Body" for free. We're just working, man. We're just trying to get more artists heard. We believe it and we put our all into it.
YouKnowIGotSoul: Being in an industry for a while now, you've been part of a successful group, you've had your own thing as a solo artist and now you're running a label. What's the hardest thing in balancing everything?
Willie Taylor: My biggest thing is that I'm a workaholic. I kind of enjoy it, it's fun. It's constant work, but we get it done.
YouKnowIGotSoul: You've had a chance to collaborate with a lot of great producers throughout the years. Is there one producer that you feel has had the best chemistry with you?
Willie Taylor: Well no, I really think I've developed a dope chemistry with a lot of producers. There aren't any that I haven't hit up a great chemistry with. I think it's just talented people with lots of great things to give and I guess when we combine it, we create different things. I think everything that I've done with the producers has been magic.
YouKnowIGotSoul: With Day26, you guys created a huge fanbase and you guys sold a lot of records. What do you hope to achieve with your solo music?
Willie Taylor: I hope to continue with what they expect of me. I want to give them that and more. I want to create a buzz that takes me to another level. That's what we all hope for. We hope for the stars and the moon, so that's where I'm trying to go.
YouKnowIGotSoul: As far as the Day26 fanbase, have you felt that fans have been supportive of everything you're doing now?
Willie Taylor: They stay supportive. Of course people have their favorites, but my biggest thing to everybody is that I don't you to not support the others, I want you to continue to support us all if you can. I guess the music will speak for itself in that aspect as well. Good music will bring anybody back to full. By now, they've been on my team!
YouKnowIGotSoul: What's next for you?
Willie Taylor: Well we got the mixtape and then after that we're going directly to the album. We'll move from there, great music from here!
YouKnowIGotSoul: When do you expect the album to come out?
Willie Taylor: I'm going to shoot before the end of the year. I'm hoping it can be a Christmas stocking stuffer.
Follow Willie Taylor on Twitter @Willie_Day26