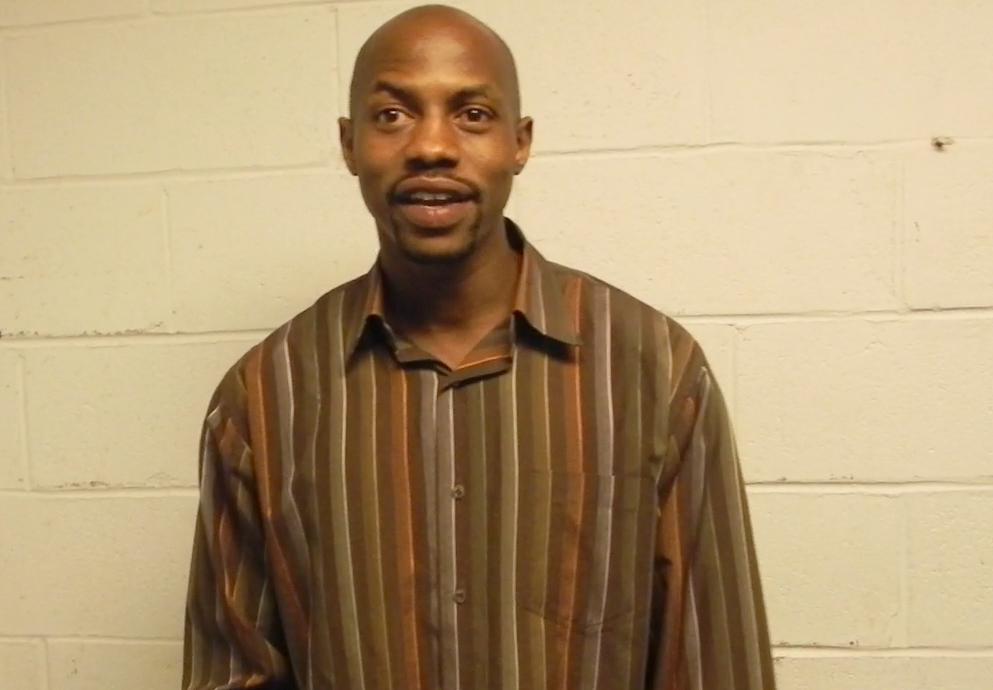 YouKnowIGotSoul recently caught up with Rell backstage during his appearance at the latest edition of RnB Spotlight at BB King's in NYC. The former Roc-A-Fella crooner caught us up with what he's been up to, talked about his plans to release a mixtape, discussed trying to make it as an independent artist, and frustration over the years with having his albums shelved.
YouKnowIGotSoul: For those who haven't heard from you much lately, catch us up with what you've been up to and what you're working on lately.
Rell: Writing, still writing. That door got kicked open by Usher, "Here I Stand" got a Grammy nomination. Writing for everybody, still trying to get placements and stay on top of that. As an artist, I took a break from that and I'm just starting to get back to it. I did a couple of movies, nothing major, just a couple of in the street dvds you might have seen. So I've been busy, just not in the mainstream media where a lot of people would notice me. I'm trying to build a website up, in the process of starting an independent label, and then I'll do my project. I can give you the title of my project, it's "From a Man's Perspective". It's self explanatory in a way, but it's a lot of twists in how men think and how we speak to the ladies. In regards to a lot of things that guys feel as opposed to simply what you will hear and what they might say. *Laughs* Just trying to really keep up with how enormous music has grown since I was at Roc-A-Fella, respect it for what it is, try to implement certain things from it to what I'm doing now so I'm still relevant. All in it's still r&b, it's still love. Also, big ups to you since you've been holding me down, big ups to YouKnowIGotSoul for holding me down and getting the music from me, making sure I stay current. Helped me stay out there for the fans who do love what I do so they do have an idea of where I am and what's going on. Nothing has changed, I'm just a low profile South Carolina cat. We like to have fun, we like to party, but as far as business, once the business is done, I'm back to what I do best, that's creating.
YKIGS: I know you had been working on a mixtape, do you still plan to release that?
Rell: It's done, but the photo shoot is another thing that has to be done. *Laughs* I didn't want to put it out there before I got to that point, so as soon as the photo shoot is done we'll put it out there. DJ Skillz from North Carolina has everything done, a lot of respect for him, that's my brother, he holds me down when I'm doing shows, it has always been that chemistry with him. I don't know what the title will be yet, it's between "Lost Files" and one other title. It's official, it's going to be a whole new day, a whole new look. Big ups to Roc-A-Fella for kinda putting us on that road to what we're doing and show us how to do the business of the music.
YKIGS: Talk about what it's been like coming from the major label Roc-A-Fella and now putting out this project on your own.
Rell: I enjoy knowing that I personally have a hand in everything I do before I lay down that night. It's really everything on you to make sure it goes the way it's supposed to as opposed to having other people do that for you which was typical for most artists. Having this opportunity to try it this way, I want to try it this way this time just to see. It is a lot of work, I'm not going to make it seem it's not, it's a lot of groundwork, but it's a necessary process that I guess all in all what makes me embrace it. When I think about it, I'm my present boss and future boss, and I intend to keep it the same.
YKIGS: What drives you to keep living this dream and doing this music thing? I know you've had a lot of frustration and shelved albums over the years. Talk about that.
Rell: It's bigger than me. It always was. I came up as an artist when the Usher's and a lot of artists that we consider great started, and I heard I belong with them and I'm grateful. To a certain extent I can agree, but I'm also a realist and to tell me that I belong where many men and women like him, who dedicated their time since maybe 10 years old, that was what they wanted to do and knew that from childhood and worked on that since children. I took music seriously when I was 19 years old and out of high school. I didn't take music serious to the point where I wanted to pursue it until I was a grown man. As honored as I am to hear that, there's a humility about me of where I come from that also looks at them with an immense amount of respect of the time and dedication they've put into what they've achieved. I say it's not as hard as what it would have been for any artist who started so young to not have certain projects come out or have certain situations fall through. I was learning from the beginning and I didn't take it seriously until roughly 10 or 12 years after gentleman like Usher. I don't have the same emotional attachment. I love the creative process so much that really I don't get emotional no matter what happens when those songs leave the studio to go where they go. It's all about when music is playing and you're vibing and creative minds are in the room and good energy is flowing; it's all about that. As long as you have that going for you, who is anybody to tell you that you should stop, people still love what you do. I never concerned myself with anything outside and that's more than anything what keeps me prevalent.
YKIGS: Anything you'd like to add?
Rell: I know you got soul, so keep rockin, keep rollin, keep r&bin, keep being an outpost for artists and keep informing people. To you guys and others, I'd like to say thank you and that we appreciate you greatly. We look forward to the day when real music reigns again. Until then, we are going to do what we do.