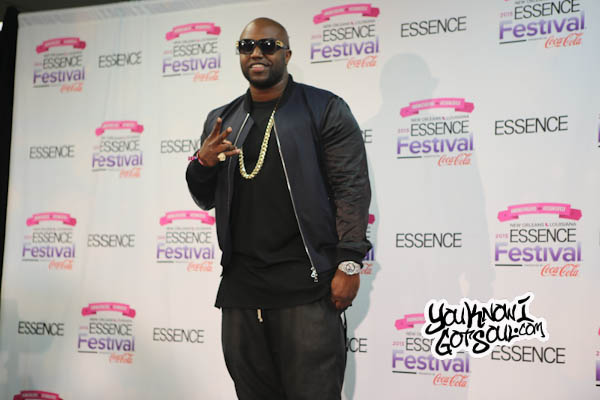 You won't find many artist who has the passion that Rico Love does for R&B music. Even though he's written hit records for the likes of Usher, Beyonce and Kelly Rowland, he'll be the first to tell you that he isn't content with his success. Just listening to him discuss the problems within the music industry makes you realize that there are people out there who actually care about the genre. YouKnowIGotSoul had a chance to talk to Rico Love about his new album "Turn The Lights On" and asked about his thoughts on the current state of R&B.
YouKnowIGotSoul: Talk about your song "Amsterdam".
Rico Love: That was such an incredible song. I wanted to create an illusion and a space. Not necessarily not the place, but I wanted to create an emotion and I wanted to use my imagination. I wanted to create a feeling. I think so many writers aren't doing that. They aren't using their imagination and they're not trying to write great songs.
YouKnowIGotSoul: I know there's a version with Usher floating around the internet.
Rico Love: I originally cut the record on Usher. Somehow the record leaked, so we're going to put out a remix. Damn those hackers though!
YouKnowIGotSoul: Your new single "Happy Birthday" has a Neptunes feel to it. Talk about that song.
Rico Love: I really wanted to borrow from Pharrell, Mase, Puff and Biggie. I wanted to do something that was reminisce of something I grew up listening to and it's going to be next single.
YouKnowIGotSoul: What will people get from your album?
Rico Love: I think it's incredible songwriting and production. They'll get a chance to get to know me and become fans.
YouKnowIGotSoul: The Essence festival is great because it brings exposure to R&B. What are other things that we have to do to bring R&B back to the forefront?
Rico Love: The people need to buy the music. I look at all the people who stop me and I'm like "You heard the album? I don't think it's reflecting in the sales". I don't know how Spotify or Tidal works. I'm not educated on those things, but I know people think "Oh the artists get paid now, so that counts!" I don't know if it counts. I'm not going to lie. They probably have a deal with the record company, but I believe people have to start buying records again. It's like people saying "Why is R&B dying? It's like asking why their plants are dying when they don't water them." It's up to you. We make the music and we're doing the work. We're trying to maintain our integrity. We're trying not to compromise and do things that are so finicky and right now, but we need the support of the people. When I watch Mary J. Bilge do what she's doing right now in front of sold out crowds and then I see her last album's sales, it's like "That's not right!" Those people are supposed to buy the record. I had someone tell me the other day like "I love your album. I'm going to buy it now!" That's like me saying "I'm going to eat the whole plate food and if I like it, I'll pay for it". That's how people treat music. It's like "I'll listen to it a little bit and if I like it, I'll buy it". Instead, you should be taking that chance on an artist. I remember taking that chance as a kid. I remember Andre 3000 put in his verse that his favorite artist let him down on a CD. I was like "At least he bought the CD'. I think we have to audition so much for people and we have to do so much for our approval and then you have the nerve to tell me about a project that I spent two years writing and say "I listened to it. I might buy it!" I think people lost sight of how important and how hard it is to do this stuff. It's hard to consistently make great songs because of machines, iPhones and how easy it is for a kid to make his home studio to create a record without any thought or substance. They're not even trying or putting time into lyrics or production. Back in the day, you had to record on the real. That means if you wanted to be an artist, you really wanted to be an artist. It wasn't easy. You all want to go in the studio. You'd be in the studio for 12 hours and you'd get a hook done. Now it's like "My home girl wants to rap. Can you help her?" That's how freely we approach these things. I was driving in a Rolls Royce and a young man pulled up beside me and asked what I do. I told him I write songs and he was like "Oh, I need to start doing that". If I had said that I did open heart surgery, he would have said "Alright, I'll see you later". It's because he looks at that as something that's difficult and he looks at my job as play. I can't fault him for that because so many people are treating this like it's play. It's something I slept on somebody's couch for 3 years to get in the business to even get noticed. I took it very seriously and put my blood, sweat and tears into it. People are playing with it and we are allowing it to happen. The record companies are allowing people to play with it. Then you're getting dressed and going to their shows and they're high on the stage and they can barely stand up. You'll still buy the ticket though. But when someone has something to say, you're saying "I heard the album. I might buy it!" That's the issue.