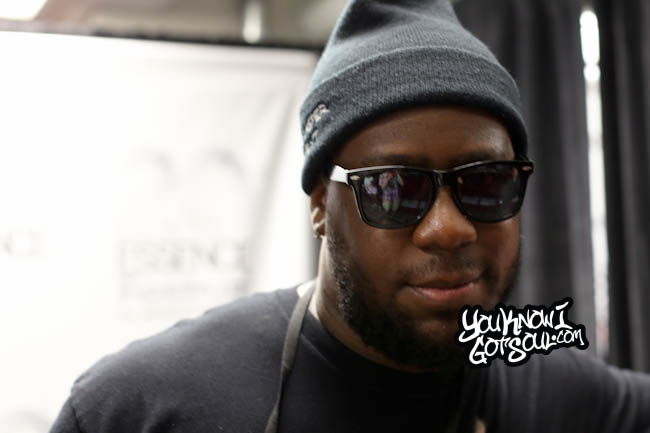 Robert Glasper's 2013 Grammy Award win for "Best R&B Album" with "Black Radio" was monumental, not only for him, but for music as a whole. An artist and musician who was helping to create pure r&b music was being recognized on a major scale; just what the genre needed in a time when it was suffering. His "Black Radio 2" album released late last year was some of his best work yet and showcased many of the best qualities in some of r&b's biggest names. We caught up with Robert in the press room of the Essence Music Festival this year and discussed the creation of the "Black Radio 2" album, how he manages to get the best out of artists, what his Grammy Award meant to music, and more.
YouKnowIGotSoul: We love your "Black Radio 2" album that you put out last year. What went into creating the album?
Robert Glasper: It was cool because we were coming off of "Black Radio 1" which won the R&B album of the year Grammy Award. It allowed us to be on a bigger platform and we were able to remain who we were. I was able to call people I didn't know this time around because on "Black Radio 1", I knew everyone. I was able to venture out and do things I'd never done before.
YouKnowIGotSoul: The thing that strikes us the most about your work, especially on "Black Radio 2", is that you're able to bring out the best in artists. For example, you brought out a Brandy we haven't heard in years. Do you pull artists into your zone? Do you go into theirs? How do you do it?
Robert Glasper: That's the "Full Moon" Brandy! I think it's a give and take. I come into their zone musically and my zone at the same time. They kinda know the concept of "Black Radio" because they know it's going to be other artists on there so they always want to bring their A game. It works out well that way. I think that's the balance of it.
YouKnowIGotSoul: How big was it for you to win the Grammy award, especially since musicians don't always get the recognition they deserve?
Robert Glasper: It meant a lot for me and for just the music culture and family in general. People who are doing music that's honest and not necessarily for the radio or what's hot right now. They're just doing honest feel good music and I think it gave hope to a lot of people. Winning a Grammy wasn't just for us, it was for everybody. It was an amazing feeling. It was having so many people in our corner and rooting for us, we got so much love.
YouKnowIGotSoul: Talk about the respect level you get around the industry as a world renowned musician.
Robert Glasper: I'm happy to say I get a lot of respect from all musicians. It's amazing to have that and for people to look up to me in that way and think of me as someone they can respect and look up to. I think what we're doing is trailblazing a thing and getting musicians to break out of the shell and become front men. A lot of musicians are very content with being in the background but being a very big part of the solo artist thing. I feel like we're setting the tone again. It's happened before. Herbie Hancock did it, George Duke did it. I'm just taking the baton from those guys and doing my thing. I'm getting the OK from all of these guys. They're all happy with what I'm doing.
YouKnowIGotSoul: Anything you'd like to add?
Robert Glasper: I'm just happy to be here at the Essence Festival. This is my third or fourth time, I'm just happy to be here.