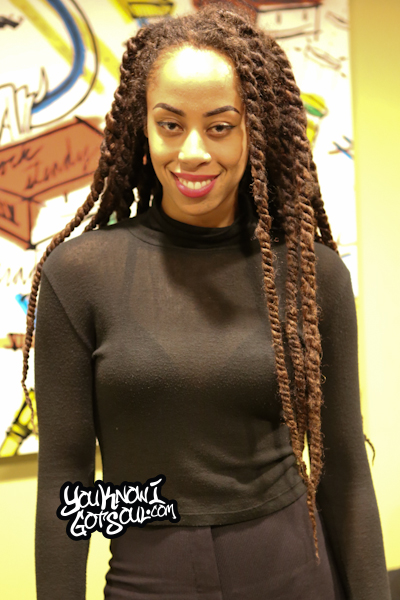 Rochelle Jordan has been one of R&B's best kept secrets over the past few years. The UK born, Toronto raised songbird has been releasing high quality projects that she surprisingly released in her own bedroom. Things have started to change following the release of her debut album "1021". Many are impressed with her beautiful voice and soft tone, giving us a sound reminiscent of Aaliyah in the 90's. However, while the comparison is a compliment, Rochelle Jordan is truly paving her own lane in the new generation of r&b. YouKnowIGotSoul sat down with Rochelle Jordan prior to a recent performance in NYC as part of her tour with JMSN and discussed the creation of her debut album "1021", making the leap from Toronto to L.A., Aaliyah comparisons, the 90's vibe in her music, and much more.
YouKnowIGotSoul: Introduce us to your debut album "1021".
Rochelle Jordan: "1021" is my birthday number, so that's one thing. When I looked up the numerology for it, it was basically everything that I was going through spiritually and emotionally. I was like "Ok, it makes sense for the album to be called that". It was definitely an emotionally written album. The songs were basically cultivated over two years being in L.A. and just working. It was different experiences and being away from home and the comfort of it all. That's how it came together.
YouKnowIGotSoul: Talk about making the jump from Toronto to L.A. Did you feel like it was a huge risk?
Rochelle Jordan: I was traveling back and forth from Toronto to LA. I would stay in L.A. for a month at a time and then go back at home. At one point I was like "No I just have to stay and be away from it". There's so much creativity and a lot of creative people in L.A. that I want to connect with and it helps. I think I was prepared and you only have one life. You have to take a chance and go for it.
YouKnowIGotSoul: We've read that you recorded your first two projects in your bedroom in Toronto. How was the recording process different this time around?
Rochelle Jordan: I wrote it and recorded it in my bedroom in LA. I'm very private when it comes to recording. I like to do everything by myself and just get all my vocals together. I like to be in a zone and it was different because I was in a different place, so it's just going to be different. I was around new people and having new experiences. I was really just beginning to understand what it was like to be an independent artist and all of that struggle went into everything. I guess that's what made it different versus pressure of RoJo being at home with parents. It was a little different.
YouKnowIGotSoul: Talk about the creative process of the "1021" album.
Rochelle Jordan: The producers that I've worked with on "1021" know me and they know my style. We discuss what I like and what I go for. It was super natural the way it all fell together. It was just the vibe. I can't even explain the creative process. You just keep on creating until you start to hear something and then when you hear something, it all becomes cohesive. That's kind of how it all happened.
YouKnowIGotSoul: You constantly get Aaliyah comparisons for your music. How do you take those?
Rochelle Jordan: It's a comparison. Aaliyah's legacy is what it is. Aaliyah is just great and greatness. To be compared to that is a really cool thing, but as long as people understand that I'm Rochelle Jordan and I have my own sound and style, if it's a genuine comparison because they feel that love that they felt for Aaliyah then I'm honored. But as long as they know I'm me and they can accept that, then I'm cool with that.
YouKnowIGotSoul: Many artists we've spoken to from Canada have said they've had to leave the country to really reach the heights they wanted to. Do you feel the same?
Rochelle Jordan: Tamia is the queen of R&B in my eyes and so is Deborah Cox. I look at all of them from Canada like Avril Lavigne too. Also the boys like Drake and the others in Toronto. It's just something you have to do. You have to leave the comfort zone and Toronto has amazing talent. There's a lot more that's going to pop off really soon, but it's great to see the recognition internationally. I think it just takes leaving and getting your music out there to other places.
YouKnowIGotSoul: You have a unique vibe in your music that definitely takes people back to the 90's but is also progressive for the current era. How do you create your sound?
Rochelle Jordan: I just naturally loved 90's music. When I was younger, I don't think I was realizing that I was studying and I was just taking it all in. I was listening to Amerie obsessively for like six years and her music with Rich Harrison. I was just listening to the whole Bassment crew like Missy, Timbaland and Jodeci. I was just taking it in and learning. I didn't even realize it, but I fell in love with it. Just by nature, I'm just able to not replicate but just to create the feeling of what I felt and put it on production that's new and merge the two worlds. I'm happy because when I first started doing this, I always said to myself that I would love to bring that feeling and vibe back. I would always talk about that in "RoJo" like "Can you feel the vibe?" I think that's what people are getting which is the nostalgia of the 90's but without it sounding aged. That's important to me because I don't want it to sound like the 90's, I just want you to get that feeling.
YouKnowIGotSoul: You've been on the road touring with JMSN, how's it been?
Rochelle Jordan: It was going from 0-100 really quick. I was not singing and I hadn't sang in years and then it was like "You're on a tour for 28 dates". Kind of crazy but JMSN is so dope. I'm learning a lot from him and just his whole presence on stage. I'm just taking little elements from all of that and it's a grimey experience because we're on the road everyday and there's no rest. I caught a cold for eight days straight and I'm just getting over it. I'm like "Damn this is crazy" but it's a great experience.
YouKnowIGotSoul: Talk about what's coming next.
Rochelle Jordan: There's the SXSW which is something I'm excited about. I've never been, so it should be dope. Music is always being made so I don't even know. There's a possible remix project for "1021" soon. There's just new music on the way and my own tour. I'm trying to get that done and just constantly feeding my supporters dope music. I think that's the most important thing and seeing them now which is mad cool. That's what this year will be.
YouKnowIGotSoul: Do you plan to continue releasing music independently or would you like to sign with a major label?
Rochelle Jordan: Whatever works for me. Right now I'm enjoying being independent.
YouKnowIGotSoul: Anything you'd like to add?
Rochelle Jordan: Shout out to the supporters and the people who have been holding me down. I feel the love and it's just inspiring being able to talk to them and really get a visual inspiration from the people. Thank you for all the support because it keeps me going. These people don't realize that they're my fuel.