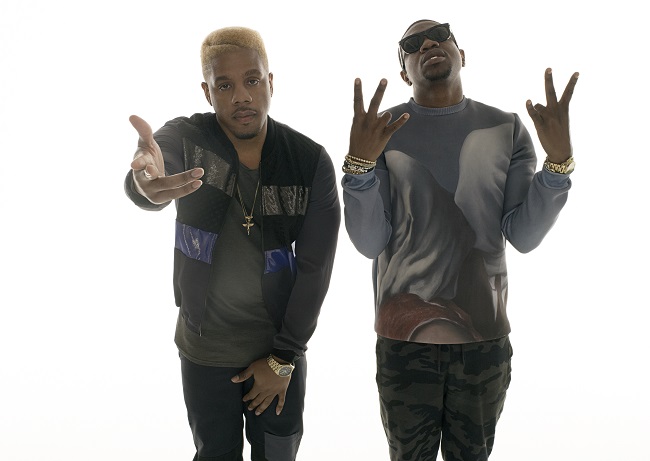 It's almost hard to believe that two guys from The Virgin Islands are responsible for the majority of the hits on radio right now. The duo, better known as Rock City, have been able to write hit records for artists like Rihanna ("Pour It Up"), Usher ("I Don't Mind") and Miley Cyrus ("We Can't Stop"). The path wasn't an easy one for them as they struggled to get their records placed initially, but now they're the go-to songwriters because of their versatility and infectious melodies. YouKnowIGotSoul had a chance to talk to Rock City about their journey in the industry as well as their approach when working with a big artist like Usher.
YouKnowIGotSoul: Talk about how you guys got your start in the music industry.
Rock City: I would say we started around 2007. We did a deal with Akon and solidified a distribution with Geffen/Interscope Records. We also had our publishing deal and it's a funny story because we wrote this song in the 7th grade and we released it on our independent album in the Virgin Islands and then we re-wrote the verses and Akon did it on his second album. That's kind of how the writing stuff came about. Akon was like "You guys write songs?" and he paid us $5000. After that, we're like "Wait, you're going to pay us $5000 to write songs? Hell yeah we write songs!"
YouKnowIGotSoul: One of the first placements was on Mario's "Go" album. You guys did "Music for Love" and "Skippin", so what were you guys going through creatively at the time?
Rock City: At the time, our manager had a studio in Atlanta and it's so funny. We wrote 400 songs and we only sold "Music for Love". We were writing everyday because we wanted to be writers and I guess our shit was wack because no one bought 399 of our songs. *Laughs* They bought that one and then we met up with a producer named Madd Scientist and we wrote "Skippin" alongside some other records. "Music for Love" is actually one of our favorite songs conceptually and melodically.
YouKnowIGotSoul: Afterwards, you guys had a lot of Pop success. Was it always in your plans to work in multiple genres or did people just end up gravitating towards your sound?
Rock City: In the beginning, it wasn't really our plan. I think because we are so naturally multi-genre coming from the Virgin Islands where it's all these different genres, I guess it started leaning more on the Pop side as far as people that were reaching out to us. For us it didn't matter though because whether it was Pop, R&B, Hip Hop, Urban or Country, we were going to do whatever people were calling us for. To be honest, this may sound like some high school type stuff but we just want people to like us. We're from St. Thomas and we were poor and had nothing. We were sleeping on the floor and homeless. We were just at that point where we just wanted people to like us. We just want to get up every day and make music.
YouKnowIGotSoul: Talk about the struggle and the grind you guys had to go through in the early stages of your career.
Rock City: We were driving around the city of Atlanta and we would go studio to studio and we would try to make something happen. Our motto was "Give us five minutes" and we would tell people we could sing. We just wanted people in the city to pay attention. We were doing that for a long time. The first A&R that gave us shot was Aaron Bay-Schuck who actually went on to sign Bruno Mars. He has a big position at Interscope Records. He's a really good friend of ours. Me and my brother wrote songs very fast, but not on purpose. We just thought that was what everyone did. I'll never forget the time Aaron Bay-Schuck booked a studio and he was like "I'm going to go get something to eat and when I come back, I want to hear what you guys have". We were so afraid to have to go back and not get any money and get kicked out of the business. We really thought we had to write a whole song by the time he got back, so we wrote two songs when he got back. He was like "Let me what you guys have" and we told him we wrote two songs. He was like "What the hell? I just wanted to know if you guys had an idea. I didn't know you guys would have a whole song". Our relationship built from there and we kind of got known for being quick when writing songs. We're not purposely trying to rush because we're perfectionists at the end of the day and we definitely fine tune it, but the music just speaks to us. We're songwriters that don't write because we don't write anything down. We just hear a beat and then we know what we want to say and what the melody should be.
YouKnowIGotSoul: Is there a song in particular that led to a lot of calls coming in for you guys?
Rock City: It's so funny because we've had success. We did "When I Grow Up" by Pussycat Dolls, songs for Sean Kingston and "Replay" by Iyaz. We had big hits, but it's weird because our phone started really going crazy after we did "Pour It Up" for Rihanna. That's recent and people were like "You have to get Rock City!" And then we did "We Can't Stop" for Miley Cyrus which was a big crossover hit, but it was really "Pour It Up". It was weird because we got together with Mike Will and that opened doors for the both of us.
YouKnowIGotSoul: You guys are high in demand now. Are you more selective with who you want to work with?
Rock City: There's a bunch of big artists like Taylor Swift and Justin Bieber and honestly if they call, that's a big project that you want to be part of. From an economical standpoint and from a creative standpoint, you want your song to be on the biggest artists like Katy Perry and Rihanna. But when it comes to a new artist that nobody has heard of and you're basically taking a chance, we're more selective. We work with people that we like and we're fans of and if we're not fans of you, we're a fan of your team. Sometimes you might think "They can't sing. Why are they so big?" They have an amazing team around them and we've been blessed to be behind the scenes and learn so much alongside our manager. We look at an artist's team too and we then know why they're big.
YouKnowIGotSoul: What's the process for you guys when you choose a beat?
Rock City: It's all about the feeling. If we feel it, we'll choose it. It's not too crazy to explain. Sometimes, we'll just go through a bunch of different beats because we have our own production team. We might just go through their beats and we'll be like "Alright, we have something that we feel". Sometimes we might go in the studio to work with a specific producer and then he may build a beat from scratch. It's really simple when it comes to us choosing a beat when we want to write a song.
YouKnowIGotSoul: One sound you guys have really embraced is the Atlanta sound. Some people would argue that it's doing great things for Hip Hop, but it's damaging R&B. How do you guys make sure the music is authentic?
Rock City: We're from St. Thomas, Virgin Islands so we don't really look at genres that way. The radio station we listened to basically played every genre on one station. We don't have different stations, so everything played on the same station. Katy Perry, Bob Marley and Jay-Z played on the same station. We never really looked like "Oh man, we're really taking away from R&B". We just want to make a good song so that it plays on the radio.
YouKnowIGotSoul: You guys did Usher's new single "I Don't Mind". Talk about the work you guys have done with him.
Rock City: Usher is one of the first celebrities that we met in Atlanta. He's always embraced us and he's been cool with us. We never had an opportunity to get a song on his album though. We never nailed it and we never wrote a good enough song. Working on this new album, we were in L.A. and we just felt like "Yo, I have an idea and I know what we should do". We wrote the song with Dr. Luke and we basically wanted it to be very beautiful melodically but then very edgy lyrically. We wanted it to be like the first time you heard Katy Perry's "I Kissed a Girl" where it's like "I like this song, but should my daughter know this song?" That's the approach we took with "I Don't Mind" which was edgy lyrics and very strong melody. The other record that we did, Usher is very open minded with us as far as letting us be creative. He's just been very supportive and he always says "I don't know what it is about what you guys do, but you guys are unique. I don't want to mess up your flow, so go crazy".
YouKnowIGotSoul: Another song you wrote was Luke James' "Exit Wounds". Talk about that song because it's really unique.
Rock City: I love that song! We were in Miami working on Tessanne Chin who was the girl who won X-Factor and we were working on Keri Hilson too. Danja was working with another songwriter in the room and they were like "We have this idea, but we're missing something. We know you guys have this edge to you" so we went in and gave them our expertise. I really apologize because I don't remember the songwriter's name, but I want to give him credit because he's amazing and it was really his concept. We just came in and closed it out. We're really proud of that song because to me, it's one of the most original ballads in a long time because it's a ballad but it's just weird the way it is set up.
YouKnowIGotSoul: What projects can we expect you on coming up?
Rock City: We're working on the new Ciara project, we're really excited about it. We're working with Juicy J and Fifth Harmony. We're actually booking out our schedule as we speak, so we have certain sessions. Oh yeah, we're working with Fergie too and Rihanna.