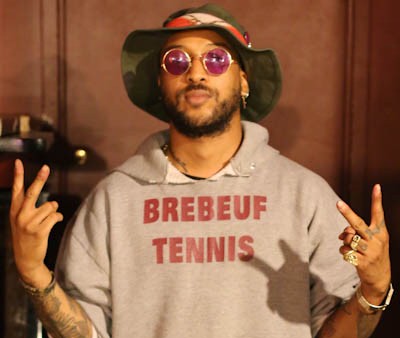 In the many shows that we cover throughout the year across NYC, every now and again we come across and upcoming unsigned talent who immediately blows us away; and Ro James is the latest to add to the list. Not only is he talented and unique, but you could really feel the buzz growing in the crowd during his performance which is proof that we weren't the only ones impressed. Over the course of the next year, this New York native is one to look out for. In this interview we did with Ro following his performance at SOBs for Sol Village, we get a nice introduction to who he is as an artist.
YouKnowIGotSoul: Talk about your origins in music and how you decided you wanted to do a career in music.
Ro James: I grew up around all types of music; rock, gospel, rap, soul, r&b. I decided to do music because I feel like that's my passion and that's what I'm supposed to be doing.
YouKnowIGotSoul: When did you first start taking it seriously?
Ro James: I first started taking it seriously when I was 21.
YouKnowIGotSoul: Name some artists who influenced you.
Ro James: My influences are Prince, Stevie Wonder, Donny Hathaway, Lauryn Hill, David Bowie. It just ranges between a lot of different people.
YouKnowIGotSoul: We've had a chance to see you perform live before and you definitely have a unique style. For someone who hasn't had a chance to hear you, how would you describe your sound to them?
Ro James: Timeless.
YouKnowIGotSoul: With the wide range of artists who influenced you, how do you combine that into one sound?
Ro James: It's very unique, it's me. I feel like whatever you put inside comes out eventually. So it's just a collage of all of these different artists. I'm just inspired by them, I don't copy them, I just take little pieces.
YouKnowIGotSoul: For upcoming artists it can very much be a struggle coming up. What is it that separates you from the rest who are trying to make it?
Ro James: What makes me stand out as an artist is that I'm me! *Laughs*
YouKnowIGotSoul: Talk about what you're working on currently.
Ro James: Right now I have an EP that I'm working on, it's called "Coke, Jack, and Cadillac's". We're looking to put it out next month. It's cool as hell, it's dope music.
YouKnowIGotSoul: Are you releasing the project independently?
Ro James: Yes, it's independent.
YouKnowIGotSoul: Are you looking to get signed by a major label or would you prefer to remain independent?
Ro James: Whatever happens, whatever is meant to be. We're not looking, we're just creating and making good music.
YouKnowIGotSoul: Anything you'd like to add?
Ro James: "Coke, Jack, and Cadillac's", stay cool. My Twitter is @Ro_James, the website is RoJames.com. My Facebook is Ronnie James.