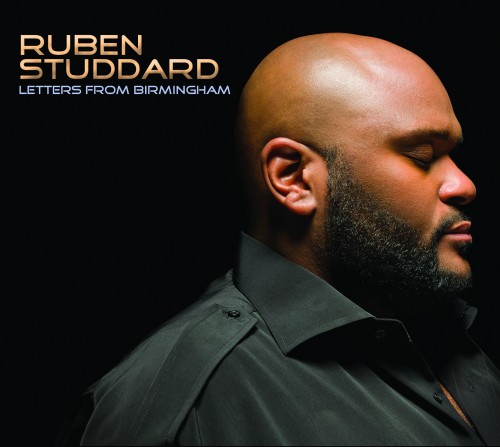 It's been a long journey for Ruben Studdard since capturing the country's hearts as the winner of American Idol back in 2003. The "Velvet Teddy Bear" has experienced many highs and lows since then, most recently hitting a valley with his previous album "Love Is" not fairing as well commercially as he hoped. Additionally, he also went through a very public divorce that was greatly speculated about in the blogs to the point where he felt the need to chronicle the event in a song ("June 28th") to tell his side of the story. However, as Ruben will tell it, for every great artist a peak is not very far after hitting a valley. That peak is exactly what Ruben is looking to get back to on his new album "Letters from Birmingham". YouKnowIGotSoul caught up with Ruben to talk about what to expect on the album, who he collaborated with, his decision to cover "Rock Wit'Cha", his growth as an artist since American Idol, being underrated, and much more.
YouKnowIGotSoul: Talk about your new album "Letters from Birmingham". What can we expect to find on there?
Ruben Studdard: "Letters from Birmingham" is the first time I actually got an opportunity to all the way control a project. The title is kinda self explanatory, what I tried to do was make the album play like a movie. There are about four different scenes that are narrated by letters in beginning and there are subsequently songs that coincide with the theme of the letters. It's just great music, the songs are amazing. You know what I like to say about the album, it's a complete relationship progression from the introduction to the courtship to the romantic to the breakup and all of that. To me, every time I listen to it I feel like I'm inside of a movie. Have you seen the movie "The Notebook"? It's kinda like that, I enjoy it. I think the fans are going to love it, I think they have been waiting on me to do music like this since I came out. It's difficult to do exactly what you want to do when you have to listen to the powers that be all of the time. This has been an amazing experience, I'm really happy to get a chance to let people hear this music.
YouKnowIGotSoul: Talk about how your new single "June 28th (I'm Single)" was created.
Ruben Studdard: Of course everybody talks about it; it was in the blog pages and everything, about me separating and getting divorced from my wife. So I kinda wanted to get in front of it and do it in a classy way. It's just telling a story because I'm not the first person that's ever had to go through a breakup in a relationship and I won't be the last. I think the most important thing that I learned is everything can be done in a civil way and I wanted to be the person that tells my story and not have anybody else take liberty in what they felt like they knew in what happened. I wanted to make a hot record too, I didn't just want to tell a story, I wanted people to be like "Oh snap, this song is actually fire!" A lot of people have written stories about their life and all of them haven't been great. That was important to me to make a good song first and foremost before trying to tell a story too.
YouKnowIGotSoul: Another song I've heard from the album was the song "Rock Wit'cha" with K. Michelle. Talk about that song as well.
Ruben Studdard: K. Michelle is just a friend of the family. We all know K and she is an amazing singer. "Rock Wit'cha", what I wanted to do, I was in there trying to think. A lot of people like to compare me to Luther Vandross, but what I didn't want to do was just do a Luther Vandross remake. What I noticed, we all draw inspiration from artists that we've listened to in the past, what I noticed about Luther Vandross, he would take songs that were popular when he was growing up and make them his own. There was nobody that was more popular when I was coming up than Bobby Brown. *Laughs* Hands down, he was the king of r&b back in the day. You couldn't go anywhere without hearing his record. He most certainly was that dude. I am such a huge fan of the writing of Babyface, it was just a great combination, a song written by Babyface and performed by Bobby Brown, you can't help but to go in on it. We made it our own.
YouKnowIGotSoul: Who else did you work with on the album in terms of collaborations and producers?
Ruben Studdard: I worked with producers Harold Lilly and Elvis Williams the whole project. I got a chance to do a collaboration with Chrisette Michele on the album, I got a chance to do a song with the late great Heavy D., and K. Michelle.
YouKnowIGotSoul: I read in the press release when you signed your new labal deal with Shanachie, the general manager of the label considered you to be undervalued and underappreciated as an artist. Do you consider that to be the case?
Ruben Studdard: Everybody has their own opinion. I think every career has peaks and valleys. If I look at all of the people that I idolized from Gladys Knight to Aretha Franklin, nobody is on top 100% of the time. I think the most important thing for people is to have staying power. For me, that's just the way I see my career. I don't see it being any different than anybody else that came before me. Everybody has their time when they have to kinda not be at the peak. Hopefully this album will be a time when I can get back to the peak.
YouKnowIGotSoul: Earlier you mentioned a collaboration you have with Heavy D. on this album. Can you just speak on that song?
Ruben Studdard: I grew up a huge fan of Heavy D. and I liked him a lot because he was always so fresh dressing and he was a big guy, I was a big kid. I always was a big fan of his. When we heard the song, somebody was like "Who do you think would be good on the record?" and I said Heavy D. I kinda said it like I didn't think anybody was really paying attention. I didn't know that one of the guys that worked on the album had a relationship with him. He called him, and Heavy was coming to Atlanta to do the BET Hip Hop Awards. He came in and did his verse and killed it and it was just amazing.
YouKnowIGotSoul: This album you mentioned had a lot of control over the music. I know this is your second album now on an independent label. Do you feel like maybe your creative process was a bit stunted back when you were with major labels?
Ruben Studdard: The thing about it is that my last album, even though the label is called Hickory, they are still owned by Sony. *Laughs* it was pretty much the same process as the first ones, even though I got an opportunity to work with Jimmy Jam and Terry Lewis, which was a lifelong dream of mine. That was just amazing for me. Working with them was like going to school and they kinda really sparked the interest in me to want to make sure that I had control of my projects. They made me be involved with every single inch of what we were working on. So when I got ready to do this album, I thought it had to be all me. So yea, it was. I enjoyed this process a lot more and I hope that if I ever do sign with a major label again, it will have to be like this. *Laughs*
YouKnowIGotSoul: Since you won American Idol back in 2003, you've come so far as an artist and had a bunch of solid albums over the years. Talk about your growth as an artist.
Ruben Studdard: I have grown so much as a man since my first album. It's difficult for the artistry not to be better. I'm always practicing; I think that's important that young people know the importance of practicing your craft. I'm always trying to learn something new, I'm always trying to get somebody to teach me something. With that, I'm always building on the base that I had. I am just really, really blessed that I've even still around while some people don't make it to their fifth album. For me to be around and have people still interested in what I'm doing, that's a blessing.
YouKnowIGotSoul: With the way R&B music has changed and evolved over the years, it's not selling like it used to. Do you think you'll ever be able to match the success of your debut album which was a #1 album and went platinum?
Ruben Studdard: I think it's going to be a lot of work but I also think the ability to sell records is still there. I think the most important thing is having the opportunity to really connect with your fans. I think if we do that, we'll have a huge success. I think people still love great music, at the end of the day nobody hates a great song; that's important. Especially pertaining to people that came off of American Idol, we have to be very personal because we owe our careers to the time that people invested in watching the show. More so than the music a lot of times, I think people want to feel that connection that they felt with you from the show. I'm looking forward to the opportunity to get a chance to go on the road and meet the fans and greet them and have a good time. I was watching "Ray" the other day and what I noticed that a lot of those artists that were so huge, they perform in a lot of very small venues. Ray Charles had five or six number one records and he was still doing 500 to 600 seat Supper Clubs. I think artists started out with that personal touch, whereas how you get a hit record and you start performing in arenas. Then after you don't have an album anymore, nobody really cares because they haven't really had a chance to touch you. I was actually just talking to someone from New York about that because I'm doing an engagement at Feinstein's, I was thinking about the long lasting impact that people like Billie Holiday and Louis Armstrong have had on the industry. You can probably count on three hands the amount of times they've performed in huge venues.
YouKnowIGotSoul: Do you think it's humbling for an artist to go from playing in a big arena, sold out with 30 to 40,000 people, then to have to one day in their career to only be able to play a venue holding 500 to 600 people?
Ruben Studdard: Not really. I actually think that everybody deserves the same kinda show. All of last year, I toured with David Foster and went all over the world, all over Asia, performing for 10 to 15,000 people a night. Then you come home, and you could do a 500 seat venue, but the people still deserve the same quality show that you gave the people in Singapore.