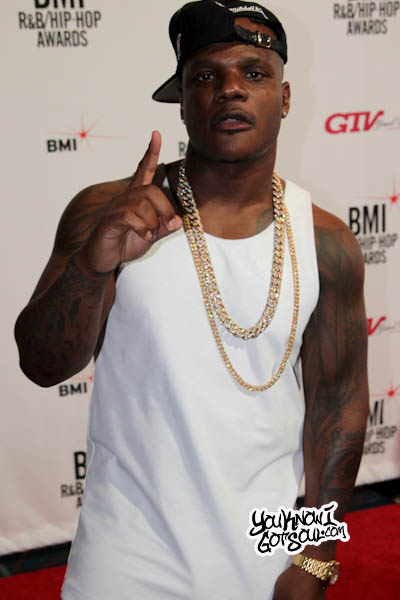 When someone comes up with a line like "HEAR A SMASH ON THE RADIO, bet I penned it", they better be able to back that up with some great music and that's what Sean Garrett has been doing for the past decade. After a breaking into the industry with some massive records such as "Yeah!" by Usher and "Goodies" by Ciara, Sean Garrett has shown no signs of slowing down. YouKnowIGotSoul had a chance to speak with Garrett as he talked about his upcoming album, his work on Brandy's upcoming project and his musical relationship with Beyonce.
YouKnowIGotSoul: I know you're working on your second album right now. What can people expect on the album?
Sean Garrett: It's definitely going to be an album with some really great songs and progressive music. I just took a step back and really wanted to create something that I felt like was going to stand the test of times. I think a lot people have been putting out a lot of records out that have been cool, but they've felt like really rushed. I just wanted to take my time and put together something that I really could be proud of.

YouKnowIGotSoul: I know the album was previously titled "Courtesy Of". What was the meaning behind that title?

SG: You know what's so interesting? I kind of moved away from that that title and now I'm feeling like I'm coming back to that title. The reason why it was called "Courtesy Of" is basically because it was an attachment to me and my emotions. At the same time, a lot of the songs I've done in the past for other people have been very organic and sincere records. They were motivated by some sort of meaning or someone or something that sort of jolted my emotional connection with that record. "Courtesy Of" is just an extension of that. It's just an extension of my perception of love, having fun and how I want other people to view my perspective on life. That's why it's sort of a gift courtesy Of Sean Garrett, so I've thought about it and I'm coming back to that title.
YouKnowIGotSoul: I know you're constantly in the studio, but do you find it hard to focus on your own project when you're working with so many different artists at a time?
SG: Every day is a different day for me. Yeah, I am deferred by it sometimes. At the same time, I can't complain and I can't even start to say it's a distraction. It's a part of my life and it's really a part of who I am. I think sometimes it encourages me to do better records for myself. I'm allowed to take my time to complete my album, so it's really an encouraging thing. I'm working on Brandy's album right now and it's a prime example of just being able to really create some great music and then bounce back and forth from what I'm doing with her versus what I'm doing with myself versus what I'm doing with Mary. I just did a new Mary and Beyonce record which is on Mary's new album. I'm working on Chris Brown and whole sort different of pop acts. It's a great opportunity to sort of build my album at the same time.
YouKnowIGotSoul: You mentioned working with is Brandy. We've heard a lot about the album. How far are you guys into the project right now?
SG: Between me and her, I've done ten songs. Right now, we're sort of creeping up on the end at this point. She has a single that's about to drop anytime. It's really a beautiful album. It's very energetic, very exciting. I can't wait for the people to hear it.
YouKnowIGotSoul: One of the songs of course is going to be the first single. At this point, are you able to share the title of the track or the overall sound of the track.
SG: At this time, I can't say the name of the song, but I think the people are going to really love the first single. It's a great opener to a fantastic album. I really feel very strong about it. I'm very excited. I feel like we've hit the nail on the head. She has some dynamic albums and her vocal performance has been amazing. Unfortunately, I can't share the title of that first single, but you guys are going to love it.
YouKnowIGotSoul: I've noticed you've been spending a lot of the time with Brandy in the studio. When you are working with an artist like Brandy, do you usually focus all of your energy on them before working on another project or is Brandy a special case?
SG: Brandy is a special case. When I focus on anything, I'm definitely really focused. With that said I'm a huge Brandy fan, so it's a lot of different things involved in this because I have an extreme strong love and passion for her as an artist. We grew up on Brandy. I felt she has just one of the most amazing voices in music, ever. To be working with her is a humungous blessing and great opportunity. I'm both a fan and a producer, and we have a great bond. It's just a whole lot of different great things going on in the studio. I'm just so magnificently happy about this opportunity.
YouKnowIGotSoul: Another album that you were heavily involved is the Destiny's Child album "Destiny Fulfilled". How did you get a chance to work on that album?
SG: It was a humongous blessing. It was the first time that I got to work with Beyonce and the girls. It started with the first song that I wrote which was called "Is She The Reason?" It just went on from there. That week we winded up doing four songs and I think those four songs were "Is She The Reason?", "Girl", "Soldier" and "T-Shirt". It just was a beautiful situation and it was like a flower. It started out as a seed and it just bloomed into something very special. They were in love with the idea of working with me and I was in love with the idea of working with them. Every day they walked in, I had a new song and had something I felt they would like and fortunately they liked it. I wound up having nine songs on the album and it wound up being a smash album. It was beautiful. I got an opportunity to work with Beyonce again on "B'Day" where I did six songs. Of course we went onto do "Video Phone" with her and Lady Gaga.
YouKnowIGotSoul: What do you think that album has done for your career as a writer?
SG: As a writer and a producer, it's definitely made me an A-lister. I'm very blessed and thankful to have the opportunity to have worked on that last album because I believe they are definitely the modern day Supremes. To have that kind of opportunity to work on their last official album was part of history. I feel like it did a lot for my career. It did a humungous amount for my career and it made me an A-lister.
YouKnowIGotSoul: Take me through your writing process
SG: I am a producer of records. A lot of times, people suggest certain tracks to me to write songs to. Unfortunately they don't end up being the track that I feel can be a hit record. It might be a track and it might have some dynamics to it that are cool, but that doesn't necessarily sit where I feel like the level that needs to be at. I just search for certain tracks that I feel like very sound or create tracks with my own team that are very sound and would be able to stand the test of times. Then I start to create records on top of that. That's how my process starts. I already have an idea in my mind of what I want to write about. The combination of the track and the song in my head is a very important piece because I think a lot of people fail to accept the idea that a track is so important to the song and the song is just as important, if not more important, to the track. At the same time, you have to be a great track chooser and great producer. That's what I mean about being a songwriter and producer. You need to know how to produce a record instead of just writing a song. There's a difference between the two. That's the little secret that a lot of people fail to sort of understand or embrace.
YouKnowIGotSoul: If you could, give me the history on the track "Lay Up Under Me" which was on your first album. The song is also on Beyonce's latest album. How did it end up going to Beyonce?
SG: Yeah, that was actually on my Japanese album. I played the record for her and I actually played it for her even before it was on my album a while back and she always loved that song. She loved it. The one thing I love about her is that if she loves something, she's going to record. It was a humungous blessing for me. I didn't know how to feel. I felt so humbled to have her to have that much respect for me to a record. I don't know, my face has a humongous smile right now. It just says a lot about her as a person and how much of a great opportunity she's given me. I feel indebted to her for a lot of the beautiful things she's done for my career.
YouKnowIGotSoul: Another song you did with Beyonce is the one on Mary J. Blige's new album. How did that song come about?
SG: It was a song that I felt was a really great song. I had been dying to have a classic record with two superstars like Beyonce and Mary. I've had enormous success with both of them. I've just been so thankful to have worked with two incredible artists like Beyonce and Mary. This was just an opportunity. Again, I was just blessed. I got an opportunity to do a duet and I think it's going to stand the test of times with Mary and Beyonce.
YouKnowIGotSoul: Back in the day, producers and artists would be in the same studio together recording songs. With the way technology is now, a lot of people just send songs to each other over the internet. Do you have a preference as to which way you like to record with an artist?
SG: Yeah, me personally, I love to sort of be in the studio. That's the only way I know how to work. Just being in the studio with the artist and creating the record with them because it comes down to the presence and passion that is conveyed to on the record. How you cut the vocals and the direction of really recording the record is, it has a lot to do with how the record winds up turning out. Sometimes it can work digitally by sending records to other people and having them record it like that, but I just don't get a big kick out of that. I still enjoy every moment of the process, of recording every lyric and emotion. Also doing the double take, triple take to make sure the record has the exact emotion that I intended.
YouKnowIGotSoul: On our site, we are highlighting songs that made an impact on R&B. Could you give me background information on "Goodies" by Ciara?

SG: It was a very good time. I actually wrote that record the same week I did "Yeah!" for Usher. L.A. Reid, who is a humongous mentor of mine, called me and said to me, "I need a smash record on my young female artist Ciara". Ciara's from Atlanta which I am from as well and I just wanted to give her a record that didn't sound like anything else. I'm very much so one of those type of producers who hate monotony. I couldn't stand to give her a record that sounded like anything else, so I was really trying to be as difficult as possible with the whole process of giving her another record that sounded like someone else. I came up with "Goodies" in the perspective of a young girl who had her virginity and still being a little bit grown but at the same time still protecting the interest of what her mom taught her. She jokes with the idea of "Yeah you might think I'm cute and you talk a heavy game, but you can't have my goodies because I'm saving it for the right one". It was definitely tongue and cheek. It was something that was relatable to people who were 18 years old, but also a woman that was like 25 years old as well.