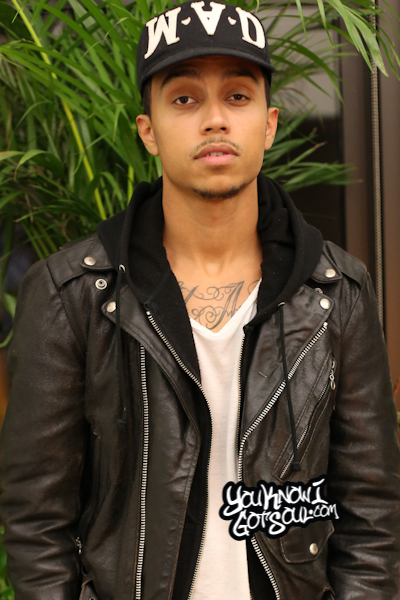 For all of the complaints we hear about the new generation of r&b artists, Sebastian Mikael is truly an exception. While others are chasing trends, trying to mimic sounds, or just making music for the moment, Sebastian is striving to create timeless work. That's exactly the vibe you'll get if you listen to his debut album "Speechless". Sure, he mixed in some current sounds but it just served to help him bridge the gap with today to the r&b from years passed that we all loved. YouKnowIGotSoul sat down with him for an interview recently and discussed his debut album, avoiding trends, his thoughts on the new generation of r&b, what's next, and more.
YouKnowIGotSoul: Your debut album "Speechless" has been out a few months now. It's been a very underrated r&b album this year, and is a very solid debut. How did you feel it did compared to your expectations?
Sebastian Mikael: You know when we first dropped my debut album, I didn't know what to expect because being a new artist and not following the trends that people would expect me to follow, I wasn't thinking I needed to have a big commercial album. I'm glad that a lot of my fans actually went and got the project. The response that I got was crazy and I actually did more than I expected. I was really happy with my debut release. Being an independent artist, I'm proud of what me and my team accomplished. More importantly, I wanted the music to feel timeless. Not trying to follow any of the music trends that were going on around me.
YouKnowIGotSoul: I think it's interesting that you mention not trying to follow trends because I feel like I put you in the new generation of r&b artists. You're making an impact without following trends. You've got acoustic soul on here; you've got elements of 90's r&b on here. What made you not want to chase what's on radio?
Sebastian Mikael: I think that I didn't want to look back years from now and feel like I was going against myself and following what I thought would work. That's why I stuck with the music and the style that I wanted to do. Just I really wanted to be able to listen to my album 2 years from now and feel like it was me. It's an honest album. The sound feels timeless. I look up to classics that people go back to years after they release. I wanted to make an album that people can live with for longer than just a year.
YouKnowIGotSoul: With this album, is there a particular song that really embodies who you are as an artist? Aside from "Beautiful Life" since that was people's introduction to you.
Sebastian Mikael: I think "Made for Me" is definitely one of my favorites songs on the album. "Lose it" is definitely one as well. I think "Lose It" showed a different side of me, but we kinda just experimented and had fun with it. We incorporated a lot of elements that we grew up listening to in Sweden. A lot of electronic sounds mixed in with something soulful. That's a very interesting place so that's why I love that record. "Made for Me" is just a beautiful acoustic duet that I don't think people really make anymore. I don't really hear a lot of those songs. I liked it because it stuck out and it is real. I like the fact that people feel it's real as well. We never expected anything from putting that record out, we just put it out because we liked it. Seeing how people gravitated to it and wanted to support it, it's a blessing. That proves to me that we can stick with what you believe in and want to do and it will pay off. As long as you stick to your guns and do what you believe in and keep doing it until people start actually acknowledging what you do and the impact you make.
YouKnowIGotSoul: "Made for Me" is the new single and you've released a few other singles. How has it been continuing to work the project over the months as people discover it?
Sebastian Mikael: It's just becoming better and better. As long as I feel like my new song is better than my last, I'm happy. I think "Made for Me" is the best song I've put out so far and the video is the best I've put out so far. I like to know that the music that I haven't put out yet are even better. I'm always growing and becoming better. That's the most important thing as an artist, you've got to keep developing and putting out songs and material that you stand by. I'm very excited about this song because it's a different type of song; it's a duet. It's not a cliché regular r&b ballad. It has a different feel and features Teyana Taylor and she brings something different. I just think it's a dope mix. I kinda look at it like being a new artist in this generation; I want to take a lot of things from older soul music and bring it to this generation and do something different with it. I think we've got to keep that raw, soulful ingredient in the music.
YouKnowIGotSoul: A lot of the younger r&b artists don't really focus on that, and it's made some of the true r&b fans turned off from the new music that's out. But you are able to bridge the gap. How do you view the new generation?
Sebastian Mikael: I think that a lot of people know that r&b is not selling and you try to adapt to what would sell. You basically see rap selling more than r&b and moves way faster. A lot of people try to compromise and adapt and make it work with everything that's out there. You basically just do whatever you have to do to make it work and go faster and fit in with everything else. You lose a lot of unique music from doing that. Artists that are really talented, they don't get the chance to show people what they are really about. They are so stuck in following just one thing. It just becomes one thing and everybody does the same thing. I think that's why older people don't really respect older r&b as much as what they're used to. At the same time, you have to respect where music is at right now. I don't think music is as classified anymore. We don't really focus on genres anymore. I think right now it's just what feels and sounds good. Even when I create, I don't think about making classic r&b. I just make what I want to make as long as it feels good and I enjoy making it.
YouKnowIGotSoul: The album has been out a few months. What do you have planned next?
Sebastian Mikael: We actually just did our first mini tour off of the album. It's amazing because it's my first time headlining shows. Right now we are just getting the new project ready for next year. We will release an EP next year. I've just been in the studio just cutting new material and songs. That's what I will do until next year. We still perform and are on the road, but my main focus is this project, I want to make sure that I top "Speechless". I also want to make sure it really represents me and is personal to me. I want to have a project that is recorded and created by me at a certain time and that I really put my work into. Every single song for this project is written by me. That's something I know is going to just give something more personal to my fans.
YouKnowIGotSoul: Born in Sweden but developed your name over here in the U.S. Have people in Sweden caught on and got behind you as you made a name for yourself?
Sebastian Mikael: Umm…some people. Sweden is a different type of market. They don't really have an urban market. I personally don't like classifying different markets, but they focus more on Pop music. There are always different groups in Sweden and they acknowledge my music and know I'm from there and they support a lot. People from Europe in general who like what I do, they support it. I look at myself like I know I'm from Sweden and I started out here, but I just look at myself as a universal world artist. I want to be able to inspire and touch people from everywhere.
YouKnowIGotSoul: Anything you'd like to add?
Sebastian Mikael: Most importantly I appreciate all of the fans for the support. Make sure you keep showing love.