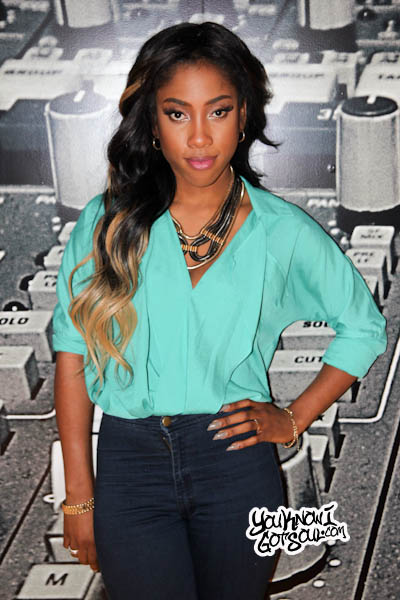 If you remember the group RichGirl from a few years back, that you undoubtedly remember one of the group's shining stars, Sevyn Streeter. Although the group never had an official release, Sevyn was able to parlay that situation into a writing partnership with Chris Brown over the past few years. The fruits of that labor turned out to be writing with the top producers in the game and getting placements with r&b superstars from Kelly Rowland to Mary J. Blige to Brandy to even Chris himself. Recently it was announced that Sevyn was moving to the next step in her musical journey, a solo career, with a recent signing to Atlantic Records. Now armed with a magical pen, flawless vocals, and an infectious and catchy first single "I Like It", she's got all the tools to be successful. YouKnowIGotSoul sat down with her while she was on a recent promo run in NYC and discussed the way things turned out with RichGirl, linking up with Chris Brown, signing her deal with Atlantic, working with Brandy, and much more.
YouKnowIGotSoul: People know you from your time with RichGirl and you've also been writing. How did you get into the music industry originally and get your break as an artist?
Sevyn: Well the way that I started singing, I grew up singing in church and all of my life it's been "Mommy I want to sing, daddy I want to sing." So I did a lot of talent shows and just everywhere there was a stage I would go and sing. Around the age of 15, it just picked up and got more and more serious, I met more people. My parents just found more and more outlets, and that's kinda how I began singing.
YouKnowIGotSoul: While as part of RichGirl, you guys unfortunately didn't have an album officially but you had some leaked songs and built a fan base from that. Do you wish things would have worked out differently or do you think it just wasn't meant to be?
Sevyn: You know what, I think you always have a plan for your life but you can't control it and in terms of RichGirl, I love my group and everybody that knows me knows I love my group. At the end of the day, me and the girls, we grew up singing, we found each other, we were singing together, and we also support each other to this day. They're going to continue singing, I'm going to continue singing, and yes we wanted things to work out, but you can't control the cards sometime.
YouKnowIGotSoul: After things didn't work out there, how did your next opportunity come about? I know you started getting into some writing and linked up with Chris Brown.
Sevyn: The way that I met Chris, we had the same manager, Tina Davis managed RichGirl and she also managed Chris Brown. It's a funny story, I remember one day we were working across the hall from Chris and I was like "Hey, if you're writing can I come write?" and he was like "Yea, I'm gonna come get you." So I didn't think that he would come and get me, but he was like "Hey Sevyn, we're about to go and write, Sevyn, come write." That first night, I think we wrote a record called "Smile & Wave", me, him and Kevin McCall. That's just how our writing and our professional relationship began. It's just been writing and working ever since.
YouKnowIGotSoul: Talk about how you originally developed as a writer yourself and your process and how you were ready to seize the opportunity of writing with Chris when the opportunity came about.
Sevyn: The way that I developed my writing is I kept writing. You have to get all of your ideas out. I grew up thinking that way, my parents kinda just encouraged that in me and then once I started working with Chris, I learned that every song you write, you're not going to love. You've just gotta get that idea out. So I think the way that it was developed is by I just couldn't stop writing, I had to keep writing.
YouKnowIGotSoul: Now here you are with Atlantic Records, you just recently signed your deal here. At what point did you go from just writing, to being an artist again yourself?
Sevyn: I've been writing with Chris and Kevin for three years. A lot of the times when you're the only female in the room and there's a female record that you're working on, you end up demoing that record. Over the span of three years, we looked up and said "Hey, we've got a lot of records, maybe it's time to kinda see what we can do with that." That's exactly what happened. We picked the records that we loved and we shopped and met a lot of great labels. It was just something about Atlantic, it felt just natural and I'm in love with everybody here and everybody at the label. I'm in pretty good company; Bruno Mars and Trey Songz and B.O.B. I love Atlantic. I couldn't be at a better place for me.
YouKnowIGotSoul: You've got out this great single "I Like It". Talk about how the single came together.
Sevyn: The way that "I Like It" came about was, I tell this story, I was in my car dropping my parents off at the airport and I just heard this song in my head. I heard this melody and I called my friend Harmony who is the producer of the record and said "I've got this idea for this record" and I sung it for him over the phone. So we went in and worked on it and I heard these chords and I heard these drums and we threw it all in the pot and that's how you got "I Like It". It was really organic the way that song came about, it wasn't really forced at all, it just kinda fell in my lap a little bit.
YouKnowIGotSoul: You're also working on the album. How's that coming along and what can we expect?
Sevyn: The album is actually coming along really, really well. I've worked with Jean Baptiste so far, The Runners, Harmony, The Interns, Eric Bellinger, just a lot of great producers, a lot of great writers. It's still new and it's the beginning, so we're just having fun and experimenting and trying things, but so far it's really, really good and I'm really happy with it.
YouKnowIGotSoul: A lot of fans know your sound from being part of RichGirl, and you've got the single out which is an r&b/pop sound. What's the overall sound of the album going to be like?
Sevyn: Well overall the sound of the album will most likely just be urban. As a writer I love to experiment with pop music, alternative music, different types of music. But the core of Sevyn is just urban and r&b. I just love urban music, I love r&b music. On the album, you're definitely going to feel that. You may have influences from other genres, but for the most part the core of the album is r&b and urban.
YouKnowIGotSoul: While with RichGirl, you built up a pretty good fanbase. Have you found that since you've left the group they've stuck with you, or has it been a reintroduction of yourself as an artist?
Sevyn: You know what, the fans who were really, really true RichGirl fans, I think that they loved us honestly and genuinely. So they still support me and I know that they still support the other girls as well. We talk on Twitter all of the time, they tell me they're rooting for me and they're really excited about this whole process. They've been really, really supportive and I appreciate that.
YouKnowIGotSoul: You wrote a song on Brandy's new album "Slower" with Chris Brown. Talk about creating that song.
Sevyn: Working with Brandy, I was star struck. I don't know if she knows it, but working with Brandy when she walked in, I had to keep my composure! *Laughs* Working with her was great. She came in, me and Chris went in and did our normal process, melodies and ideas. She left for a minute and came back and to watch her listen to something that he and I created, it's Brandy! I love Brandy! It was just nice. The way that it came about, it was magical. I'm just happy that she loves the record and she bodied the record! It was a great experience.
YouKnowIGotSoul: Anything you'd like to add?
Sevyn: I want to be able to keep in contact with my fans. My Twitter for those who don't know is @Sevyn and my website is SevynStreeter.com and my Instagram is 7EV. Just talk, I just want to talk and have conversation and know what they want to hear. Ultimately it's about what they want to hear. I want to write records that they can relate to. I want to give them the soundtrack of their lives, I want to write records for the fans. Hit me up and let me know what you like!