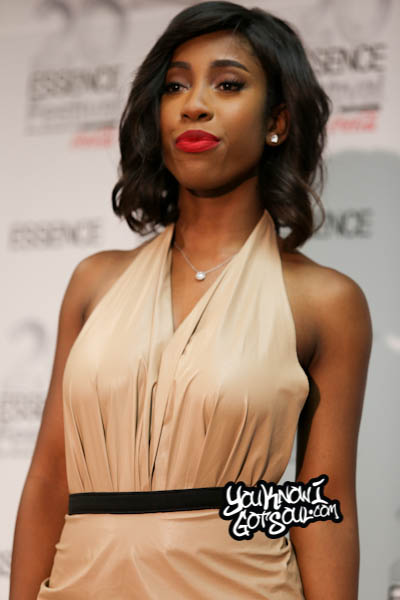 It is truly remarkable to see the effort that Sevyn has put into promoting her EP "Call Me Crazy, But…" The project was released way back in December of 2013 and she is still pushing the project with new music videos every month. Her huge smash "It Won't Stop" made listeners pay attention to her music and now she's taking full advantage of her opportunity. YouKnowIGotSoul caught up with Sevyn Streeter at the Essence Festival to talk about her approach to promoting her EP and the plans that she has for her upcoming debut album.
YouKnowIGotSoul: You've been working on your EP "Call Me Crazy, But…" and promoting it for awhile now. It's not really a traditional method because a lot of artists put out EPs and then quickly transition to an album. Talk about the approach with this EP.
Sevyn Streeter: I did a seven song EP called "Call Me Crazy, But…" and I wanted to talk about the ups and downs of relationships. I wanted to put out videos for each of the songs or as many of the songs we liked. The way we kind of do things, we kind of throw things against the wall, see if they stick and see what feels good. I put out visuals for the songs that the fans love and that they want. The most recent song off of there is "B.A.N.S." because it's a fan favorite. I did it on my day off and it's a viral video. I'm excited about my EP and I'm still excited about it. The fans keep asking me for more videos from the EP, so I have to keep giving them more.
YouKnowIGotSoul: At what point do you stop promoting the EP and move onto your debut album?
Sevyn Streeter: Whenever it feels right. The way that I go about things, I write a lot of my music so I have to go off of how I feel. I write according to how I feel. I'm going to stop promoting my EP and start promoting my album when it feels right and when the stories are right.
YouKnowIGotSoul: Anything you'd like to add?
Sevyn Streeter: If you don't have my EP, please get it. My single that's out right now is called "nEXt" and it features Kid Ink. The remix features YG.