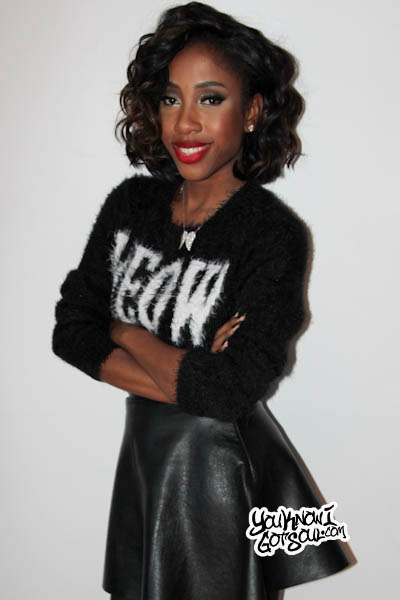 If there's any artist who deserves to be the next female r&b superstar, it's Sevyn. She's proven her talents behind the scenes, writing hit after hit for the likes of Chris Brown, Ariana Grande, Tamar Braxton, Kelly Rowland, and countless others. She's shown she can shine on her own, first with the infectious debut single "I Like It" and with the current smash "It Won't Stop". Finally, she's currently showing that she can perform as well, opening for K. Michelle on her nationwide "Rebellious Soul" tour. These are just a few of the reasons why her upcoming "Call Me Crazy, But…" EP should be one of the most anticipated releases in 2013. Oh, and we didn't even mention she's been able to bring real r&b back to urban radio during a time when it's being dominated by pop music. Yes, Sevyn is certainly a special talent. YouKnowIGotSoul sat down with her once again during a recent promo run in NYC and discussed what to expect on her upcoming EP, balancing writing for others and her solo career, what it will be like to tour as a solo artist for the first time (she toured previously with her group RichGirl), and much more.
YouKnowIGotSoul: Your single "It Won't Stop" is doing huge things on radio right now. What do you think adding Chris Brown did for the song?
Sevyn Streeter: Man, I keep saying that they've bamboozled me because I didn't know he was going to be on the record. They played it for me one day and I was like "Oh maybe it's the new mix or something" and then his part came in and I kind of lost my mind a little bit. I freaked out because I've done records with him before on his albums and mixtapes, but it's different and it touched a little place in my heart because it's my record. For him to get on my song, it just made my day.
YouKnowIGotSoul: The EP "Call Me Crazy, But…" is coming soon. What can we expect on there?
Sevyn Streeter: The EP will come out December 3rd. The EP is available for pre-order November 5th. It's a 7 song EP and it's basically just talking about the cycle of a relationship and all the different emotions that you go through. The reason for the title is because in a lot of relationships, you get into it with you boyfriend or girlfriend and we're quick to say "You're crazy". It's like the person who is being called that, they have their reasons and they feel like "Okay well call me crazy, but…" The songs on the EP explain all the common things like "How come my ex boyfriend becomes my next boyfriend?" It's a lot of good stuff.
YouKnowIGotSoul: What can we expect on there sound-wise?
Sevyn Streeter: I worked with some really dope producers who I consider to be friends of mine. I got to work with D-Mile, Da Internz, Diplo, Free School and a couple of other people. It's been really good. I worked with Eric Bellinger and J-Doe for the writing. I worked with a lot of great producers and writers. Vibe-wise, it feels like the truth and a story. It feels like the cycle of a relationship because it's kind of like the cycle of one of my relationships and something that I went through. From meeting somebody to thinking the world of them, then just going through stuff, having your first conflict and then until you guys fall apart, and the you going right back to them. I'm not the only one that goes through that. I've been through it and I'm sure you guys have been through it. That's what the EP is.
YouKnowIGotSoul: In addition to the EP, you have the hotline set up. Talk about that.
Sevyn Streeter: I share my stories all the time through my songs and my writing. On my EP, the whole thing is coming from my perspective and my own relationships. The hotline is for my fans. I want to know what you're going through and your "Call Me Crazy, But…" crazy relationship stories that you've been through. I want to hear those things. For me, it's kind of low key research for my album. Subconsciously, I like to know what they think and what you guys go through. I want to write the soundtrack to your lives. When my album comes out, I want them to say "They know exactly what I went through. How did she know that?" That's what the hotline is for.
YouKnowIGotSoul: With the success of your writing for artists like Chris Brown, Tamar Braxton and Ariana Grande, has that made you more or less patient with your own project?
Sevyn Streeter: Maybe more patient. Writing for other artists made me more patient. One artist in particular when I talk about this subject is Alicia Keys because working with her, I got to see how she's not pressed about her music. I feel like she does what feels good. That's what I left with from working with her. She just has a spirit about her and her music that feels organic and not rushed. It just feels good. I carry that spirit with me too into my sessions and that's what I've learned. I used to get frustrated when I would get writers block or if I couldn't hit a note. I try not to do that anymore and I think that's because I've been around a lot of great artists and great sessions. I got to see that it's just music. Music isn't supposed to make you stressed, it's supposed to make you feel good.
YouKnowIGotSoul: Do you ever get recognition from fans for some of these hits you've written for other artists?
Sevyn Streeter: I feel like they're starting to and I think that's cool not just for me, but for other writers. I'm starting to see more and more where fans are like "I didn't know they wrote this song!" I think that's dope because people feel like sometimes that the only role in this industry is to be in front of the camera and be an artist. To me, songwriting is just as important as being an artist because what would the artist sing if they had no song to sing? I just have so much respect for songwriters. A lot of my best friends are incredible songwriters. I think that's cool because now I've got fans going "Oh I didn't know you wrote 'All The Way Home' for Tamar Braxton!" It's like they're growing an appreciation for the art of songwriting.
YouKnowIGotSoul: Did you ever consider keeping Ariana Grande's "The Way" for yourself?
Sevyn Streeter: We wrote that in a session for Jordin Sparks. Myself, Harmony, Al Sherrod and Jordin wrote that together for Jordin. I was on the road and then I got a phone call and they were like "This artist Ariana Grande cut the record" and I was like "Cool". I listened to it and I was like "Whoa" because she killed that record. To answer your question, did I consider keeping that record? No, not all because I actually went into that session to write for another artist and when I do write for another artist, I leave my artist hat at the door. My songwriter hat is on and that's what it's all about.
YouKnowIGotSoul: Are you able to balance being an artist and a songwriter now that your single is starting to blow up?
Sevyn Streeter: That's a really good question. I've been in New York all week long, day in and day out. We've been working and I haven't slept. I don't mind that though because it's great. Normally, if I were just an artist, when I get back to LA, I can take the week off and just take my time, but I can't because I actually have some big sessions coming up with artists that I cannot name yet, but when it does come out, I'll be like "Remember that session I told you about?" It's a male artist and I'm so excited about it. I'll probably have one day to sleep and then after that, it's just sessions for that artist. Along with that, I'll also have to do rehearsals for my tour with K. Michelle. Does that get a little hard at times with songwriting and being an artist? Yeah, but at the same time I thank God for it because I've been strictly an artist before and that was hard. I can thank God for being an artist and fulfilling that side and still be able to write songs and take care of my bills. *Laughs*
YouKnowIGotSoul: We rarely get to see females writing for males. What is it like putting yourself in a male's state of mind?
Sevyn Streeter: For me, just because a lot of times I'm the only girl in the studio and because I work with a lot of male writers, conversations happen around me and I'm like "Why do you feel like that?" I learn from them and I kind of soak in how they feel about things and it does help when it comes time to writing for male artists. It helps a lot.
YouKnowIGotSoul: You're going on tour with K. Michelle. Talk about what we can expect from you.
Sevyn Streeter: On the "Rebellious Tour", you can expect just truth and a conversation. I like to talk to my audience and you can expect good music. You can expect a lot of music, a lot of bass, drums and dancing.
YouKnowIGotSoul: You've been able to tour with groups in the past. What do you think it'll feel like touring by yourself for the first time?
Sevyn Streeter: I don't know what that's going to be like. I've never experienced that before. I've been able to do a lot of radio shows, so I'm used to performing by myself but just being on a tour and being on the bus myself, I think it's going to be a little weird at first. I'll have my dancers and my road manager. I think it's going to be fine. I'm going to be Skype and FaceTime a lot. It'll be good.
YouKnowIGotSoul: Anything you'd like to add?
Sevyn Streeter: Make sure you get my EP. It's called "Call Me Crazy, But…" And make sure you hit me on Twitter @sevyn.