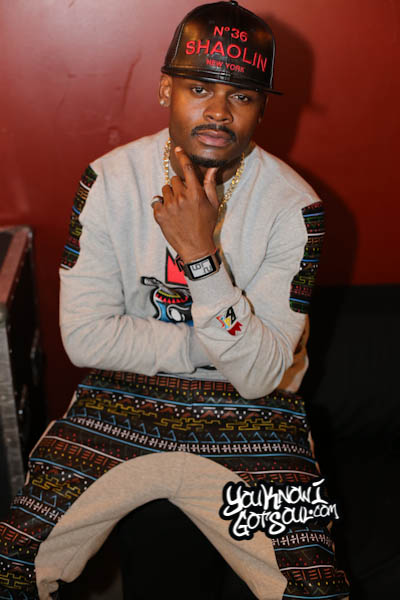 It's been a long time coming for Shaliek. When his label deal with Universal Records didn't work out years ago, it almost appeared like his singing career had hit a standstill. After remaining active behind the scenes, his time has come to shine again after signing to his new label Pendulum Records. His album "Blood Sweat Tears" has been in the works for over a year now, and already produced the successful radio singles "The Past" and "Aint Supposed to Cry". When the album releases this May, it will be a milestone and a testament to Shaliek's perseverance and refusal to give up. YouKnowIGotSoul sat down with him recently in NYC and discussed his successful singles, his current label deal, his new album, his history in the industry, and much more.
YouKnowIGotSoul: Let's start with your new single "Aint Supposed to Cry". It's a very personal record. What made this the next single you wanted to go with.
Shaliek: It was actually a combination of things. Ruben Rodriguez, the CEO of Pendulum Records, he presented me with the record. The album is done, and he said "I have one more record I want you to listen to" and I was running out of my patience at that point because I thought the album was done. So I heard it and it's one of those records you can't deny, it has that soul and that grit, and it fit perfect with the rest of the album. So I said "You're right, we aren't done yet!" *Laughs* As I recorded the record, I knew that it was the next single. I wasn't sure if he was going to make it the next single, but in my heart and mind, I thought he had a plan for the record. When it was all said and done he said it was it.
YouKnowIGotSoul: This is the follow up to the very successful single "The Past". Both of these records show so much vulnerability. What do you want people to see from you when they hear these records?
Shaliek: I think soul music and soul singers in general, I think you have to be vulnerable. People have to feel you and your soul and see your soul. Coming from a male artist, you don't really get to hear a lot about how we feel, just us being honest and pouring out our hearts. That's what we wanted to do with the album, is get a look into the male mind and the male heart, how we feel in certain situations. You hear a lot of female artists talking about how they feel, but I felt that's what was missing in music now on the radio. A lot of fans don't get to hear how we really feel in situations. Going into the project, Ruben and I sat down and said we were going to be honest. We were going to create an album that's honest, soulful, and vulnerable; and really cuts to the soul of the situation. I think at the end of the day we got it.
YouKnowIGotSoul: The new album "Blood Sweat Tears" has been a long time coming for you. How did you end up with the title?
Shaliek: Exactly what it is. I put my blood, sweat, and tears into this journey. It's been a minute. I feel like I'm finally here with the help of a lot of people. I didn't get here on my own, but I feel like it took a lot of work. *Laughs* There's been times when I just wanted to throw in the towel say it's not for me; maybe I was supposed to be doing something else. I got comfortable as a songwriter actually, I just wasn't happy, something was missing. I was born to be an artist and sing and tour and write music. I'm born to deliver. I'm not built to fail and give up. My mother instilled that into me from an early age, just to keep going and fight against adversity.
YouKnowIGotSoul: We've been following your career for years now, from when the previous label deal didn't work but you've always been grinding. What's the feeling going to be like for you when this album finally comes out?
Shaliek: *Laughs* Deep breathes, it will finally be here. This has been many, many years in the making. I'm extremely happy with the music and the project. "Blood Sweat Tears" is the truth. I'm not just saying that because it's me. If I was listening to another artist, I'd give that artist just as much props. I hate tooting my own horn, but it's not only me that put this together, it's a team that goes into making the project work. You have the songwriters, you have the producers, you have the label, you have the marketing people, promotions. I think we all came together and really put just great energy into this project. I thank God for that because although it took a year to record the album, everything just fell into perfect place. When I reached out to people to be a part of the album, they were excited to be a part of it, it was a love thing. They wanted to give me their best work. So for that, I'm grateful.
YouKnowIGotSoul: You're releasing this album through Pendulum Records, a label many aren't familiar with, but one that has had an impact over the years. Tell us about how you knew this was the right home for you.
Shaliek: How I knew it was the right home for me was when we sat down and spoke and it just came together so organically. Ruben had a vision, I had a vision, and it just matched. It just felt good, I felt the energy and one that I've never really felt before in a situation. I was signed to a major label, Universal Records, with a huge budget. No disrespect to Universal, but Pendulum Records is a smaller label that has given me so much attention and love. Ruben's worth ethic is unmatched; I've worked with a lot of people in the business. We go hard and we put our best foot forward. We're really big perfectionists and want the best music. Each time the bar is set higher. Everything we sat down and talked about was everything I always wanted in a situation. He's a firm believer in the bar just having to keep getting set. That's what we sat down and discussed before going into the album. We just wanted to create the very best soul music out there.
YouKnowIGotSoul: Always like to hear the history. You've mentioned being signed to Universal back in the day. How did you originally get discovered and signed to the label?
Shaliek: Wow. I did Showtime at the Apollo and I won. I did a lot of interviews around the city of New York and I was everywhere. I really knew that I was going to get a record deal. I just knew that I had to stay in the streets and be out there performing different showcases. I caught the attention of Maria Davis. She pretty much took me under her wing, she said "I see something special in you, and I want to introduce you to as many people as I can. I want to guide you into this business." I call her my industry mother and guardian angel because she was the first one to really open up that big door into the music industry.
YouKnowIGotSoul: When it didn't work out at Universal, was it discouraging for you? How were you able to carry on?
Shaliek: It was very discouraging because we had so much going on. I had just did the single with Juvenile and everything was great. I was in Miami with Scott Storch and my single was about to drop and they had a lot of money behind me. I was excited about the whole situation. Out of nowhere, from Miami to New York, in the span of a week, it was all gone. I wound up reaching out to someone I knew and I was like "I'm out here in Miami, and I don't know what's going on." It was just the pieces weren't in the right place and as an artist, I knew something wasn't right. One thing led to the next and before I knew it, I was done. *Laughs* I had to accept it. It was a hard hit. At one point I didn't think I would ever recover, I thought it was a wrap for me. To be so close and then to have everything taken away was just like "I'm never going to be able to get back to that point." I psyched myself into believing that I was put here to be a songwriter. Then one day I woke up like "I'm fooling myself, this is not where I want to be." From that day until now, I never looked back, I gotta get back and do this.
YouKnowIGotSoul: And here you are succeeding again which is a beautiful thing. Anything you'd like to add?
Shaliek: Definitely follow me on Twitter @OfficialShaliek, Facebook.com/OfficialShaliek. I just want to thank everybody for their support so far, it's been amazing. The album is dropping May 27th, it's called "Blood Sweat Tears" and I think you're in for a treat. I'm really excited about the project and I think it's going to be good.