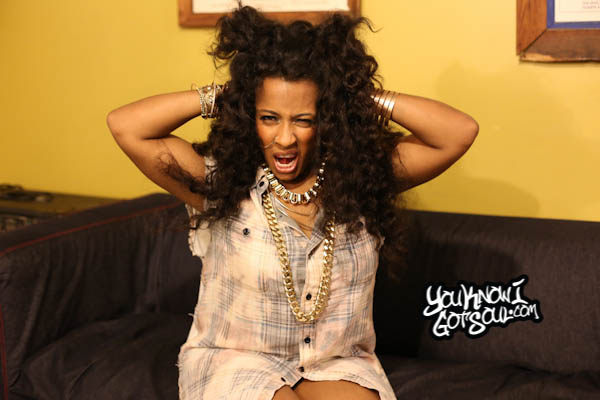 Although some have recently discovered the music of Shanell recently, her music industry journey started many years earlier, first as a dancer/choreographer and then as a writer for many big names in r&b. After making her mark penning songs for the likes of Melanie Fiona, Kelis, Danity Kane & Jennifer Hudson, and dancing with Ne-Yo on his tour, she found a home on Young Money. Lil' Wayne has made it a priority to bring her from the background, to where she belongs in the spotlight. After a performance at our Sol Village show, YouKnowIGotSoul sat down with Shanell and discussed her journey, signing with Young Money, upcoming projects, and how life inspires her music.
YouKnowIGotSoul: You got your start in the industry as a writer and getting placements. How did you get your first opportunity?
Shanell: Well, Shanell's journey…well, let me not talk about myself in the third person. *Laughs* My journey started as a dancer, choreographer, and that opened doors me to be able to write for the artists that I was dancing and choreographing for. That then opened the opportunity for me to be a featured vocalist on certain artists songs because I was writing so amazingly. I got discovered through that to just not just write and sell my music and choreograph my music, but do it for myself. That's how I got signed to Young Money.
YouKnowIGotSoul: Who were some of the artists you began dancing for originally?
Shanell: You name it, I've danced for them. *Laughs*
YouKnowIGotSoul: I think I was reading that Ne-Yo was one of them?
Shanell: Ne-Yo was actually the last person I danced for. I decided at that point, if I'm going to take my career seriously, I need to stop being on the road and dancing for everybody else. I danced for Ciara, I danced for Lloyd, I danced for some of my label mates now like The Game and Bow Wow. I've done it all.
YouKnowIGotSoul: What was it that pushed you to not want to be behind the scenes anymore, that you wanted to be an artist? And how did the label take notice of you in that way?
Shanell: It's crazy, me transforming into an artist kind of forced itself upon me. I'm always like "Follow what your sub conscious is telling you." I didn't just wake up and say "I'm going to stop doing choreography and dancing, I'm going to start working on my stuff." It was like there was a demand for it. Artists were telling me "You should work on your own stuff." I said why not? I didn't have anything to lose. I was creative and in the moment. When you're a real artist, you can do anything, you just do whatever you can do; and that's what I did.
YouKnowIGotSoul: You've been touring with Lil' Wayne recently opening up with him for awhile. What was the transition like from being in the background as a dancer to being front and center on stage?
Shanell: That was kinda funny. The transition to becoming an artist versus a choreographer or writer, which I didn't think there was too much of a difference at first. I was on stage all of the time with these artists. There is a difference. I remember one of my first tours, I was singing with Lil' Wayne and he kept telling me to move up, because I would stand like a couple of steps behind him. That's what you're trained to do as a dancer. He was like "Come up here!" That was territory I wasn't familiar with, standing on the same line as other artists. I had to get used to that. I also had to get used to opening my mouth. As a dancer, your language is dance and movement. It's not talking into a mic. That transition, speaking into a mic and hearing my voice in an arena was like "Oh, shit!" It took awhile but I thank God every day for that moment.
YouKnowIGotSoul: You released a mixtape earlier this year and have been releasing videos lately. What can we expect next from you?
Shanell: The next project is…hmmm…shout out to Zaytoven, he is Atlanta's Godfather of producers. He's responsible for Gucci Mane, Migos, Young Thug, a lot of people that have come out of the South right now. Nobody is singing, so me and Zaytoven decided to come together and do a project. That's what we're working on right now.
YouKnowIGotSoul: Will that be an album or another mixtape?
Shanell: We're trying to decide whether we're going to find distribution for this project or give it to our fans who are loyal supporters. Either way, the fans are going to get it, but we're trying to find out whether we want to go to iTunes or just give it away.
YouKnowIGotSoul: You definitely have a unique sound, and you're affiliated with a lot of hip hop artists on your label. What influences your r&b sound? Who are some of the artists?
Shanell: I've been back and forth with this whole thing. I love music. Music period, I grew up listening to r&b, rock, pop, trap, just everything. I would say that for a long time, I just pull from whatever sounded good to me. I wouldn't put it in any specific genre and I think that's why my shows and what I do might not be all the way r&b. It might not be all the way hood or pop. It has elements of all of them. I'm really inspired by life and staying real. Young Money is a big name and we're in big places, but I always try to go back to what fed me as a writer, to continue to use those things to do what I started off doing. It's really life; my friends, my family, strangers on the street. Those are the stories to me that are like "Wow" versus "I got a bunch of cars, houses and money". It's the real stories and the real life that influence me.
YouKnowIGotSoul: Anything you'd like to add?
Shanell: Follow me on Instagram and Twitter, continue to support Young Money and Shanell, Gypsy Gang, I'm out.