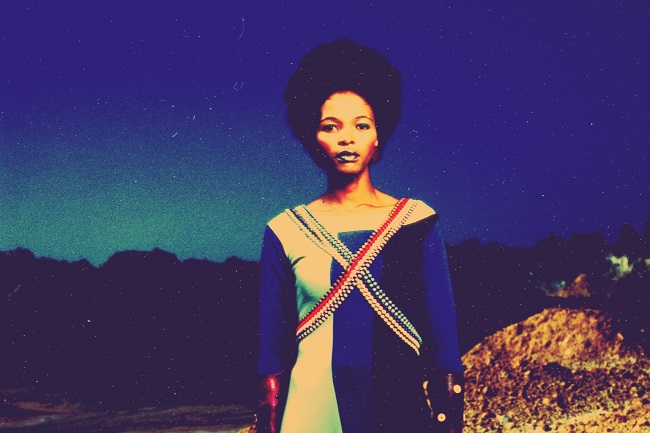 After much success internationally with her heartfelt music, Simphiwe Dana is ready to take the next step in her career and introduce herself to the US market. Originally from South Africa, Simphiwe's honest lyrics and organic sound has attracted fans worldwide including those in New Orleans who were attendance for the Essence Festival this year. YouKnowIGotSoul had a chance to speak with Simphiwe Dana about her long journey from South Africa to the US, her upcoming project and her performance at Essence which sparked the interest of artists such as Jill Scott and Maxwell.
YouKnowIGotSoul: Talk about your beginnings in music and how you got started.
Simphiwe Dana: I grew up in a musical family. My mother's side all sings and my mom used to sing a lot at home. She was my early inspiration musically and then I grew up in a society that embraced music as part of everyday life. That also piqued my interest and then I was also in a church choir sometime in my childhood. Those three would be my biggest inspirations growing up to become the musician today.
YouKnowIGotSoul: You've been able to develop a huge fan base overseas. What do you think attracts people to your music?
Simphiwe Dana: I have no idea. My music is honest and comes from an honest place. In fact, I wouldn't do music otherwise if it wasn't the purest and most honest parts of myself. That could be what attracts people to my music.
YouKnowIGotSoul: I noticed in your music that you speak on a lot of different topics like political issues. What do you want listeners to take away from your music?
Simphiwe Dana: My music speaks about human conditions and it just so happens that human condition is political in that our lives are political. It's not necessarily that my music has different topics, but my music tries to explain and is most preoccupied by human conditions.
YouKnowIGotSoul: What is your creative process like as far as your sound?
Simphiwe Dana: It's actually the most boring thing ever. It's the most frustrating thing because it takes a lot of sitting and waiting. It's a lot of time just spent sitting in my kitchen or my studio waiting for God or that spark or divine inspiration. I mostly write my music acapella now. I learned from a very early stage in my career as an artist that my voice is my instrument. It just makes more sense for me that way, but I've also started putting instrumentals whether it's a sample or I create from scratch. I always will be that person who will sing acapella because I also come from that background. There were no instruments then, it was just singing.
YouKnowIGotSoul: How would you describe your sound and music?
Simphiwe Dana: It's very difficult to box my music because it doesn't necessarily fit into one genre. It's quite difficult. It could be Jazz, but it doesn't really fit into that box. It could be Reggae, but it isn't. There are a lot of influences put together instrumentally. Most importantly is that the music will touch you whether it's in English or my language. The music will touch you so I call my music Soul. It's not Soul as in the genre, but Soul as the music will touch you.
YouKnowIGotSoul: You're now transitioning into the US market as an artist. What made you decide to try the US market?
Simphiwe Dana: I will tell you a story about where I come from: There's different stages in school from where I come from. Once you reach grade 5, then you are in High School. Most people will move and it's like a journey. It's all part of growing up whether it's going to boarding school or another town with your relatives to go to school. It's just moving onto the next level of you growing up. Once you finish that, you start studying at a college and you're moving even further away from home. I come from people that are normally that way. Taking a journey is very much a part of growth. I have lived in Johannesburg for 13 years except 2 years where I lived in Cape Town, so I lived in the hub of South Africa for more than a decade. For me, it's now just reaching another journey so that's why I'm here.
YouKnowIGotSoul: With the US music scene, it's a lot different because listeners are more interested in what grabs them immediately. Are there any fears or concerns on your end transitioning into the US?
Simphiwe Dana: Of course there are fears. I had fears when I came onto the African market. I also had the same fear that you mentioned. My music doesn't really fit the mold, it's a lot different from what's going on. I don't want it to be one of those kinds of music that's like "Whoa what is that?" and it puts you off because it's too different from what you expect or what you're used to. I came here to see if it'll work out, but you never know until you try. I believe in the journey.
YouKnowIGotSoul: You performed at the Essence Festival this year. How did the listeners to receive your music?
Simphiwe Dana: It was amazing being in the space in New Orleans. It was lovely to be in that place to perform and the performance was just like the icing on the cake. I'm really happy to be here and I know I'm going to have to work really hard to attract my music to the American public, but I believe I'm up to the task.
YouKnowIGotSoul: I know Jill Scott and Maxwell gave you a lot of compliments for your performance at Essence. What did that mean to you?
Simphiwe Dana: For me that means everything. If that music community can accept me, then half of my job is done because they're so loved here. There's also a part of where I come from in which I know their music very well. I respect my music and their music heals me. I had a chance to watch Maxwell at the Essence Festival and luckily I caught my very song by Maxwell which is "Lifetime". I remember I was listening to the song and crying my eyes out. I felt so happy, alive and so accepting. And with Jill Scott, I remember when her first album came out. I remembered hearing the song "Slowly Surely" and I remember thinking "Who is this?" because it felt different. It's always been her and people like her inspire me to be me as well in spite of what the market is supposed to want and what supposedly works in the market. She inspired me when I was writing my album and they mean the world to me.
YouKnowIGotSoul: Now you're working on your EP. What can the fans expect from it?
Simphiwe Dana: Yeah I've been working on an album with Om'Mas Keith. He also produced the Grammy award winning album "Channel Orange" by Frank Ocean. I'm working with him and I've been with him since last year. We're almost finished with the album and I think he's so amazing. I love his style. It's really old school and funky at the same time. I'm very excited about it.
Follow Simphiwe Dana on Twitter @simphiwedana‎