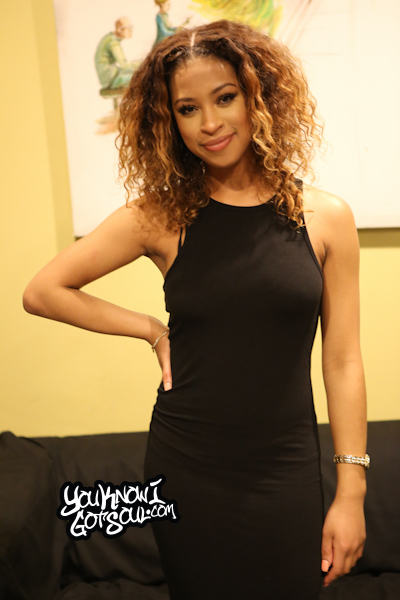 When you read the bio of Skye Townsend, it's hard not to be impressed. Focused on infusing positivity in her lyrics and being an advocate for some very good causes, her life truly has meaning. She has the platform to make a difference for not only being a young super talented r&b singer, but quickly gaining a large following of loyal fans. Her recent release "Rocking Chairs" really sets her apart and shows that there is a lot more to young r&b artists than chasing radio trends. YouKnowIGotSoul sat down with her prior to her performance at our Sol Village show and discussed her latest project, positive lyrics, her acting career, and much more.
YouKnowIGotSoul: Take us through your origins in music. I know you released your first project "Vomit" back in 2012. What lead you to a career in music?
Skye Townsend: I always loved doing music. I loved to sing when I was very little but I had no voice, it was awful to hear me sing. I really decided that I wanted to make music with a purpose. There was no point in making the songs about nothing. That made it really difficult for me when dealing with labels and meetings. They were always overwhelmed that I was young and had substance. Now that I'm 21, I really got to drop a project that I wanted to do. My first project in 2012, I really got to dive into the substance world and see how people received my messages. Now I think that really nothing is off limits and I can be as honest as I want to me.
YouKnowIGotSoul: Talk a little bit about the current project "Rocking Chairs" and how it all came together.
Skye Townsend: "Rocking Chairs" tells the story of finding the person that you want to be with when you're young. It talks about what it's like to find the love of your life when you're young but you want to make it to be old in rocking chairs and looking at the sunset together. So it's about what the journey is like and not messing it up in the meantime and some of the struggles and bumps in the road when you're in love and young. Overall it's a very positive project. I think there is enough negativity out there about relationships. Songs are all about playing people and having side chicks and whatever, that this generation needs to listen to something positive. It's very easy to get brainwashed into thinking you'll never get the love you deserve and side chicks all of that is normal. It's not!
YouKnowIGotSoul: Sonically, who were some of your biggest influences on this project?
Skye Townsend: It ranged from jazz, Ella Fitzgerald and Billie Holliday, to Syleena Johnson and Deborah Cox. Beyonce, Phil Collins. The influences are kinda all over the place. You can kinda feel out different people in different records.
YouKnowIGotSoul: On some of the records you've had some Lauryn Hill or Jill Scott presence. You've added a spoken word piece to your music. What made you go that direction?
Skye Townsend: I think the dopest thing about music is there are no rules. I think as an artist it's easy to think you have to do one genre or one type of sound. I love poetry. That's one thing I'd do with my friends, go to the poetry lounge. You hear these stories and the way people deliver the spoken word and I wanted to do that in my music. I didn't care. You hear Lauryn Hill and I started really listening to her music and digesting it and there were no rules. I put the spoken word on there to see how it was received and see how people really listened to what I was saying. You can really sneak power in there and really have something to say, and people still grasp it.
YouKnowIGotSoul: You kinda shoot to have different elements in your project. What new elements could you see introducing in the future?
Skye Townsend: I think I had a really hard time figuring out who I was as an artist because I had so many influences. Now it has a lot of world music in it. There are a lot of drums you've never heard before. I try to step outside the box music wise but stay true to myself lyrically and vocally. I think you're going to just hear a lot of instruments, saxophone, guitar, just a lot of live instrumentation. A lot of people are stuck on making beats on the computer that you really don't hear guitars coming in live anymore. A lot of beautiful music breaks and stuff you can relate to. I really believe in sharing your story honestly and just telling what you've been through.
YouKnowIGotSoul: You've been involving in acting as well. How are you balancing that with singing right now?
Skye Townsend: I'm in the process of pitching some shows right now and continuing going on auditions. It's funny, I just kinda do videos on the side and it kinda keeps people entertained on the acting side. I'm just waiting for the right project to come along, I have to be picky, I don't just want to do anything just for work. Especially with the way the rules for black actresses are right now. I'd rather not just do it for the check and be miserable with what I did.
YouKnowIGotSoul: Earlier you had mentioned being a little discouraged by the current sound of r&b and the lyrical content of what's out there right now. Based on that, could you see yourself signing with a major label at some point?
Skye Townsend: I'm not really stressed to be signed to a label. Something would really have to be presented to me that made sense and someone that's really willing to work with my vision. I'm not willing to do whatever is handed to me.
YouKnowIGotSoul: Any collaborations we should be looking out for
Skye Townsend: I have so many friends that I really want to get involved with on some kind of music that's coming out now. For the EP I just released, I really wanted to show myself as an artist and not get distracted by too many features. I think sometimes artists are too quick to try to get as many features as they can to distract the person, and I didn't that. In the future I'll try and collaborate with some of my talented friends. I was on Casey Veggies album and now he's signed and doing his thing. I'm just excited to collaborate with more people.
YouKnowIGotSoul: Anything you'd like to add?
Skye Townsend: Check out my music if you haven't, SkyeTownsend.com. I hope you enjoy it!