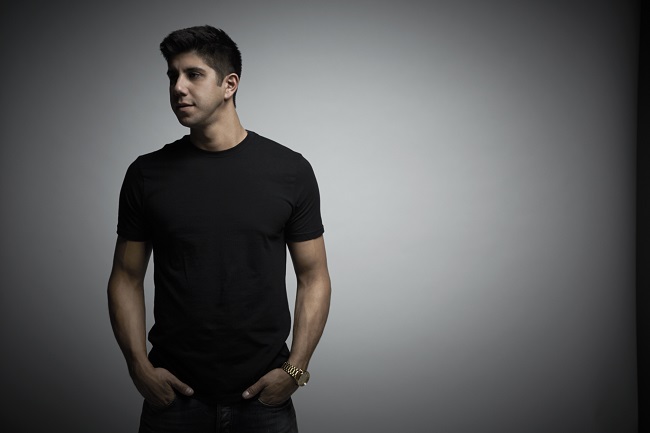 If you've been following the YouTube music scene for a minute, you will have noticed a young man by the name of SoMo getting millions of views for his singing videos. His weekly covers, better known as "SoMo Sundays", have been garnering a lot of attention and there are a handful of them with over a million views on YouTube. That's not all though, his original material, which includes the single "Ride", has been just as successful in terms of popularity. His grind on social media has allowed him to get a major record label deal and now SoMo is ready to put out his self-titled debut album. YouKnowIGotSoul had a chance to speak with the YouTube sensation about his success online, his journey as an independent artist and his R&B influences growing up.
YouKnowIGotSoul: Your debut album just came out. Take me the process of putting that album together.
SoMo: Basically I wanted to make an album that had all facets of love and my journey to finding love and lusting instead of loving. It's not necessarily conceptual, but it takes you on a story or on a ride through my life for love.
YouKnowIGotSoul: Talk about the sound you developed because it has a nice mix of R&B and Pop. We haven't heard those two combined in a long time.
SoMo: I really wrote what felt good melodically and to sing. I've always been an R&B guy and really liked Musiq Soulchild growing up. It's kind of the influence from that genre vocally infused with all the influences I grew up listening to whether it was Country, Rock or R&B. I kind of just wrote the album. *Laughs*
YouKnowIGotSoul: You've noted that Musiq Soulchild is one of your biggest influences. What drew you to his music?
SoMo: Really, just the vocals and the complexity of some of the runs that he's done in different songs. Just the way it made me feel when I sang them and the way his voice would be laid over the music. It's one of those situations where the music just sounds right to your ear. That's what I really identify with.
YouKnowIGotSoul: What would you say are your top 3 Musiq Soulchild songs?
SoMo: There are so many, but "Love", "Don't Change" and "Religious".
YouKnowIGotSoul: On this album, you stuck to working with your own producers rather than going out with the big names. How important was it for you to maintain your own sound?
SoMo: It was very important. I actually wrote the album with Cody Tarpley before I signed with a major label, so the way I wrote it, it was independent minded. I wrote it that way, so when I was going to sign with the label, I told them it had to come out the way it was intendeded to. It did, so there it is. I'm very excited about that because it's from a real place. I know a lot of people like to hear about independent artists making their way and stuff, so for me it's still an independent album. I just have the platform of a major label.
YouKnowIGotSoul: Has it been a struggle for you to convince listeners that you're not just another Pop artist and that you make R&B music? From an image standpoint, you come off as a Pop artist.
SoMo: No. Whatever people want to perceive me as, I am who I am. I don't think I've ever really tried to push the R&B thing, but I just like and sing R&B. I think my fans and even listeners can tell I enjoy singing it. That's my main thing, it's just to be me. If you don't want to listen to me, then don't listen to me. *Laughs*
YouKnowIGotSoul: What kind of reception from the traditional R&B fans? They're usually the hardest crowd to please.
SoMo: I think I'm getting some good compliments. It's cool for me because people say I have the 90's R&B sound. Maybe not all the way, but there are elements and that makes me feel good because I grew up on that.
YouKnowIGotSoul: Talk about why you decided to go with a major label because you mentioned that you sort of created your album independently. A lot of artists seem to go the independent route these days.
SoMo: Well for me, it's just about getting the music to be heard. I felt like I had tapped out my resources in terms of reaching a larger market. That was the only reason. I felt like once I had written the album, it was a sound that could possibly go mainstream, so what better ways than to sign to a major label? I would be able to reach all dimensions of the industry.
YouKnowIGotSoul: You're one of many people who have used YouTube as a tool to build your fanbase and it continues to grow. What's the key to that?
SoMo: I guess the key is consistency. I've done a video every Sunday and I think maybe 4 or 5 weren't at 7:30 PM. It's like a TV show for my fans, it's every week. It's always like "What is SoMo going to do this week?" I always make it a surprise because it makes it more fun.
YouKnowIGotSoul: On YouTube you're posting covers and remixing songs. Has it been a challenge to turn fans of your covers to people who support your own material?
SoMo: It doesn't seem like it's been that hard. I have done so many covers and I know the majority of my fans are about my original songs like "Ride" and "Show off". It's never really been an issue.
YouKnowIGotSoul: You went on tour even before you put out the album. What was the idea behind that? I know a lot of artists go on tour after the album.
SoMo: Well, that was all me. *Laughs* I had initially planned to put out the album after the fall tour, so it was based on that. I started getting really heavy into talking to different labels that I decided to hold off. It's really cool because I get to sing the songs on my album at my shows and preview them to my fans. There's so many people on Twitter talking to me and saying "I can't wait to hear this song on the album. I heard it at your show!"
YouKnowIGotSoul: I read that back in High School, you didn't really take music seriously. What was your journey like when you decided to become an artist professionally?
SoMo: It's been weird because I grew up around music. When I was younger, my father was a musician and I just never planned on doing music like he did. I saw my life going differently and basically, I didn't really avoid it but I didn't really pursue it. Eventually my brother told my mom that she should get me a piano for Christmas because I wanted one to play around with. I ended up figuring it out by ear so I started posting some videos on YouTube and people started reacting, so I started to do more. I always say the rest is history.
YouKnowIGotSoul: How did the major label opportunity come about?
SoMo: I guess they had heard "Ride", "Show Off" and my mixtape. My A&R had come pretty early on from Republic and they told me they could help me. This was 8 months before I even signed because I was against the idea before I could get creative control and mutual approval. After that, I was like "Alright cool".
YouKnowIGotSoul: What else is coming up for you?
SoMo: I'm just doing a bunch of shows and maybe some small summer tours here and there.