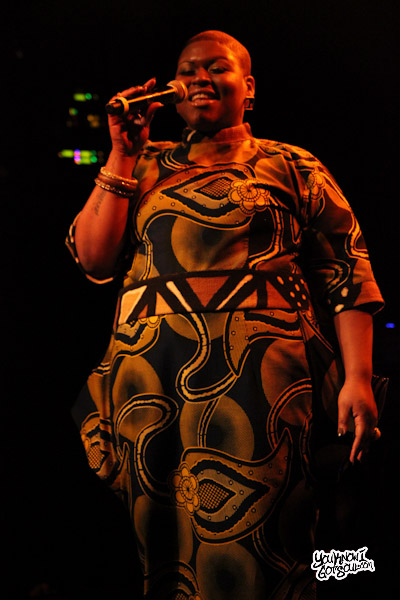 On YouKnowIGotSoul we've been applauding the work of writers who've been putting in work behind the scenes for years now. For the fortunate ones who eventually get to shine in the spotlight on their own as an artist, we can't help but be excited. Stacy Barthe is one of those artists. With writing credits for everyone from Brandy to Rihanna to Katy Perry to Kelly Rowland, her vocal abilities have always been in line with, if not better than, her peers. With a new solo deal in the works, she'll be able to prove that to the masses. It began with her critically acclaimed debut EP "Sincerely Yours", and now after pairing up with John Legend's label, she's preparing for the release of her debut LP. YouKnowIGotSoul caught up with Stacy for this interview to discuss her origins and technique as a writer, differences in writing pop vs rnb, her EP "Sincerely Yours", and much more.
YouKnowIGotSoul: I read that your first major placement as a writer was "Blur" for Britney Spears. What was that whole situation like?
Stacy Barthe: Danja, who produced the record, and I, had developed a working relationship because we were working on Ciara. He had me working in Miami, then when I came out to L.A., he asked me if I'd be available for a writing session. So I went in and the next day they tell me that they loved the song, so she eventually ended up cutting it. Me and Jim Beanz vocal produced her through the record. Working with her was very brief, she just came in, did the song and kinda left. She seemed like a nice person!
YouKnowIGotSoul: What's your creative process when you go into writing a song?
Stacy Barthe: If I'm writing for myself, I like to start from scratch because I like to be involved with the production process with the producers. So for my album, I've been doing everything from scratch, all kinds of conceptualizing, hearing a track, and then going in as soon as I have what I want to say, I just go in and cut it.
YouKnowIGotSoul: I noticed that when it comes to your writing for other artists you've written for a variety of artists from pop acts like Britney Spears, Katy Perry and Rihanna, then to r&b with artists like Brandy, Melanie Fiona and Kelly Rowland. How do you switch gears when going between writing for different genres?
Stacy Barthe: Genre wise, I'm a culmination of a lot of things. I love all kinds of music so it's pretty easy for me to go in with different artists and kinda get into their zone and make the song. I'm not a specific writer, I don't just do pop or just do r&b, whatever the music tells me is what I do. That's pretty much how I do it; I don't have a specific process for it.
YouKnowIGotSoul: I'm starting to notice a trend in r&b where we have a lot of talented artists who start out as writers just like yourself and then become artists themselves. Did you ever feel like you had to pay your dues as a writer behind the scenes before becoming an artist?
Stacy Barthe: I've always wanted to do music, I just didn't know how I was going to end up doing it. I've always had a talent for writing, English was my favorite subject, so I've always had a way of putting words together. The songwriting thing kinda just fell in my lap. I think every songwriter secretly wants to be an artist and it's just from people telling them "No, just do the writing thing so that way you can still be in it, but not be in the spotlight". I think secretly every writer wants to be an artist. That artistry developed from me being tired of trying to place songs and find songs that worked. I just got tired of writing the same kind of pop uptempo, I've been doing that for awhile. That's how "Sincerely Yours" came about, just from me doing what I wanted to do.
YouKnowIGotSoul: Did you ever really feel that out of all of these hot records you've written for other artists, you could be putting these out yourself. Did that ever get frustrating?
Stacy Barthe: It did but I never got mad at that side because songs I wrote for other people, I would probably never sing them. The stuff that I do for me is the stuff that's for me.
YouKnowIGotSoul: You mentioned the EP "Sincerely Yours" and I was reading that you used the album as a therapy session for yourself with your innermost thoughts and experiences. Was it hard to so openly put yourself out there like that for everyone to see?
Stacy Barthe: As a writer and as an emotionalist in terms of my music, it's easy for me to bear it. I wear it on my sleeve. I think that's what's so special about it is that it's very honest and it's not trying to be cool or trying to fit into the radio format. I consider it to be a musical diary.
YouKnowIGotSoul: Talk about your experience on the BET Music Matters Tour. We covered the show you did out here in New York with Estelle. What was the whole experience like?
Stacy Barthe: It was a great experience. It was a definitely a learning experience being that it was my first time on tour and I got to learn the ins and outs of the backstage stuff, what really goes down, all of the people that it takes to actually put on a production. It was a very cool learning experience. I was on there with a good friend of mine, Luke James, and I toured with Elle Varner who is super cool, and of course Estelle who is headlining. So it was a really cool experience that allowed me to touch more people than I would have just doing internet stuff. I'm glad I had the opportunity to go.
YouKnowIGotSoul: Talk about your work with Brandy since I know you guys have a cool relationship. What's it like working with her?
Stacy Barthe: Brandy is super cool, she is a bubble of joy. She wants to be better. Vocally I've learned a lot from her, such as different techniques when recording; she's amazing. Working with her was always cool. We've developed more of a friendship than a working relationship. Now she's working on her album so we're going to get in again, but she's just more like a sister to me.
YouKnowIGotSoul: Talk about yourself as an artist because you're young, but you're someone I'd consider an old soul. To me it seems like that kinda music is kinda getting pushed back from the fore front and not as appreciated as it once was. Do you still feel like there's a place for that type of music?
Stacy Barthe: I think there is an emergence of it. That's the kind of music that I would listen to, so I want to make the kind of music that I would actually listen to. I definitely think there's a space in the world for my music, I think I've kinda carved out my little space and it's unique. With what I'm bringing vocally, I'm not just singing, I'm speaking from the heart.
YouKnowIGotSoul: What's next for Stacy Barthe?
Stacy Barthe: I'm still writing for other people, I just worked with Alicia Keys, I'm working with John Legend for his album. I'm working with Jordan Sparks for the movie "Sparkle". I'm finishing my LP, I'm in the process of working on a deal with Motown through my label Stellar Music Ink'd and I'm pairing with John Legend's label for it. So that's what's happening.
YouKnowIGotSoul: What can we expect on your upcoming album?
Stacy Barthe: Every time I put something out it's going to be a piece of me at the current time. Currently, the music that I'm doing now, it's a little bit more progressive and it's going to be definitely giving a different vibe musically, but still me at the core.