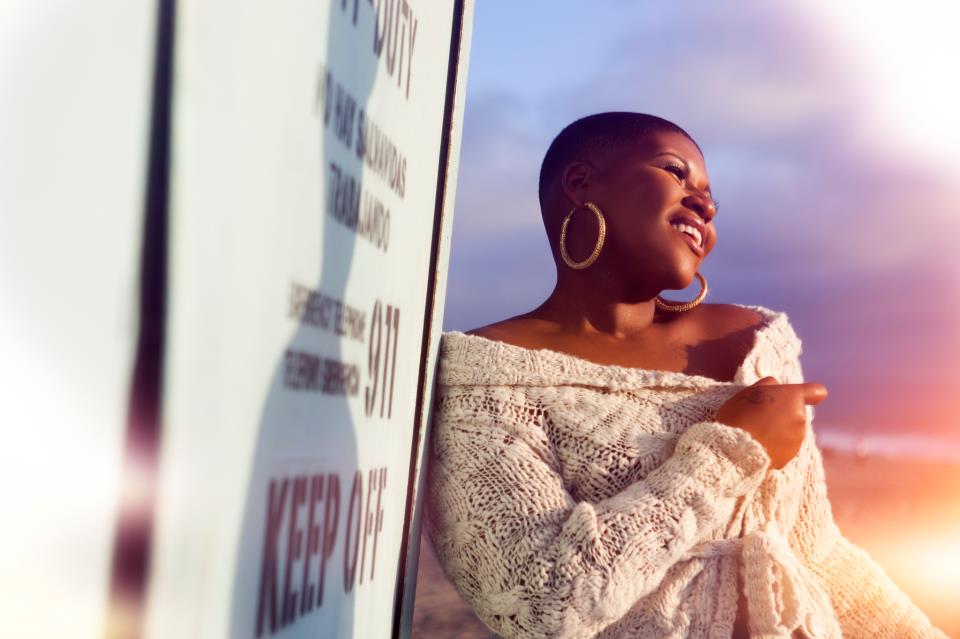 Over the past few years, Stacy Barthe has been consistently raising her profile as not only a songwriter for other artists, but as an artist in her own right. She's done so with the help of her highly regarded EP's "In the In Between" and "Sincerely Yours", and now looks like to grow even more with the release of "P.S. I Love You". Although the journey to becoming an artist has taken some time, when John Legend signed Stacy to his Home School Records imprint, he saw the potential for a future r&b superstar. She's now right in the middle of the new generation of r&b artists, poised to bring real singing and real music back to a genre that has sorely been missing it. YouKnowIGotSoul caught up with Stacy and discussed what we can expect on her new "P.S. I Love You" EP, breaking the stigma as being just a songwriter, the r&b resurgence of her label Motown, forming the Nouveau Noir crew, and much more.
YouKnowIGotSoul: Your "P.S. I Love You" EP is out now. This is your 3rd EP now. Tell us about this project and how it's different from your others.
Stacy Barthe: Yea, this is the 3rd EP and the last one before my actual album which is tentative to release in the Fall of 2013. This is basically where I find happiness and love, not just for someone else, but for myself. Again like "Sincerely Yours", I'm being very open and honest. It's just a little bit more insight into things I care about, like on "Flawed Beautiful Creatures" and "Hell Yea" and the last record on the EP titled "Before I Knew Me" which basically sums up my entire story of my last 2 years of me transforming into the person I'm trying to be physically, mentally and spiritually. I lost one hundred and fifty six pounds and I'm in my cocoon phase. I'm becoming the person I want to be. It's a lot of self exploration on "P.S. I Love You" so it's also "P.S. I Love Me".
YouKnowIGotSoul: What type of musical growth will we hear on here since your last EP?
Stacy Barthe: On this project there's a little more hip hop infused flavor. It's just actually a nice blend of music. You can just tell I'm in a different space spiritually because I'm coming from a lot of sad broken songs and here you'll hear somebody who's more confident.
YouKnowIGotSoul: What made you go the route of releasing a few EPs instead of just releasing a full album at some point?
Stacy Barthe: Because I had to grow. I had things that I had to get off my chest. Each piece represents the soundtrack to whatever my life was at the time. "Sincerely Yours" I was broken, "In the In Between" I was just where the title states, in between being a songwriter and being in the background and being an artist. Also in between being an independent artist and being signed to a label. So that's where I was and now it's "P.S. I Love You". I had to do those things to get to the place where I am now. Right now I'm starting to work on my album, and it's going to be special.
YouKnowIGotSoul: You've got out the single "Hell Yea" with Rick Ross. What inspired the lyrics behind that song?
Stacy Barthe: Basically just everything that was going on in the news and things that were going on in my own life. I'm happy in general, but there's always challenges every day. It just seems like every time you're about to make it over the hump, something knocks you down. It's talking about that and taxes and people being taxed to death. I did this prior to President Obama actually winning and thought it would be dope if he won and this song came out to open people's eyes. For a long time we were in a haze, nobody cared about what's really going on in the streets of Chicago and just everywhere. I feel like we're living in hell here. The refrain "Hell Yea", I feel like a lot of people feel like that. There are a lot more people doing bad than are doing good. So I wrote it from that perspective.
YouKnowIGotSoul: You've been an established writer in this industry for years now. Has it ever been hard to break the stigma of being just a writer?
Stacy Barthe: Totally because people always want to keep you where they know you and are most comfortable with you. People have always known I can write great lyrics. Now being an artist is a whole different beast. Now do I only have to write great music, but I have to deliver it, I have to perform it. To me, I'm just being myself ,and I feel like that's going to be enough.
YouKnowIGotSoul: As a writer, I'm sure your demand has increased. You've worked with bigger names as the years have gone by. How have you seen the demand for your talents as a writer increase as you've done more work?
Stacy Barthe: I think it's been mild. People are still getting to know me as a writer because I've had placements, but I haven't had that many singles. Now people are hearing me on the T.I. and Andre 3000 record. That's me on the hook. I wrote for Alicia Keys and hopefully she makes one of our songs a single. When you get more notoriety, the more your songs become singles because what if somebody didn't buy the song the song on iTunes because people don't buy entire albums anymore, they just pick the songs they like. If it becomes a single, it makes more chances for people to know you wrote a song. I don't know if people are reading album credits or if they even care. If it's a single, they'll know.
YouKnowIGotSoul: You mentioned you wrote a few songs with Alicia Keys for her new album. What was that experience like?
Stacy Barthe: Alicia Keys is probably one of the most beautiful spirited people I've ever met and I was always a huge fan of her since like the 11th grade. She's pretty much everything that I thought she would be personality wise. She was open to my ideas. We collaborated. It wasn't like I wrote it for her, we wrote it together.
YouKnowIGotSoul: Motown seems to be having an R&B resurgence. Talk about the situation there.
Stacy Barthe: We're going to cornerstone it and make it relevant again because for a long time, R&B kind of lost its essence because it's a Hip Hop dominated thing right now. We're just trying to bring it back. Me and a couple of friends of mine started a little crew. It's basically like we're trying to create a new Black revolution with the art, fashion and music, we call it Nouveau Noir. That crew of people is myself, Elle Varner, Luke James and Miguel. As far as Motown goes, it's BJ the Chicago Kid, Chrisette Michele, myself, and B. Smyth. It's all about how they release the new music. It has to be about the look and the feel. It has to be culturally relevant and really knowing how it was done in the past and creating a new version of whatever that is. I feel like Motown back then represented camaraderie. You wouldn't be surprised seeing Michael Jackson singing background in the studio for Stevie Wonder. We all have to be able to and should support one another and be there just like the old Motown.
YouKnowIGotSoul: Your full length album will be next. How do you approach this album before you unleash it?
Stacy Barthe: I'm in my cocoon phase right now. By the time my album comes out, I'll turn into this butterfly and you'll see what I'm talking about in the future. This album is my official coming out. I'm piecing it together now and I just realized what I'm going to talk about and what it's going to be. I don't want to talk about it too much yet, but it is also a continuation but the first chapter of my new life. By this point, I would have morphed into the person I wanted to be mentally, physically, spiritually. It's the rebirth.
YouKnowIGotSoul: You've had a chance to work with a lot of different artists. Who would you want to work with?
Stacy Barthe: I would love to work with Beyonce. I love her.