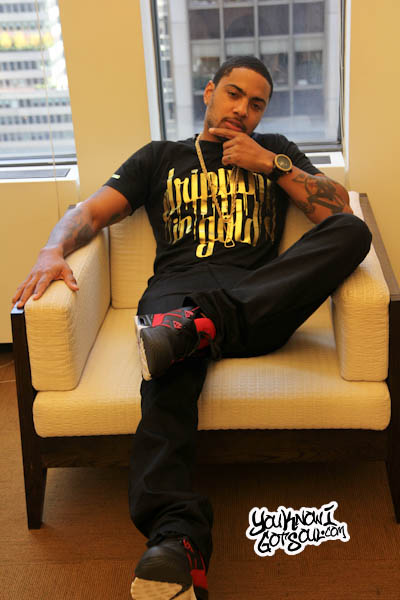 We've always found that artists who have a talent in writing and production in addition to singing usually are the most creative and have a clear vision in creating good music. Sterling Simms is one of those, and even after releasing his debut album on Def Jam and subsequently leaving the label, it didn't take him long to land back on his feet at RCA. Building his portfolio as a writer as part of the KnightWritaz camp and also contributing his pen to Marsha Ambrosius' number one single "Far Away", it's no surprise that the label recognized what he was trying to do. It also doesn't hurt that his good friends, including The Stereotypes and Oak & Pop, happen to be some of the hottest producers in the game right now; the cards are certainly stacked in his favor. YouKnowIGotSoul sat down with Sterling during a recent promo run in NYC and discussed the progress of his upcoming sophomore album, the release of his new mixtape "Mary and Molly", the sound he's currently going for, writing a song solo vs. co-writing, and much more.
YouKnowIGotSoul: Earlier this month you released your new mixtape "Mary and Molly". Talk about the inspiration for the project and what it's all about.
Sterling Simms: "Mary and Molly" is hosted by Don Cannon and DJ Aktive and DJ Drama. During the recording process for [my new album], we recorded about 30 records. Obviously all of the records couldn't make the album because I'm only choosing 11 for the album. So I had a whole bunch of other records that I still loved and I thought the world deserved to hear them. We put together "Mary and Molly". It's kinda like a play on words if you will, it's two women I like to deal with. *Laughs* Mary gives me good conversation, she calms me down when I want to go crazy sometimes. Molly likes to have fun, I call her up, she meets me in the club sometimes and we get it popping together, she likes to drink.
YouKnowIGotSoul: In addition, you had the single and video out for "Tell Her Again" and it's generated some buzz for you. Talk about that song.
Sterling Simms: Growing up in Philly, I think on the east coast reggae has been a strong influence on radio. Growing up, I've always been a fan of the culture. When we started the recording process for the album, Pop Wansel, a great friend of mine, he came to L.A. with the idea and as soon as the track came on I knew the sample and said "We've got to do this." We came up with the record, it was called "Murderer" at the time, and it came out crazy, we knew exactly what it was when we heard it. We did the record, I played it for the record label and they wanted to get a feature on it. I called on Meek Mill who I've known for years growing up in Philly, we have a lot of mutual friends. I've always wanted to do a record with him and just wanted it to be the right record. When he heard it, he listened to it twice and jumped right into the booth. It's been dope.
YouknowIGotSoul: I've noticed the contrast between some of the sounds you've been working with. You've got the reggae flavored single, you've got some different r&b vibes on the mixtape. What would you say is the sound you're currently going for?
Sterling Simms: For the new album, I just didn't want to do a traditional r&b album just because I'm a true fan of all genres of music, so I wanted my album to reflect that. It's got some hip-hop influence, it's got some reggae influence, it's got soul, it's got some elements of true r&b. I think you're going to get a sense of what I like to listen to when you listen to this album. A lot of honesty! *Laughs*
YouknowIGotSoul: How's the whole project progressing so far?
Sterling Simms: I'm about 95% done with it. We've just got some tweaks to do. I recorded six records last week that I think are the last pieces to the puzzle. I just like to work so I stay in the studio until we are mastering. I think we're almost there.
YouKnowIGotSoul: I know you work with The Stereotypes a lot, with Oak & Pop a lot. Who else have you worked with on the album?
Sterling Simms: In addition to The Stereotypes and Oak & Pop, we worked with Fisticuffs who works with Miguel a lot. I worked with DJ Camper who worked with Pop on "Marvin & Chardonnay" and who's actually in Hawaii working with Kanye right now, his sound is dope. He set me up with some new joints and we cut those last week. I think that's about it. I didn't want too many different sounds on the album, I wanted it to be cohesive, so I kept the writers and producers to a minimum. The records came out incredible.
YouKnowIGotSoul: Speaking of The Stereotypes, how did you originally link up with them and how did that whole situation come about?
Sterling Simms: One of the Stereotypes names is Ray Ro, and me and Ray have been good friends for a long time. Actually, he was the A&R that signed me over at Def Jam when I was over there at that time. After he left Def Jam and started producing, he linked up with The Stereotypes. When I got off of Def Jam, I started working with them. The records that we were doing over there were dope as shit. That was actually what gained the attention of RCA, we played them a few records and they pulled me into the building. Salute to The Stereotypes.
YouKnowIGotSoul: You've been working with Oak & Pop for years now, and they've just been blowing up over the past couple of years, getting a lot of big hits. How did you originally link with them?
Sterling Simms: I've been friends with Oak for a little over a decade. That goes all the way back to us recording in his garage! It's amazing to see how far he's come and where he's at now. We found Pop on MySpace, he had been on MySpace six years ago. He's the same way, it's great to see my brothers finally getting that shot and winning. They're doing it in a major way. It's almost not fair working with Oak & Pop because they know a little bit too much about me! *Laughs* They already know what I'm going to like or not going to like before I get to the studio.
YouknowIGotSoul: Talk about your writing. You're an accomplished writer yourself, but you've also co-written a lot with the whole KinghtWritaz situation. Is it tougher for you to write on your own or with others?
Sterling Simms: I think it depends on the song. If I already have a vision for a record, sometimes I'll just go in and finish it out. Sometimes multiple brains are always better than one. I like to co-write because you never know what the next person might bring to the table. We'll listen to some songs and I'll be like "We'll bring somebody else in to see what they do with it" and we just go from there. It just depends on the record.
YouKnowIGotSoul: You released your debut album on Def Jam and a few years later got released from the label. Was that whole situation discouraging and how did you rebound?
Sterling Simms: It wasn't discouraging at the time. To be honest, I kinda wanted off. I'm grateful and I appreciate the opportunity, there's no bad blood at all. I still thank L.A. [Reid] and everybody over there at the time for the opportunity, it just didn't work. I think the vision for my brand was a little lost at the time. When the album came out, it was kinda like they just needed to get the album out. To me when we put the album out, I felt like the album was just a poor representation of what Sterling Simms was. I think it was just a bunch of dope records with no cohesiveness. With that, I wanted to go somewhere and just start fresh. I'm at RCA and it's been love. They've been supporting me and my vision and creativity. They've been trusting with the records that we've delivered so far and it's been great.
YouKnowIGotSoul: Are you currently writing for other artists?
Sterling Simms: I'm going to jump back in now because the past year almost, I've been so focused on getting this project done. Now, as of recently, I've been reaching out to other people to see if they need anything for their projects. So hopefully I'll be working on some other projects soon.
YouKnowIGotSoul: Anything you'd like to add?
Sterling Simms: Make sure you get the mixtape if you haven't. Check out the newest record called "Make You Somebody" featuring 2 Chainz, Tyga and Travis Porter. The visual is coming soon. New album coming soon.