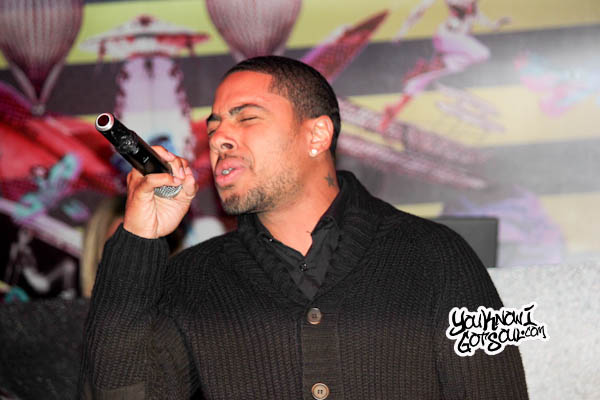 When you hear your favorite song playing on the radio, do you ever stop for a minute to wonder if it was written by that artist or who the writer was behind it? We at YouKnowIGotSoul have always have an enormous amount of respect for writers and go out of our way to help give them the shine they deserve. We have even more admiration for the rarest type of writer, the triple threat (singer, songwriter, performer), which is exactly what we have here in Sterling Simms. Although his debut album on Def Jam "Yours, Mine, and the Truth" didn't really get the recognition it deserved (peaked at #89 on Billboard Top R&B/Hip-Hop Albums), that hasn't discouraged him from growing as an artist and coming back stronger. In this interview, we discuss creating "Far Away" with Marsha Ambrosius, his writing process, what he was looking to accomplish with his debut album, what to expect on his next album, who he's currently writing for, and much more.
YouKnowIGotSoul: Talk to me about your writing. I was reading in your bio that at the age of 15, you moved down to Atlanta and you linked up with some major players in music like Jermaine Dupri and Dallas Austin. How did you originally connect with them?
Sterling Simms: When I went down there I was about 15, me and my mom moved down there, and I was working with some producers out there. They had a production company by the name of Midnight Marauders and they worked with a lot of the different artists down there like Lil Zane and 112 and just from hanging around them I met a lot of the influential people in music in Atlanta at a young age. From there it just built my notoriety and then I singed a production deal when with the Midnight Marauders when I was like 17 or 18 and I worked on my first project and was able to go to different studios. It's a small but big music community in Atlanta. You may just walk into any session and see anybody, like Jazze Pha is in one studio and Bryan Michael Cox in another studio and Johnta Austin may be in his studio. So just being down here, you meet a lot of different people, it's awesome.
YKIGS: What was your first major writing placement as an artist?
SS: Well I had a couple here and there. My first was really on my project, my first album "Yours, Mine and the Truth". Just recently I wrote "Far Away" by Marsha Ambrosius and that's my first #1 record and it just hit #1 three weeks ago and it's still #1 three weeks later on Urban AC and it's #8 on mainstream so it feels good because I've been going at it for so long and it's exciting finally seeing your work come to fruition. So it's an exciting time and I'm excited about it.
YKIGS: Congratulations on that!
SS: Thank you man!
YKIGS: I'd like to talk a bit more about "Far Away". How did that song come together? What was your intention with the song when you were writing it?
SS: Working with Marsha is always great because we connect on a music level like I've never seen. I've worked with a lot of different people but working with Marsha is so easy because we connect on that level. We were just in the studio creating and at the time we were calling ourselves Starsha because we were together so much working on different records. We came out to L.A. to work on her project, and this was while she was still with Aftermath. We went in the studio with Just Blaze and he had just started the track, and me and Marsha just sitting there vibing. Marsha is one of the artists that always wants to keep her records honest and true to herself. So we were just talking about different things that were going on in our lives and at the time, I had a death in my family. I had a cousin commit suicide around the same time we were writing the record and she was talking about someone she had experience with. So that's where the concept of the record came from. We really didn't want to make it suicidal on the record, we knew we wanted to write something that was true to what we were feeling at the time and it just came out crazy, it came out incredible. And I think that's why the song came out the way it did because there was so much emotion with the record and writing it.
YKIGS: Yeah that's cool that you were able to turn a tough time in your life and put it into words in a song and make a beautiful song out of it.
SS: Right it's always turning a negative into a positive. Just channeling our energy and maybe we can always help someone else who may be going through that.
YKIGS: Talk about your writing process. When you're going to write a song, take me through the start to the finish of making a song.
SS: Every session is kind of different. I know with myself, I just like to do whatever feels good. Normally I'll go in with a producer and they'll play a bunch of records and we'll go with whatever one we get a feeling off of. Sometimes the writing process can be really, really easy and thoughts just to come to paper quick. Other records, you want to spend a little time with, so sometimes I'll just go in the booth and freestyle a record and other times I'll have certain emotions that I want to pin point on a record and it might take a little longer. But I know sometimes I like to track records. I'll do a one line scratch on the record the first night and then I'll take it home and live with it and see how I feel about it the next day. Then I'll cut it the next day if I like it.
YKIGS: We mentioned Marsha Ambrosius before, and I know you were paired together with her in the Knightwritaz team that you were part of earlier in your career. What was that whole experience like and how did the group come together?
SS: The group came together six or seven years ago and it started out with Me, my production partner Oak and my writing partner. Basically what we wanted to do was we wanted to create energy in Atlanta because everybody had their crew so we wanted to create a kind of clique. None of us were tied contractually, we just wanted to be a camp that we all rep. If you look at DJs, they have different camps of DJs. I wanted to do that with writers and producers so we came up with the term Knightwritaz because we were always getting in the studio at night time. And as we were writing records, we started meeting different people and different cats that we rocked with and we were able to vibe with and create with. Over time it came to like 13 people with myself, Marsha, Mario, Oak, Kaleena from Dirty Money and some other producers and writers. And even still, we still collaborate on different records.
YKIGS: What do you consider the best song you've ever written for yourself or another artist?
SS: The best song? That's hard to say because all of these songs are like my babies, I've got a lot of kids *Laughs*, so I love them all the same! But if I had to pick my favorite child, right now I would say "Far Away" because it's keeping the lights on and paying the bills right now so I can't be mad at "Far Away" right now. I'm just happy to be part of that project. Marsha Ambrosius put together a dope album, "Late Nights and Early Mornings" and for a record that we wrote three or four years ago to still mean that much to someone else, that's gotta say something. So "Far Away" would definitely to be my favorite child right now. *Laughs*
YKIGS: Who is an artist that you want to write for that you haven't had a chance to already?
SS: Hmmmm. Before I got signed, I always said I wanted to do a record with Jay-Z and I did. Just to keep it in the family, I would love to write a record for Mrs. Carter (Beyonce) if I must say. I like writing for girls because my way of talking to them. *Laughs*
YKIGS: Let's take it back to your debut album "Yours, Mine & the Truth". What do you remember trying to accomplish with that album when you were making it?
SS: I just wanted to make an honest album and make a record that was true to myself and giving people a piece of me. I wrote 80% of the album and at that time, I was going through a bad breakup during the process of making that album. So with that bad breakup came her version of the story, my version of the story and the truth, so that's how that whole project came together. But I guess you can say that album was about a bad breakup. *Laughs* I was bringing people into my world, a lot of the things that I go through, people go through the same in other relationships. I can be going through the same exact thing as someone else, so I'm just telling my side of the story and people can relate to it. It's all about relationships. I think those are the best type of records to write. It's something that everybody can relate to.
YKIGS: Tell me about your current situation. Are you currently working on a new album and what's your label situation?
SS: Right now I'm in the process of doing another deal with another company. I don't want to put any names out there yet until the ink is dry, but I am working on my second project. I like to call it my first because I don't really think my first album got its just do but it's all good. So it's like I'm doing my first album again but with a twist. I recorded seven records so far, I love four or five. I'm still going to go in with Oak & Pop ("Collard Green and Cornbread" by Fantasia, "Your Love" by Nicki Minaj, "Other Chick" by JoJo). They're really dope, they're my production partners from my camp, Knightwritaz what's up. I'm going to do five or six records with them and see what comes out. I'm going to try doing a 10 song album, keep it short and classic. Just a real R& B album, nothing trendy. Just honest records with great lyrics and melodies.
YKIGS: How do you feel like you've grown from your previous album and the one we're going to hear from you in the future?
SS: I've experienced a lot of other things now. I just had a son, so my thought process is a lot different. My records are now speaking from a more mature Sterling Simms because I've experienced a lot more emotionally so with every experience you grow and I've grown up a lot. *Laughs*
YKIGS: Besides working on your own album, are there any other artists that you're writing for?
SS: Right now I'm working on myself along with Marsha Ambrosius' second album. She's back in already. When we go in, we do catalog sessions like four or five days out of the wek and target every artist. I hear Beyonce is in the studio again so hopefully I can grab her attention with a record. I did a record called "Curse Words" for Ginuwine with Lonny Bereal. That's about it right now. I'm just focusing on my album. There are a couple of females I want to work on, but the male records I'm being stingy with right now, *Laughs* there are some that I really love. I went in and wrote a record the other day for Jason DeRulo. I did that one with the Stereotypes. I'm just trying to place some records and pay my bills! *Laughs*
YKIGS: Anything you'd like to add?
SS: I'm putting a record out this summer so look out for that. Album should be coming out top of the year, God willing, I'm working on it and I'm working hard on it. Shout out to all of my Knightwritaz camp. You can reach me on Twitter @SterlingSimms and you can reach me on Facebook at Sterling Simms.