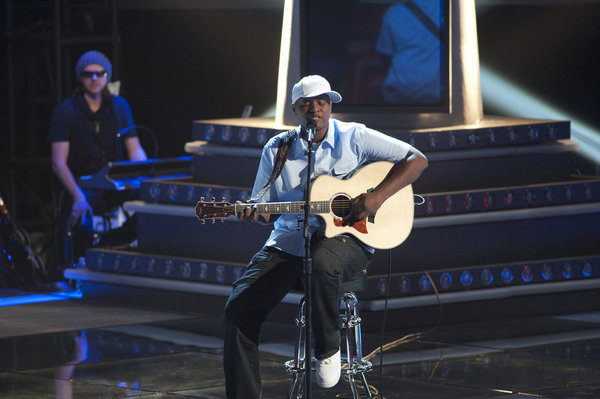 If you're an r&b fan and checked out the debut episode of NBC's "The Voice", you might have heard a familiar voice coming from one of the contestants. After falling out of the spotlight due to being dropped from Capitol after his second album "Left of Center" back in 2006, Javier once again found himself shining on a national stage. Some music fans were surprised by what they heard on the show, but as big supporters of Javier since his debut album, we here at YouKnowIGotSoul were just happy to see him getting the recognition he deserves. In this very candid interview with us, we talked about how he originally signed with Capitol, the direction the label tried to push his music into, what he remembers most about recording both of his albums, the acoustic EP he released last year, being of Dominican and Puerto Rican descent and singing r&b/soul music, how he landed on "The Voice", if he thinks he has a chance to win, and much more.
YouKnowIGotSoul: I've been following your career since your first album so I'd like to hear you start at the beginning. Talk about how you were first discovered as an artist and how it led to your signing with Capitol Records?
Javier Colon: I was first discovered because a friend of mine knew a producer out in Los Angeles who he played some of my songs for and he really liked me so he wanted to meet me. So I actually went and flied out to Los Angeles to meet him and the crazy thing was it was on September 10th of 2011 and the next day we were supposed to work, but due to what happened on September 11th, there was not much music happening that day. We just kinda sat around the TV and just watched and talked and stuff and really didn't get too much done that whole week. But it was the beginning of our relationship so to speak and that was Kevin Cloud who is still a great friend of mine. He introduced me to two other producers who are in New York and basically the three of them and myself we got a demo together and gave it to my lawyer who is in New York and he just started shopping it around and we were able to get eight or so different meeting with labels. Basically we would just go and play for them and we ended up getting five different offers from record labels and it was a very surreal process how the whole thing went down. I ended up choosing Capitol.
YKIGS: What was the music scene like growing up in Connecticut? Did you come up with other talented artists?
JC: There's a lot of talent that comes out of Connecticut. There was a lot of talent even growing up in school. We had really great musical programs in middle school and high school and basically we were all encouraged to sing. Those of us who were really interested in it and who wanted to have more opportunity, it was there for us. Talent shows and school musicals and basically anything that you wanted to do with respect to the artist you could do which was great. So yea, I started getting involved when I was in sixth grade, my mom signed me up for this talent show that I didn't want to do and she actually paid me $20 just to go out and audition for it. So I said "Yea for 20 bucks I'll do that, absolutely!" So I did it and I didn't realize I really liked it until I got into seventh grade and I started writing songs and started performing a bit more. So that's kinda how it all started to take hold for me. But there were a bunch of us growing up through high school, absolutely; it's a great state to be a musician in. There are a lot of other great musicians here, Mint Condition came from Hartford, you've got Michael Bolton and Jose Feliciano who were living in Connecticut even if they didn't grow up in Connecticut. So it's a great place for music, for sure.
YKIGS: I was reading in your recent article in the Connecticut Post that you really didn't want to perform r&b music but the label kinda pushed you in that direction to do more of a mainstream r&b. Can you expand on this?
JC: It's not that I didn't want to do any r&b at all; I feel that my style and who I am is a mixture of a bunch of different things. My first album was closer to what I wanted to do it's just that it was marketed in a way that they were throwing me in this r&b box and they didn't really market it to anyone else but the urban mainstream market. I really would have loved for it to have a chance in the pop world or in mainstream adult contemporary music but it was never given that chance and it never saw the light of day on that side of things. Then when that record do what they wanted it to do, they told me I'd have to go real r&b and make the next album even more so in the r&b direction. I'm an r&b fan and I love r&b and a lot of the way I sing is because I've listened to r&b for so long, but that doesn't mean that it's all that I'm about and I kinda wanted that to be known in my music and unfortunately because of the way that it was marketed, it just didn't have the chance to grow outside of that.
YKIGS: Many who have had the chance to hear your debut album love it. What do you remember most about recording that album?
JC: Recording that album was amazing. I just remember being in Los Angeles and I was there for a good three months straight which is the longest stretch that I was there. I just got to go in the studio and work with some great producers and it was amazing. I worked with Harvey Mason and Damon Thomas (The Underdogs), we did some songs together. I worked with Ronny Skies and Kevin Cloud who also produced a few songs on the record. On the New York side I worked with Evan Rogers and we did another six songs there. It just was amazing, that was my job to go in and sing and write songs and try to finish an album and it was amazing. I felt that that was it, I felt that this was what my life was going to be like forever and unfortunately that wasn't the case.
YKIGS: You went with "Crazy" as the first single followed by "Beautiful U R". What was the decision process like on choosing the singles because there were so many solid songs you could have chosen? Were there others you were deciding amongst for a single?
JC: I'll tell you the decision to go with "Crazy" was not necessarily backed by all of us in our tightly knitted group between Evan and Carl and Kevin; that was the choice of the record label. We actually were thinking of going in more of the direction of "Song for Your Tears" which was one of my favorite songs and still is one of the favorite I did on that album. They told me it was too slow and it wasn't going to be good for a single but I felt it represented me more than anything else. We lost that battle and that's how that happened. We thought "Crazy" was a good song and hopefully would do well but we hoped that it would cross over into pop where it would do better but unfortunately the label didn't really want it to work that way.
YKIGS: Besides the singles you released, I love "Slow Motion" and I love "She'll Never Know".
JC: Thank you man.
YKIGS: Your second album "Left of Center" was also a very solid album. What do you remember most about putting that album together?
JC: I remember there was some hesitation with the record label on whether they were even going to make that second album. Part of me was thinking if they didn't want to make the second album, maybe I could go somewhere else and start new. I was kinda impartial about it. If they didn't want to do it, I didn't want to do something with a company that didn't have their heart into it. So there was some hesitation there but they finally came back that they wanted to do it which meant that they had to send a bunch of money to make the album. I thought that it mean that if they decided to spend that money, that means that they were committed. Unfortunately, I was not correct because when it came time to release the album, we hadn't really done any promotion, we hadn't done any radio our promotional tours like we did for the first album, we didn't have a video, nobody even knew it was coming out. I pleaded with Capitol to not release it and for us to wait so we can kinda get a better plan established but because of fiscal responsibilities they had to release the album. I didn't find that out until later but they basically said that they had to put out the album out and they did and it just didn't sell which I knew was going to happen because nobody knew about it. It was common sense to me that it was going to happen and they said to me "Oh you're career artist and we're not about first week record sales" and unfortunately that was exactly what they were about. So that's what happened and one thing led to another and I ended up getting dropped. There were some songs I really loved on that album like "The Answer is Yes", that was one of my favorites, the song I did with Anthony Hamilton "Count on Me" was definitely another one of my favorites. "Lovin U" was also one of the only acoustic songs on the album.
YKIGS: Man that song "Lovin U" I felt the song so deeply, it has so much feeling in it, that song is so sad.
JC: *Laughs* Thank you man. I wrote it from the position of a person that I never wanted to be. We stayed up and finished recording that song at ten in the morning after being up all night and I almost wanted to record it over because my voice was raspy from being up all night. I remember going into the studio at like five that afternoon and I didn't leave until ten in the morning so I'll never forget that, I was really, really tired! But we got it done, it was just such a good song that we wanted to make sure we got it done, and it did.
YKIGS: You mentioned "Count on Me" with Anthony Hamilton, who is another personal favorite of mine. How did that collaboration come together?
JC: I was on the road with Anthony for a few months doing a couple of tours that we had done together and while on the road together we became friends and talked about doing some writing together in the studio. When it came time to work on the second album, I called him to get together to do some music and he made it happen. He came out to Los Angeles and we just sat and wrote the song together and recorded it and it was awesome. I still love that song to this day.
YKIGS: Talk about your "The Truth – Acoustic EP" that you released last year. What can music fans that haven't had a chance to hear it find on there?
JC: That album was a long time coming so after the release of "Left of Center" I got dropped and I started doing some shows on the road and it was really just me and my guitar; that was all I could afford to go out and do shows. So I would basically just go out and perform on my own for about five years and all of the shows I would do, I was still selling my old Capitol stuff. I'd get feedback from folks after they'd take the music home and they'd write me messages on MySpace at the time telling me "Hey I really like this album, but it doesn't really sound like what I heard when I saw you live." It wasn't a dig or anything, they weren't saying it was bad, they were just saying it was different because how produced they were and how sometimes some of the songs were much heavier on the r&b side than what they saw me doing. So I decided I was just going to make an acoustic EP. I had been trying to find a new record deal, someone who would allow me to really capture who I am as an artist. I felt that I couldn't wait anymore and I had to do something myself so I recorded those songs at home in my home studio. So it was just six songs but they were six songs that I felt really represented me well and represented what I'd been doing for the last five years on the road. Really, it was what I had been always doing, just me and my guitar. I just wanted something that really spoke to who I was today and those songs were all heartfelt, a bunch of them talked about my family and my life and it's definitely the most accurate representation of who I am.
YKIGS: As someone from Puerto Rican and Dominican descent singing r&b and soul music, we haven't really seen many artists of that nationality in these genres. Have music fans ever received you any differently due to your nationality or have you fit right in?
JC: I've always fit right in. Music is diverse and as long as you're good enough, people will like it, and if your songs are good and they can speak to people and move people, it's important that people like what they hear and it doesn't matter where you're from. I've always approached it that way and fortunately for the most part it's been received that way. It's never been an issue at all.
YKIGS: After things didn't work out at Capitol, what would you say has been the biggest struggle trying to continue your career as a musician and really make a living doing music?
JC: The biggest struggle has really been trying to get some exposure. We really wanted to take this thing to the next level badly after getting out of the Capitol situation but we just couldn't find a label that wanted to take the chance on me. We had many close calls, we sat down with a bunch of different record companies that knew of my previous work and nobody wanted to pull the trigger. Like I said, that's when I came up with the idea just to do something myself but that was something I did more for my hardcore fans. Outside of that, there weren't many people that bought that record or really knew about that record because I didn't have the money that a major label does to promote and get you on the radio to do these things. It was a small release for sure, but the biggest struggle was trying to get a new deal and trying to find a way to make ends meet. Fortunately I was doing some college tours that helped, the money was slow and that's something that I knew wasn't going to last forever.
YKIGS: I'd like to finish up by talking about your current situation on NBC's "The Voice" after you had a very successful debut on the debut of the show. How did the opportunity come about?
JC: Well my manager found out about it and he asked me if I wanted to go and audition for the show. I wasn't sure if I was eligible to do that because I had previous albums. Basically I found out after getting out there that there were other folks like me that had deals before and that had won contests and things like that and there were some professionals that all they did was sing. Though sometimes I didn't make a whole lot of money, that's what I've been doing for the last ten years is just singing. So I found that out and I was happy to know that I could have that opportunity. I almost didn't do it at the end because I was sick a couple of days before the audition and I had asked my manager to cancel. He forgot to cancel and the actual day of the audition I was feeling better and I asked him if he cancelled and he told me he forgot! He now says that he didn't forget, he just knew that I was going to come around, but I say he forgot! *Laughs* I was doing a show in Detroit that day so I came in from Hartford airport and I drove in from there to New York and did the audition. That's how it ended up happening.
YKIGS: You ended up performing a cover of "Time After Time". How did you choose to perform that song?
JC: I've always loved that song and I've always kinda thought that when choosing a cover song the ones that people are going to connect with are the ones they really love; proven hits but also ones they haven't necessarily heard in awhile. I had been singing that song in my shows for at least a year or so in a good amount of my shows because I love it. I just thought it would be a good song and good representation of what I do. Fortunately it was enough to get me through.
YKIGS: I was reading that you were really nervous before you went on the show and that you could have thrown up at any time before performing.
JC: *Laughs* Oh yea definitely. It's not that I wasn't feeling good it's just that that kinda pressure is definitely overwhelming. I knew that I had to go out there and do it and I knew I would feel better once I started singing but it was definitely a nerve wracking experience. I was definitely nervous even after I started singing and I can hear it when I go back and listen to the audition that I still had some nerves there because I was making some mistakes that I wish I hadn't made. Fortunately enough it was good enough to get everybody to turn around so I was blessed.
YKIGS: Your performance went really well and you were very well received by the judges. Do you think you have a legitimate shot to win?
JC: I don't' know. There's a lot more to go so I don't really look at it that way. I take it one step at a time and focus on the task at hand, and the task at hand is not wining the whole thing right now, the task at hand right now is getting to the next stage and getting to the next level and I put all of my heart and soul into that one task and then you move onto the next. That's how you keep your eye on the prize and at the same time you're doing it incrementally and you're doing it in order as I feel it should be done.
YKIGS: For the hardcore Javier fans and the new fans you're gaining now, do you see another album coming anytime in the future? What's next?
JC: We'll see how the show pans out. If I do well enough and I end up getting picked up by the label then we'll definitely be seeing an album very soon. If not, I'm going to try and put my own thing out once the show is all said and done. Either way I'm to try and get back into the studio and I'm going to try and get something out to everybody. I've had some really great supportive fans over the years, some of which have stuck by me, they are a small number but hopefully that number is growing with what I'm doing now. I'm just trying to get some more stuff for them to listen to and enjoy so I'm hoping that it will be before the end up the year. No matter what happens, we're hoping to have something out.
YKIGS: Anything you'd like to add?
JC: Well I'll be on the Today Show on Tuesday (5/3) which is an amazing opportunity. I'm doing that and my single "Time After Time" has been on sale on iTunes so anybody who makes it through to the next round recorded songs and they are available on iTunes. My song got down to number 14 on the iTunes sales chart at one point which was amazing. So hopefully if people saw that and heard it and they liked it, they can definitely grab the single on iTunes as well. Also, my EP is also on iTunes as well under my name, if you just search Javier Colon you'll find it as the newest album on there. I also have a new look to my website which is JavierColon.com. I've got some new good stuff and merchandise as well as the EP on there.