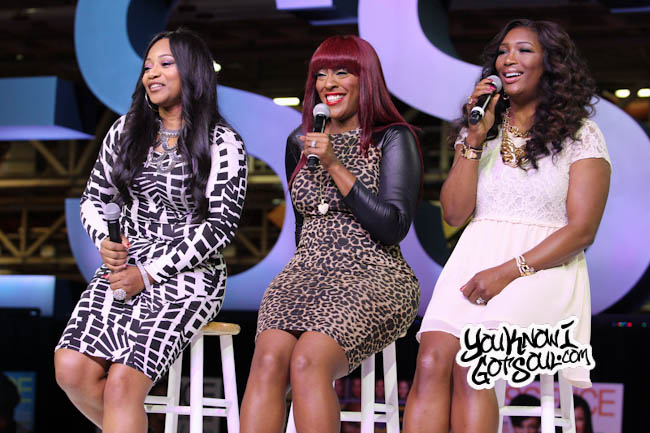 SWV has been quiet on the music front since the release of their critically-acclaimed album "I Missed Us" as they've been filming their reality TV show "SWV Reunited" and touring everywhere. YouKnowIGotSoul had a chance to catch up with the group before their show to talk about recent events such as Jodeci's comeback and Missy Elliott's return at the Super Bowl. We also talked to them about their plans for a new album and their label situation.
YouKnowIGotSoul: "SWV Reunited" has been a hug hit for you guys. What were your expectations when you were initially presented with the idea of a TV show?
Taj: Yeah, we expected big things when we signed up to do the show. We wouldn't have done it if we didn't think it would benefit us in trying to promote music.
Leelee: It's a lot of fun.
YouKnowIGotSoul: You've also been able to develop a younger fanbase with the show. Was that surprising that the younger generation was catching the TV show?
Leelee: I don't think it was surprising, we're young too!
YouKnowIGotSoul: What song from your catalog do you think has captivated with the younger generation the most?
Coko: "Weak" captivates everybody.
YouKnowIGotSoul: So many R&B groups are coming back like Jodeci. You guys had your comeback a couple years back, so what kind of advice would you give them when they're putting out their album?
Leelee: It's going to be a lot of hard work. It's totally different from how it used to be, but it's fun.
Coko: Don't drink.
Taj: I was going to say "don't drink and drive". *Laughs*
YouKnowIGotSoul: "I Missed Us" received a lot of great reviews. Is there anything you guys wish you would have done differently when you put out that album?
Leelee: Not sign to our label. I wish we would have put that out with another label. *Laughs*
YouKnowIGotSoul: Of course you guys collaborated with Missy Elliott. She performed at the Super Bowl and everyone loved it. It was a similar response when you guys announced your comeback. You come across other groups who try to make a comeback and they automatically get labeled as "washed up". It didn't happen to you guys, so how did you avoid it?
Coko: Yes it did. *Laughs*
Taj: They didn't know who Missy was and she killed it!
Leelee: They thought she was a new artist that Katy Perry brought out. Missy's been around for a long time!
YouKnowIGotSoul: Why do you think Missy got that type of response? Is it because of the music?
Taj: Exposure. R&B music is not being exposed to people who want to hear it. Clearly if you want to give it to them, they will love it. They had no clue who she was. Her music is timeless. That music was from almost 20 years ago!
YouKnowIGotSoul: Are you guys working on new music?
Leelee: We will be soon. We will in the process of doing that.
YouKnowIGotSoul: Do you have anyone who you want to work with? I think Lamb did a great job on the last project.
Leelee: Lamb for sure!
Coko: Anyone with the hits.
YouKnowIGotSoul: One of our favorite songs is "Use Your Heart" which I know The Neptunes did. What do you remember about that song?
Leelee: I remember Pharrell being really cute.
Taj: He's still cute! He looks the same. It was really fun and it was a long time ago. All I remember is that it was recorded. *Laughs*